March on the Met protest: Game of Thrones star Nathalie Emmanuel speaks out against the police
Game of Thrones actress Nathalie Emmanuel spoke out in support of murdered sisters Bibaa Henry and Nicole Smallman, who had photos taken of their bodies by police officers guarding the crime scene.
Watch more of our videos on Shots!
and live on Freeview channel 276
Visit Shots! now
Game of Thrones actress Nathalie Emmanuel addressed protestors outside the Met Police's headquarters during a demonstration in memory of murdered sisters Bibaa Henry and Nicole Smallman.
Nathalie, who played Missandei in the HBO series from 2013 to 2019, spoke to a crowd of demonstrators at Scotland Yard protesting racism and misogyny within the police force.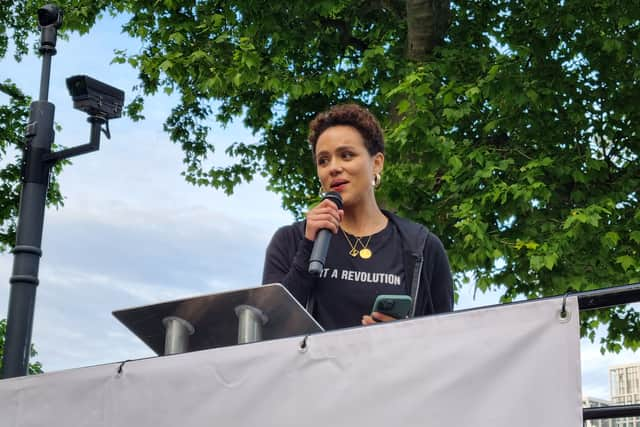 She said: "I'm here in support of their mother and their family and friends, whose lives are forever changed. We are sending them love and support in this nightmare."
The demonstration, organised by the Women's Equality Party (WEP), saw supporters march from Fryent Country Park in Brent, where Nicole Smallman and Bibaa Henry were killed in June 2020.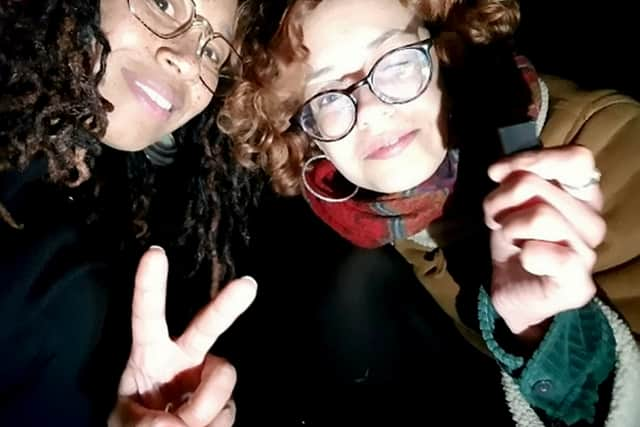 It comes after the documentary Two Daughters aired on BBC Two last week, following the women's mother Mina Smallman and the trial of Met Police officers Deniz Jaffer and Jamie Lewis, who shared photographs of the girls' murdered bodies with colleagues.
While a series of scandals has enveloped the Met in fury, from the abduction, rape and murder of Sarah Everard by armed serving police officer Wayne Couzens, to the racist and misogynistic WhatsApp messages sent by officers at Charing Cross station, and the strip search of black 15-year-old Child Q at a Hackney secondary school.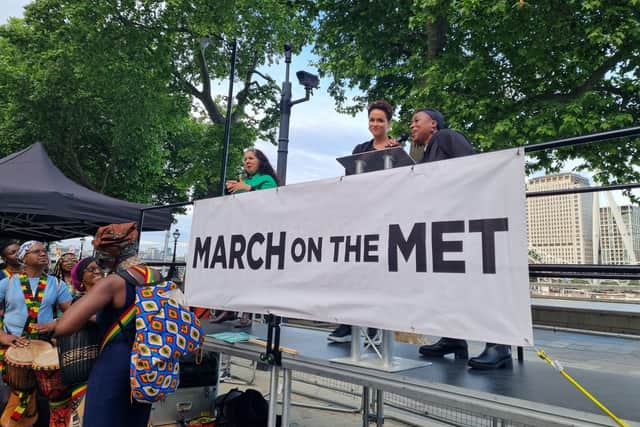 Speaking to the crowd, who gathered outside Scotland Yard on Victoria Embankment, on Tuesday, June 7, Nathalie said: "Enough is enough. We've heard it, we've chanted it all the way from Brent.
"We've heard it before but enough is enough.
"I stand with my sisters who are no longer with us, and all of you today. I take a vow, to fix your crowns when I can.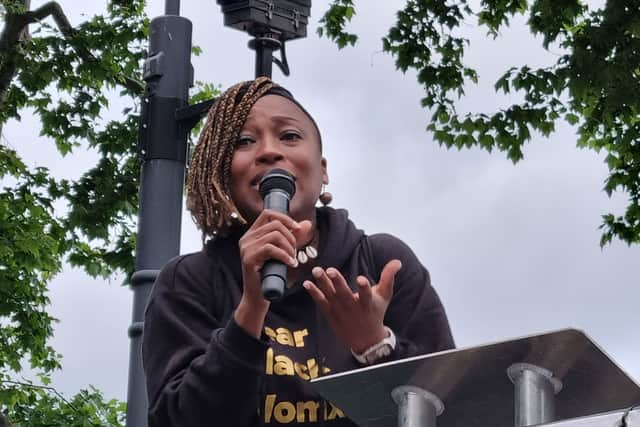 "I say no more to those who harm and exploit women - no more.
"And to the police, they must be held accountable for their failings. And not just when we make them, when we march and post and have viral tweets, but because they see every single life is worthy of their respect and protection.
"And it is a matter of life or death to remove and punish those who do not act accordingly.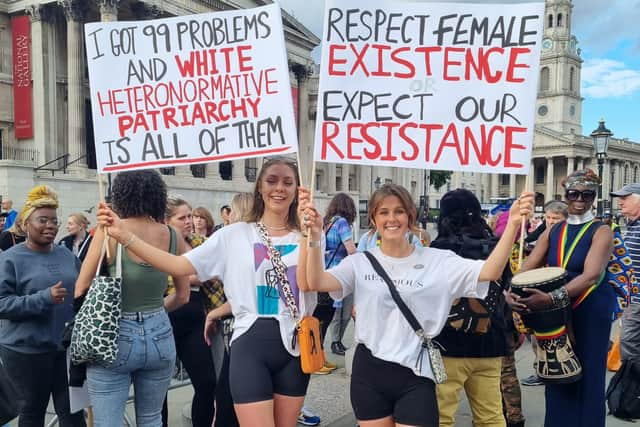 "We deserve better and we're going to get it."
Also addressing the crowd, activist and academic Dr Shola Mos-Shogbamimu said: "The roots of institutional racism and misogyny ... you need to eradicate it and tear it out like the cancer it is."
She added: "We need to say no. You cannot reform evil. You need to stamp it out - you need to send it back to hell.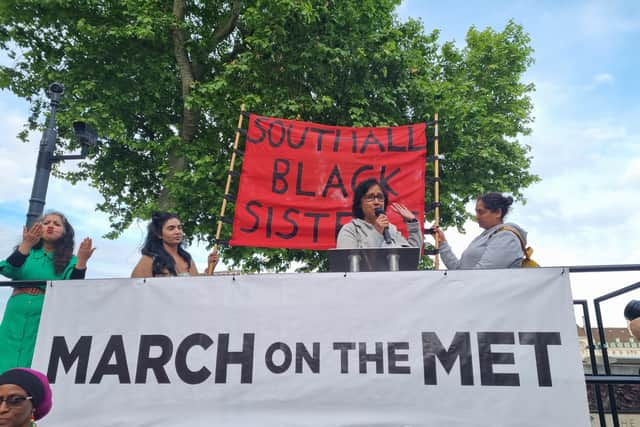 "The police as an institution is reflective of the society we live in."
Ngozie Fulani, founder of the black women's domestic violence charity Sistah Space, said of the Smallman family: "My heart is heavy. I feel your pain.
"I saw the trial and it taught me something, the problem is bigger than the Met Police."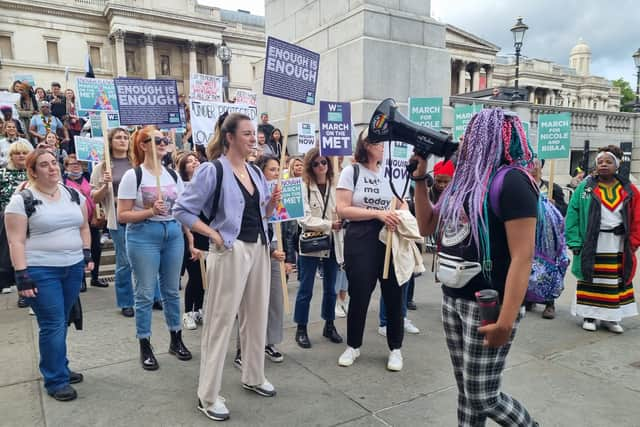 She continued: "I'm glad to see all of you but look how many people came out for Sarah [Everard]. We can say power to the people but it's not resonating - go and ask people where they were."
Activist Chantelle Lunt told the crowd: "As women we are our sisters' keepers. We need to look out for each other - we need to straighten each other's crowns."
Rahila Gupta of Southall Black Sisters said: "We know how the police will check your right to be in this country before they will look at the marks of violence on your body or listen to your story.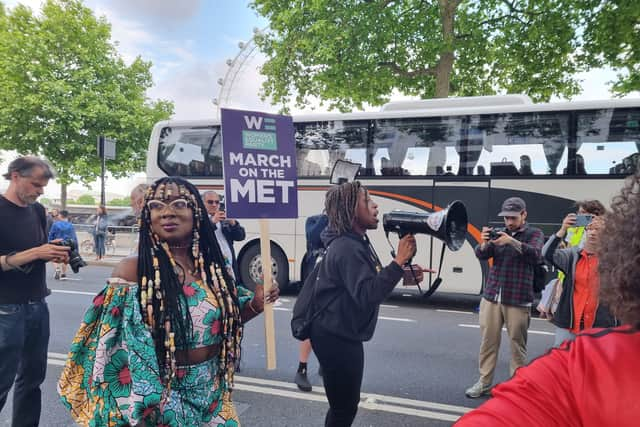 "Bibaa and Nicole will not be forgotten. Reclaim the streets, reclaim the home."
Labour MPs Dawn Butler and Bell Ribeiro-Addy also addressed protestors.
Ms Ribeiro-Addy, MP for Streatham, said: "Cressida Dick used to say we have to stop and search in those areas because that's where the crime is.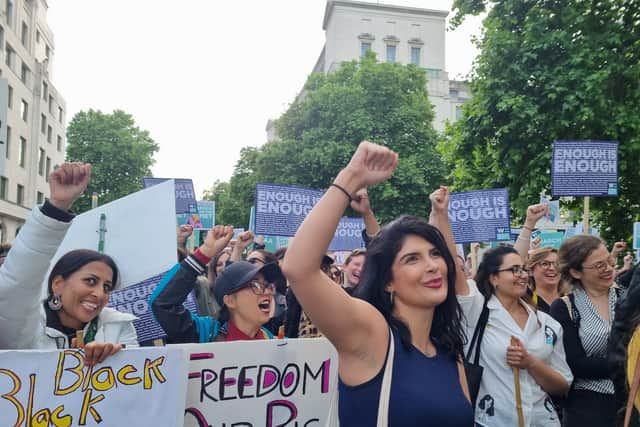 "As someone who works in the House of Commons, I can tell you crime happens everywhere.
"Anybody who does not speak up against violence against black women is not patriotic.
"To Bibaa and Nicole's families and the families of all of those women who don't make it on the news - we stand with you."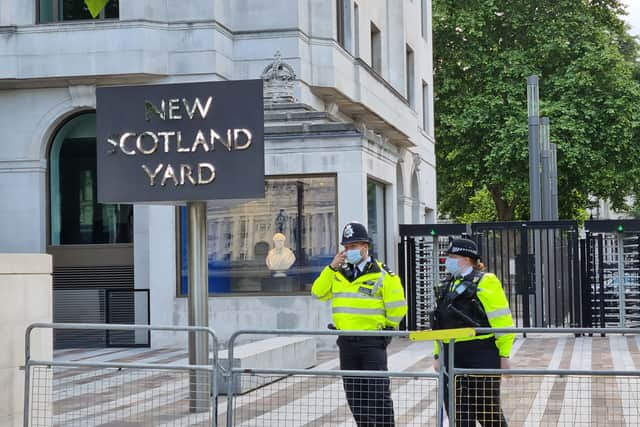 While Ms Butler, MP for Brent Central, said: "Today you all stopped traffic in Westminster because you refused to stay silent on male violence.
"Every single day we must speak up, we must call out and we must show up."
Andrea Simon, director of the End Violence Against Women Coalition, added: "We demand change. We know cultures of racism and misogyny have been systemic.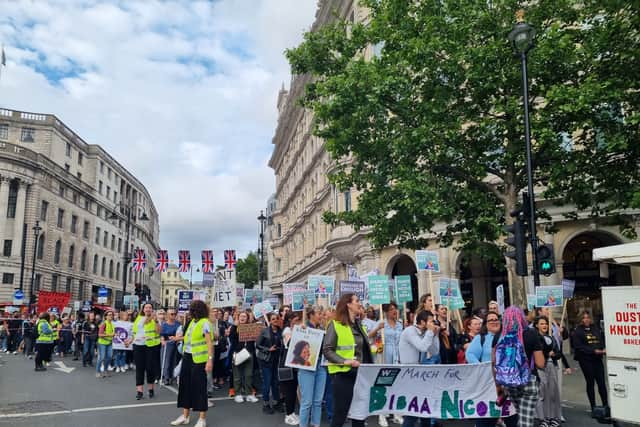 "Women have experienced discriminatory policing for too long. To be honest there was never any trust. There is an environment in that police force that allows racism and misogyny to fester."
And WEP leader Mandu Reid thanked those who had walked the ten miles from Brent, adding: "It was important to do something that demonstrated our commitment, our sorrow and our resolve.
"I know women here have been marching for years for decades.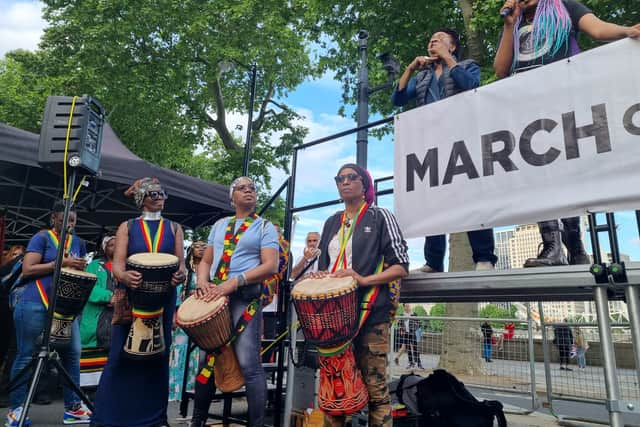 "There's enough reason for us to March every single day.
"We don't talk enough about how misogyny infects young men's minds. It's not treated with the gravity it should be."
She added: "It's a story of institutional rot, misogyny and racism baked into places where power is held.
"We're here to write a different ending to that story - enough is enough."
The protest saw activists gather outside Scotland Yard, where a stage was set up and the road was closed, while police officers monitored from the sidelines.
Other speakers included Jamie Klingler, from Reclaim These Streets (RTS), who took the Met to court over the vigil for Sarah Everard, and Patsy Stevenson, who went viral after being photographed being arrested at the vigil on Clapham Common.