Door knocking in north-east London, campaigners use the kitchen implements to push election leaflets through letterboxes, to avoid scraping their hands on draught excluders.
Minor injuries from the bristles have been highlighted as an occupational hazard by every political party I've been out canvassing with ahead of the May 5 local elections so far.
However, the WEP are the only group I've met with a practical solution to the issue.
Make of that what you will…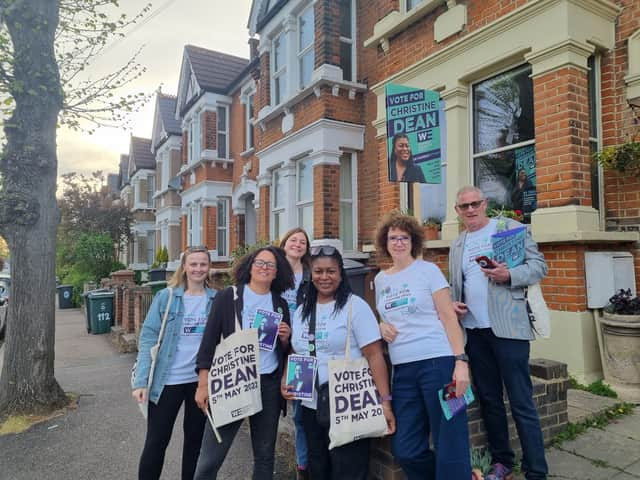 Hale End and Highams Park South is a new ward in the Labour borough of Waltham Forest.
The wider area is divided; represented by both Walthamstow Labour MP Stella Creasy and former Conservative Party leader Iain Duncan-Smith.
But for the WEP, founded just seven years ago by writer Catherine Mayer and comedian Sandi Toksvig, it represents one thing: opportunity.
Activist Caroline was one of the organisation's first few members - and was at the Southbank Centre Women of the World (WOW) festival where Toksvig came up with the idea.
"I saw Sandi Toksvig when she said 'we've got three amazing women here' saying 'if I was education minister I'd do this, I'd do that etc','" she told me, while out door knocking.
"She said I'll meet everyone in the bar afterwards and we'll start a political party."
We're joined on the doorstep by Cath, the party's head of campaigns, and several enthusiastic activists kitted out in WEP-branded T-shirts, tote bags and badges.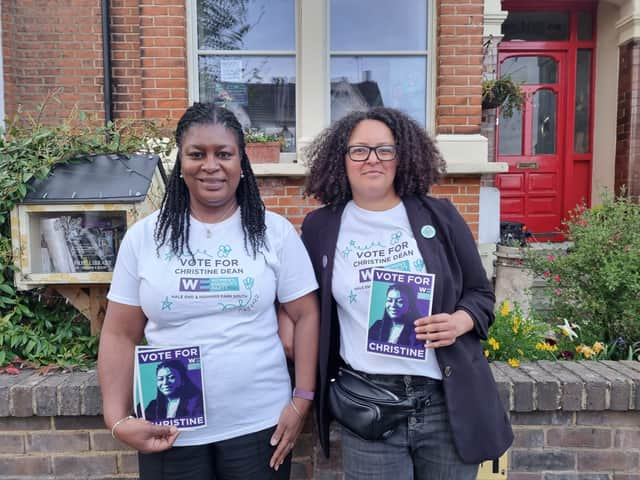 Now with just 29 candidates standing across the UK, and 12 in London, the party's focus is and has been on changing the conversation.
Famously happy for other parties to steal their ideas, the WEP say they want to tackle everything from ending violence against women and girls to food poverty and childcare.
Current leader Mandu Reid, who is proudly the first black and bisexual leader of a UK political party, is energetic and optimistic about the party's core issues.
"There's so much dissatisfaction with politics," she says of WEP's name recognition factor.
"When people don't know us they are curious and there's space for the conversation to happen - there's hunger and thirst for something new and different and better.
"On issues like violence against women, women were looking at mainstream parties and they didn't have a good answer and we did."
Mandu took over the party after ex-leader, journalist Sophie Walker, stood down last year, saying she wanted to stand aside to allow more diverse voices to come forward and lead.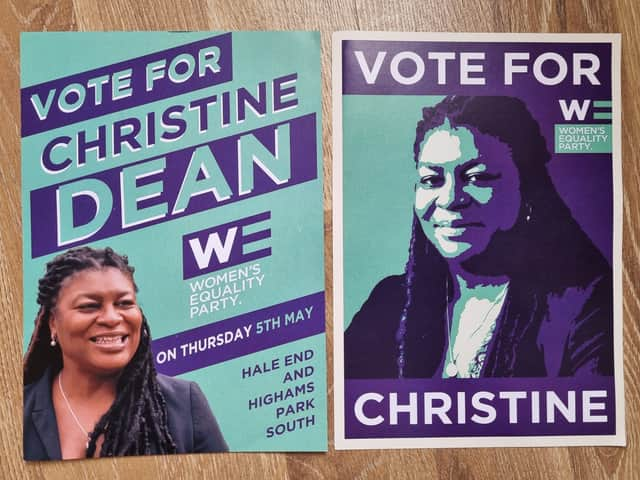 And candidate Christine Dean, herself a mother-of-two, is another one of those voices.
A civil servant and lawyer, she hadn't been political before coming across WEP.
Distressed by what she described as a cycle of women having their babies taken away, before becoming pregnant again, she was determined to tackle the issue on a deeper level.
She stood for the London Assembly as a list candidate for WEP, and is now putting herself forward as a sole candidate for the first time, in the "heavily Labour" area.
But the ward isn't just an election for her, it's also her 23-year-old daughter and 17-year-old son's home.
"I want people to feel a connection to me, and the WEP and hopefully give us their vote," she said.
And in this area, thanks to her activism, there is a sense of familiarity on the doorstep.
"When I stood for London mayor last year, that boosted our name recognition massively," Mandu adds.
The pitch to voters is clear - 'we are not like that other lot' - and the message is reinforced on doorstep after doorstep.
Chatting to one woman, Mandu first asks what matters most to her about what's going on in the area.
She swiftly explains why one of the WEP's highest priorities is sorting out the issue of childcare - across London and also resolving the extra pressure on places locally.
"We notice things like that," she tells the young woman.
"We want Christine on the council so things like that aren't an afterthought.
"You've got two votes and we only want one - give one to us and you'll see the difference."
An older lady, who answers the door to Christine, also sounds supportive.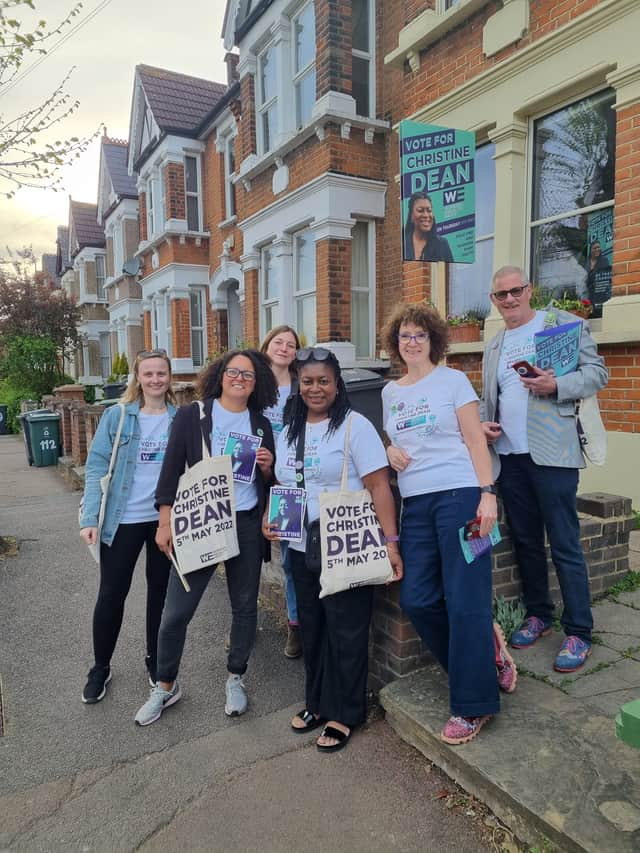 "Something needs to be done and you could well be wonderful," she tells her.
The past year has seen issues of women's safety, their lives and deaths, and Londoners' trust and confidence in the police take centre stage.
From the brutal abduction, rape and murder of Sarah Everard at the hands of serving Met cop Wayne Couzens, to the two officers jailed for taking photographs of the murdered bodies of sisters Nicole Smallman and Bibaa Henry and the revelations about racist, misogynistic messages shared at Charing Cross police station, the headlines have been relentless.
Ending violence against women, and rebuilding trust in the Met, is a key issue for the party.
Of Dame Cressida Dick's replacement, Christine is clear.
"Whoever it is, it should be somebody who's going to make real change, and actually look at the issues and problems and work on rebuilding women's trust in the force," she stresses.
And Mandu agrees: "The tragedy of those deaths and violence has brought about change."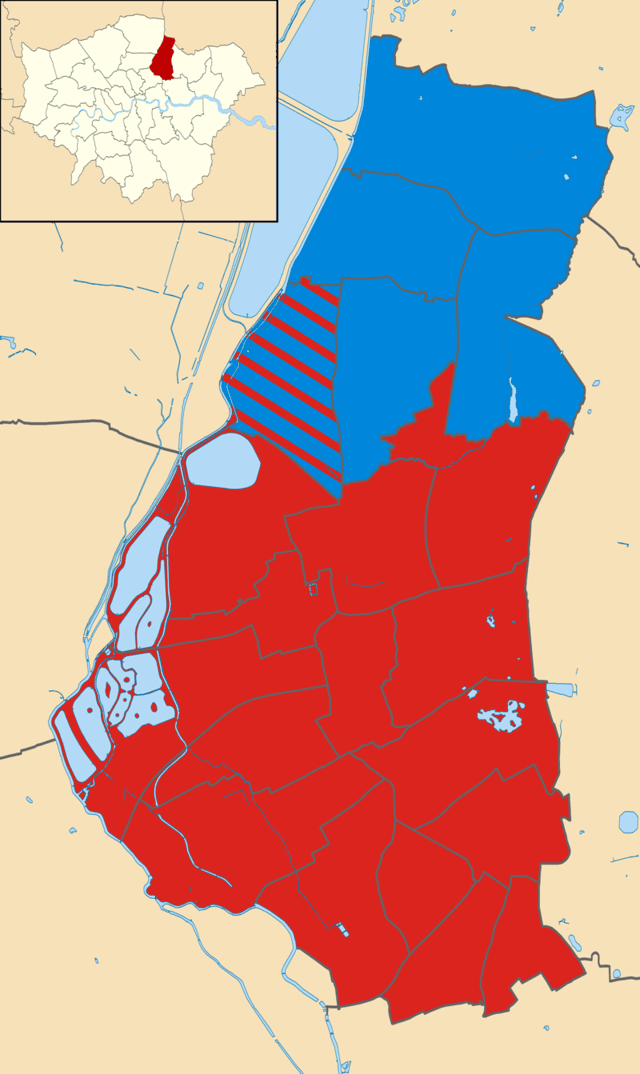 She adds: "We can't have somebody who's defensive about it… who denies that misogyny and racism are baked into the fabric of that institution.
"That's the leadership we've had before - look at the problems it causes."
"I was disappointed and it was just a reminder of how much work there is to do.
"That shows you what the real deep seated attitude of the leadership within that institution is all about and it's not good news for women."
The party has faced criticism in the past - for being an overwhelmingly white and middle-class women's organisation.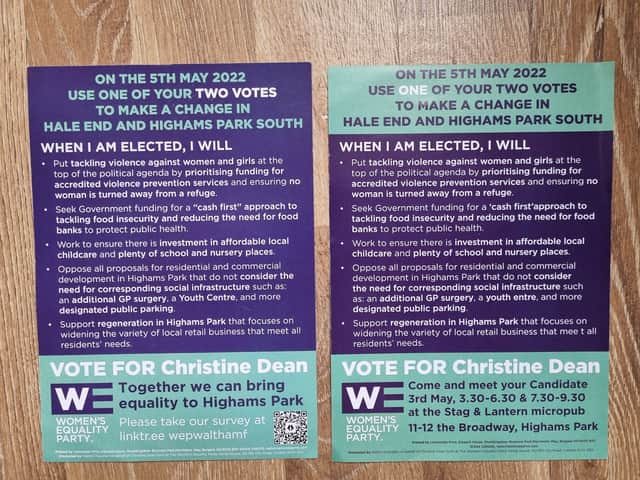 While clearly not a charge that can be levelled at Mandu or Christine, what do they make of how the WEP has changed over the years?
"I think it was always an oversimplification," Mandu says.
"I think there was some truth to that with respect to the three women who founded the party, who took the initiative to make it happen, who were of a particular demographic background.
"But we are only seven years old and we've already had a black woman as leader, another black woman as our deputy leader, two queer women as deputies, one disabled woman.
"I think we were being judged by a standard that wasn't applied to the other parties.
"We're so young - and it's taken us double quick time to respond to what we saw happening,
Christine adds: "It's not been white and middle class in terms of my experience of people that I've worked with and things that I've done. The party is there for everyone.
"I'm not sure if it's still the case, but I was the first black deputy leader of a political party in Europe.
"I didn't realise I was the first at anything until I looked it up. It was brilliant."
Another pressing issue for the WEP has been their stance on trans rights, which Mandu insists the party has been "inclusive" on "from the get go".
She said: "We were very clear that trans women are invited to be part of our movement, and are welcome and will be supported. There's space for people to self-identify as they choose."
The party chose to hold a 'members' assembly' on the issue of gender self-identification; a step Mandu says is another example of the WEP doing things differently.
The group published a series of recommendations in December 2020, based on party members' views and votes.
These included campaignging to increase resources for refuges for women, trans people and the LGBTQ+ community, calling for better specialist health services, and challenging gender stereotypes within schools - while also protecting children's rights to be gender nonconforming without becoming trans or nonbinary.
"How do you resolve complex issues in society if you draw hard lines and refuse to allow people the chance to air their concerns and be creative and find solutions?" Mandu asks.
And finally, would they welcome a trans woman to stand as an MP for the party?
"Anyone can stand to represent the WEP.
"A man can stand - we've had that before - a non binary person, whatever. It's about our mission. We're trying to do ourselves out of business.
"We prioritise, I'm not going to lie to you.
"Equal representation is one of our core goals, and so it's highly unlikely we're going to run a majority slate of men, anytime soon.
"But we're inclusive and so I welcome anybody who is prepared to fight as hard as I am for equality for women and girls."