A Labour MP has criticised the speaker of the House of Commons for "welcoming cats into the chamber" while a report ruled babies could not be brought into Parliament by parents.
Labour MP Stella Creasy made headlines last year after she was criticised for bringing her young baby son into the House of Commons chamber in order to speak during a debate.
Ms Creasy, who has campaigned for better maternity cover for MPs - who do not currently have the same rights as mothers working in other jobs in the UK - brought her then three-month-old Pip into the chamber, on September 23, 2021, and spoke about school counselling.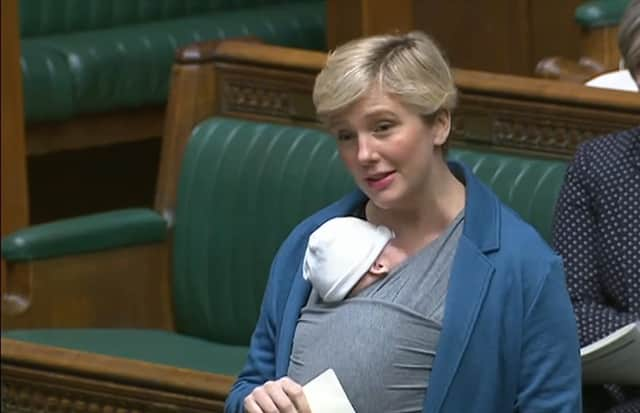 Later that day, she also told the chamber: "The Independent Parliamentary Standards Authority refused to fund appropriate maternity cover for myself, on the basis that people needed to be able to speak in the chamber.
"Yet today, in order to speak, I have had to abandon my baby proxy leave vote or else be reprimanded by the House authorities for speaking in the chamber, making Parliament one of the few workplaces in the UK where when a new mother comes in to do a keeping in touch day, she is rebuked, not supported."
The MP later brought her son - who was praised by leader of the house Jacob Rees Mogg for his good behaviour - into a debate in Westminster Hall the following month.
She subsequently shared a letter from the House authorities, reminding her that the rule against bringing children into the House, "also applies to debates in Westminster Hall".
Ms Creasy said: "Apparently Parliament has written a rule which means I can't take my well behaved, three-month old, sleeping baby when I speak in chamber.
"Mothers in the mother of all parliament are not to be seen or heard it seems…"
Speaker Sir Lindsay Hoyle later raised the issue in the chamber and asked the procedure committee to look into the issue and make recommendations.
Now the committee has issued its report into the issue of children in Parliament and ruled MPs should continue "not to bring babies" into the chamber or other debating areas of the legislature.
It stated: "In our view, members should not bring babies into the Chamber, Westminster Hall orgeneral committees to observe, initiate, speak or intervene in proceedings.
"This should remain in guidance issued by the Speaker."
And Ms Creasy, MP for Walthamstow and a mother-of-two, who has campaigned for maternity rights in the workplace has criticised the decision as "backward".
She criticised House of Commons speaker, Labour MP Sir Lindsey Hoyle, for the apparent hypocrisy over the rules against babies - despite photographs of his pets in Parliament.
The speaker - who is known for his self-described "menagerie" of animals - has recently launched a Instagram account featuring his new kitten Atlee, named for the former prime minister, aimed at encouraging younger people to take an interest in the role of Parliament.
Writing in the Guardian, she said: "As the Speaker welcomes cats into the chamber, last night his deputy criticised my parenting for bringing my toddler to the voting lobbies.
"She demanded I hand her over to her instead, despite being a stranger to my child.
"Such outward hostility towards making parliament family friendly does little to improve the perception that Westminster is out of touch with those it seeks to serve."
Ms Creasy said in the past she had had to bring her children to work "not to prove a point, but out of necessity".
She said: "The lack of adequate maternity or paternity cover for MPs means the alternative was my constituents going unrepresented."
And she added that the report on babies in the chamber, published by Parliament's procedure committee, "recognises that without such cover, there is a risk the public will feel they cannot elect women.
"Outside in the real world, women repeatedly report they are told their children will suffer if they become MPs – unlike their male counterparts."
Ms Creasy said: "We should never stop fighting for everyone to be able to have both the career they want, and a job that allows them to spend time with their children where and when they want, so they are more than a photo on their desk.
Yet, working in a place where some boast about never having changed a nappy… it's embarrassing how backward parliament is compared with modern workplaces across the country."
The Speaker's Office declined to comment when approached by LondonWorld.