An advert seeking a woman to "perform wifely duties" in exchange for rent and food has sparked outrage amongst MPs and Londoners.
The advert, by a "gentleman looking for a lady to live with him" appeared in a shop window, in Walthamstow High Street.
Campaigners and local MP Stella Creasy said the post could be considered "sex for rent" and these kind of relationships are open to exploitation.
LondonWorld has spoken to the person who placed the advert, who denied that it was of a sexual nature.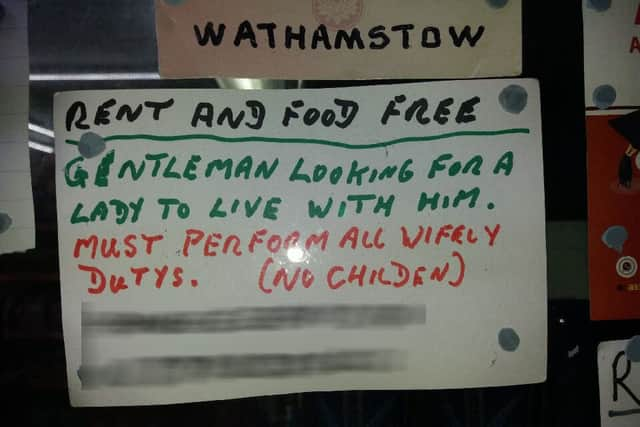 A Met Police spokesperson confirmed the advert has since been removed.
The postcard with the handwritten advert read: "Rent and food free. Gentleman looking for a lady to live with him. Must perform all wifely duties. (No children)[.]
"Phone [Name] on 07*** ******[.]"
A photograph of the advert was posted on Twitter by Alabama Whitman.
She wrote: "Have this disgusting man. Please. F***ing "gentleman". Absolute tosser in plain sight."
Speaking to LondonWorld, Ms Whitman said: "All I can tell you is this has been an advertisement in a shop window for some time in Walthamstow High Street.
"The Met have contacted me. According to them this ad has been displayed since 2018 but it's been replaced over those years, same text, different pens."
The person who posted the advert told LondonWorld he had been contacted by the police and was not aware that the advert was "not legal".
He said: "The police have been in touch with me and spoken to me about it and told me it's not legal which I was not aware of."
He confirmed he had posted the advert and said his intention was not related to the exchange of sex for rent.
"I wanted a cleaner and a cook and someone to do some shopping for me," he said.
The man stated that as a 73-year-old he didn't think any woman would be able to arouse him anymore.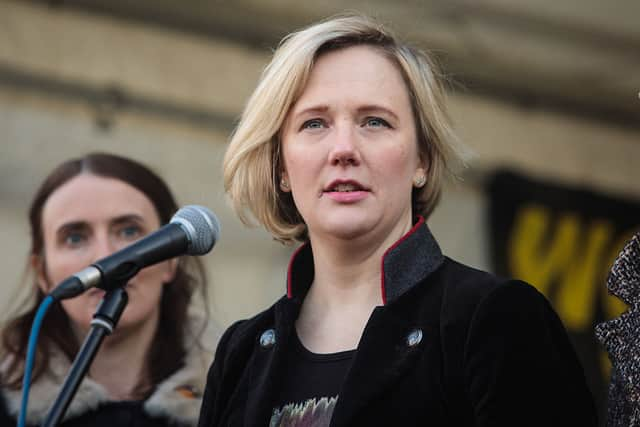 "We believe that no one should face the decision of having to exchange sex in order to have a roof over their head."
Ms Creasy, Labour MP for Walthamstow, said: "Landlords demanding sex for rent is unacceptable in any circumstances, and businesses shouldn't be advertising this appalling practice.
"The fact that this exploitation is still legal in the 21st century should be a source of shame for the government, but instead they have been opposing efforts to finally criminalise it.
"Rather than continuing to ignore the exploitation of women, they should take the opportunity in the Police, Crime, Sentencing and Courts Bill to finally act and criminalise sex for rent."
A Met spokesperson said: "On Sunday, January 16, police were contacted by a member of the public who raised concerns about the nature of an advertisement placed in the window of a shop in Walthamstow.
"Neighbourhood officers have been made aware and are conducting further enquiries.
"The nature of the legislation in this area means it is possible the placement of the advert may not constitute an offence in itself. However, we entirely acknowledge and share the concerns raised.
"We are working closely with partners in the local community to ensure the safety of women and girls in Waltham Forest.
"Our officers will be visiting local businesses to share concerns about advertising of this nature, reminding retailers of the role they play, as a key part of the community, to keep everyone safe.
"In addition we can confirm the advert has now been removed."
A spokesperson for Beyond the Streets said: "If you are facing the decision to exchange sex for rent then please get do in touch with our team who are available to offer support free of charge to woman involved in the UK sex industry."