Christmas Campaign: The joys of being a Refugee Community Kitchen volunteer
LondonWorld is supporting the Refugee Community Kitchen for its Christmas Campaign, and reporter Lynn Rusk gives the inside track on life as a hard-working volunteer.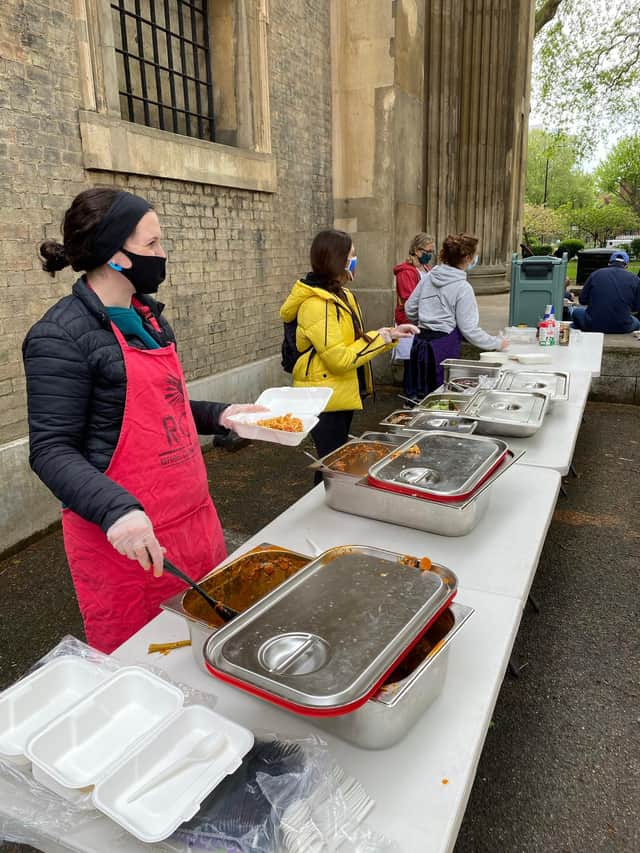 LondonWorld reporter Lynn Rusk is a volunteer at the Refugee Community Kitchen in Old Street. Credit: Lynn Rusk
I moved to London a year ago, in the midst of the pandemic, knowing only a handful of people in the city.
While outdoor meetings were still allowed, opportunities to meet new people were sparse.
That's when a friend recommended that I try volunteering at the Refugee Community Kitchen.
Eight months later, it's safe to say that signing up with RCK is the best decision I've made since arriving here.
The Refugee Community Kitchen is a safe space for everyone.
It serves nutritious meals without judgement to people who are homeless, refugees, those living in food poverty, people who have mental health issues or for those who just want to come and have a chat.
LondonWorld reporter Lynn Rusk, right, volunteering at the Refugee Community Kitchen. Credit: Lynn Rusk
The same mantra applies to its volunteers.
People from all walks of life come to volunteer, those who are new to London and are looking to find connections in the city, those who are retired, students looking to widen their experiences and people who simply love food and cooking and want to make a difference.
Since beginning my journey with RCK, I have been made to feel welcome by every single volunteer and have found my own community in London, a city which is notoriously difficult to crack.
I volunteer at the Old Street service every Saturday, which primarily caters for asylum seekers from Kurdistan to Iraq to Russia, accommodated in a nearby hotel.
The Saturday team works in partnership with Care 4 Calais, a charity that provides direct aid and legal support to asylum seekers arriving in the UK.
Daily schedule
Every Saturday morning, I arrive at the kitchen, which is currently based in Kentish Town.
Here a group of us prepare salads, desserts and fresh food for the service.
Most of the main courses have already been cooked by chefs and other volunteers during the week.
The majority of the food served at the outreach service is plant based and we take into account the tastes and cultures of the people that we are serving.
We make sure to serve yogurt with the curries and provide pickles and other other condiments so people can garnish their food to suit their tastes.
Lynn, centre, with other RCK volunteers. Credit: Lynn Rusk
Once we have prepared everything and reheated the main courses, we load everything into the van and make our way to Old Street where we usually serve between 50 and 80 people.
Salads and fresh fruit are always the most popular items on the menu, as for many of the asylum seekers living in the hotel, it is the only fresh food they get all week.
For me the most special thing about the service is getting to see the same people every week and building up relationships.
Although many of our service users have limited English, we are still able to communicate and have a laugh together.
When everyone has been served, the volunteers usually eat as well, so it feels more like friends sharing a meal together, as opposed to the traditional soup kitchen set up.
The list of foods RCK needs.
Sense of community
We often have service users come up to thank us at the end of their meal, but for me anyway I feel like I am gaining even more from the experience than they are.
I arrive at Kentish Town every Saturday morning, with a huge smile on my face, as I know I'm going to have a good time.
We have a steady group of volunteers that show up every Saturday, because there is nowhere else they would rather be.
I have made friends from Colombia, Italy, the US, Hong Kong who have recently moved to London.
There are outreach centres in Camden, Goodge Street, Old Street, Brixton, Archway and Kentish Town.