A giant puppet of a nine-year-old Syrian refugee girl, which has travelled 8,000 km from the Syria-Turkey border to the UK, was welcomed by Londoners this weekend.
Over the last few months, Little Amal has been walked through Europe carrying the urgent message "don't forget us", in reference to displaced children who have been separated from their families.
The name "Amal" in Arabic means hope.
She arrived in London, this weekend, in time to celebrate her 10th birthday.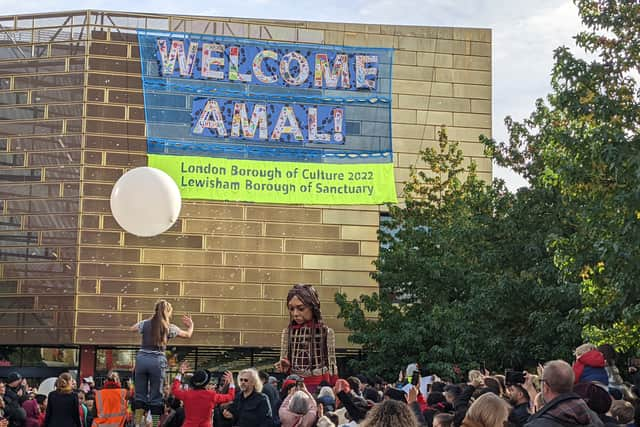 Lewisham is the first council in London to be recognised as a borough of sanctuary, by the national charity City of Sanctuary.
"Welcoming refugees is a huge push within Lewisham Council and all community groups," Josiah Odigie from charity Lewisham Local told LondonWorld.
"As we are a borough of sanctuary, that means making sure we are as welcoming as possible, not just with things like housing but with festivities and cultural activities like this.
"At Lewisham Local, we heard about the Walk with Amal project coming to Lewisham a few months ago, and since then we've been trying to get the word out and try and get the local residents to come on down.
"We've also tried to get local community groups in the know to really increase the turn out.
"The turnout today has been amazing, I think you can really feel it in the air, it's really vibrant, people peeking out of their windows, watching the parade go by, you've got the Ferris Wheel, lots of local schools, people of all ages.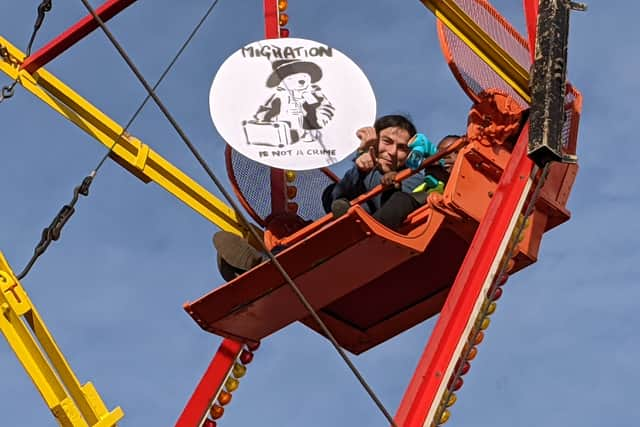 "It really sums Deptford up, it really sums Lewisham up, I'm really happy."
"The attention of the world is elsewhere right now which makes it more important than ever to reignite the conversation about the refugee crisis and to change the narrative around it," said Amir Nizar Zuabi, artistic director of The Walk
"Yes, refugees need food and blankets, but they also need dignity and a voice.
"The purpose of The Walk is to highlight the potential of the refugee, not just their dire circumstances.
"Little Amal is 3.5 metres tall because we want her to inspire us to think big and to act bigger."
David Lan, producer of The Walk said: "Every show I've produced has been preparation for producing The Walk.
"We've long believed that artists, grassroots communities and civic society leaders should come together to make art that matters in the real world.
"The Walk is that coming together."
Naomi Webb, producer for Good Chance, said: "Since Good Chance began, we've found ourselves at the forefront of the argument for art's importance in humanitarian crises; for art's disarming power to bring people together and to tell human stories.
"In this unprecedented new undertaking, The Walk builds on Good Chance's work since 2015 with people from across the world.
"We hope it will push the boundaries of what art can achieve."
This week Little Amal will make her way through Oxford, Coventry, Birmingham and Barnsley and her journey will come to an end in Manchester on November 3.