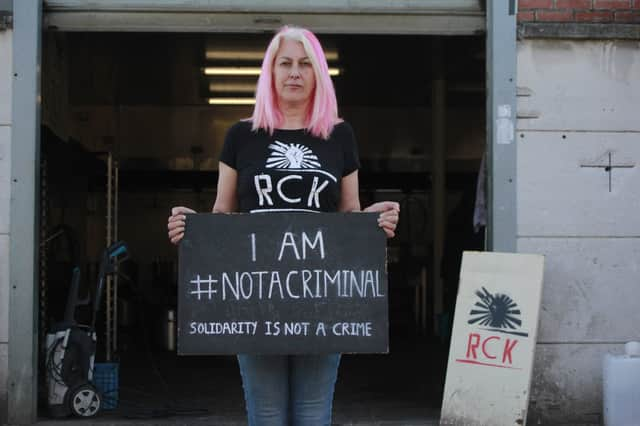 Refugee Community Kitchen co-founder Janie Mac. Credit: RCK
Volunteers have distributed more than three millions meals so far and have won a number of prestigious awards, including the Observer Food Monthly's outstanding achievement award.
"I would love to see an outreach outside every Tube station in London," the educator and activist told LondonWorld.
"For RCK, especially our outreach projects, it's quite autonomous, it uses local volunteers, in a local area, using local surplus food to help local vulnerable people.
"If you've got that autonomy, we can set up as many outreaches as we can."
Refugee Community Kitchen founders Sam Jones, Paula Gallardo, Steve Stavrinides and Janie Mac with their award. Credit: RCK
The Refugee Community Kitchen was founded by Mac and her friends Steve Stavrinides, Paula Gallardo and Sam Jones, during a trip to Calais in December 2015.
They turned up to cook a meal and within two weeks they had found themselves a warehouse.
They served 2,000 meals during their first distribution and the kitchen has been there ever since.
The following year, the group decided to set up an outreach service in London, the first one being in Camden and others followed quite quickly.
RCK is currently operating six weekly distributions in London and one in Edinburgh.
And its Calais kitchen continues to serve nutritious food without judgement to displaced people in northern France.
Mac says that the success of their operation is down to the dedicated team of volunteers.
LondonWorld reporter Lynn Rusk is a volunteer at the Refugee Community Kitchen in Old Street. Credit: Lynn Rusk
"I think the hard work, love and labour that normal people are willing to put in to provide for vulnerable people is something that just knocks me out all of the time," she explains.
"One of our resounding successes has been the way that volunteers come in and come out but we manage to maintain such a high quality standard of food.
"The fact that we sell it on the quality of our food is what makes us stand out."
The Refugee Community Kitchen uses surplus food donated by the Felix Project, local restaurants and food companies to cook high quality healthy and nutritious meals.
"We put food out in our outreach services that people would be happy to have on their tables," Mac continues.
"That quality is what we aim for all the time.
"Why would someone on the street not deserve a meal that you and I would have."
Refugee Community Kitchen. Credit: RCK
People from all walks of life attend the weekly services in Camden, Goodge Street, Old Street, Brixton, Archway and Kentish Town.
"We're learning more and more that this isn't just about homeless people, this is about people in food poverty, people with mental health issues, people who are lonely, people who don't know how to cook," says Mac.
"It literally caters for so many things.
"We're spreading kindness through food.
"What we create is a safe space that allows people to come and chat and meet other people.
"For some people that might be the only conversation that they've had all day when they come to outreach.
"They know that it's a safe space, they know that they're not going to have any judgement.
"There's no judgement there, whether they come for a coffee or a meal or just to hang out, it's very special."