Christmas Campaign: How to get involved with the Refugee Community Kitchen
Londoners can help the Refugee Community Kitchen by donating, volunteering or giving leftover food.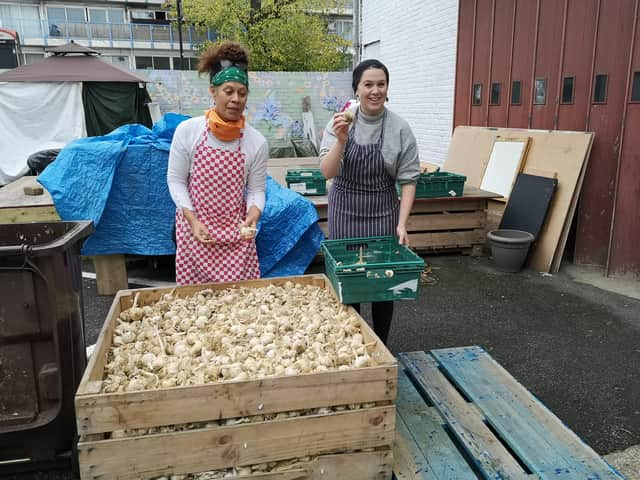 LondonWorld reporter Lynn Rusk, right, volunteering at the Refugee Community Kitchen. Credit: Lynn Rusk
Volunteers have distributed more than three millions meals so far and have won a number of prestigious awards, including the Observer Food Monthly's outstanding achievement award.
Refugee Community Kitchen co-founder Janie Macintyre. Credit: RCK
"I think the hard work, love and labour that normal people are willing to put in to provide for vulnerable people is something that just knocks me out all of the time," she explained.
"We put food out in our outreach services that people would be happy to have on their tables.
"That quality is what we aim for all the time.
"Why would someone on the street not deserve a meal that you and I would have."
How to volunteer?
The Refugee Community Kitchen runs weekly outreach services in Camden, Goodge Street, Old Street, Brixton, Archway and Kentish Town.
The charity uses surplus food donated by the Felix Project, local restaurants and food companies to cook high quality healthy and nutritious meals.
RCK is always on the look out for volunteer drivers and chefs, but there are loads of opportunities to help in the kitchen and at the outreach services.
LondonWorld reporter Lynn Rusk is a volunteer at the Refugee Community Kitchen in Old Street. Credit: Lynn Rusk
"We're learning more and more that this isn't just about homeless people, this is about people in food poverty, people with mental health issues, people who are lonely, people who don't know how to cook," says Mac.
"It literally caters for so many things.
"We're spreading kindness through food.
"What we create is a safe space that allows people to come and chat and meet other people.
"There's no judgement there, whether they come for a coffee or a meal or just to hang out, it's very special."
What food is needed?
Refugee Community Kitchen relies on food donations to run its operations.
The most needed items at present include large tins of canned tomatoes, large tins of tomato puree, large tubs of vegetable stock, dried beans (minimum 25kg sacks) and fresh vegetables and fruit (minimum 20kg).
You can get in touch with RCK to discuss large donations, delivery options & fundraising ideas.
The list of foods RCK needs.
What monetary donations go towards
Refugee Community Kitchen has recently moved to a new kitchen in North London.
Urgent funds are needed as the kitchen needs a refit, plumbing work and to be decorated.
You can donate here to help the team get set up for the New Year.
You can also donate to help keep the service running.
Your donation goes towards fresh and dry foods, containers, cooking gas and vehicles.
Shop online
You can also support the charity by visiting its online shop.
Items include their 2022 calendar, which includes 12 recipes from the RCK kitchens and from Michelin-starred chef Giorgio Locatelli and celebrity chef Andi Oliver.
Other items include branded aprons, hoodies, jackets and water bottles.
There are outreach centres in Camden, Goodge Street, Old Street, Brixton, Archway and Kentish Town.