Sabrina Carpenter has had her BBC's Live Lounge performance edited after a sexual reference in her ad libs was deemed inappropriate.
The American singer, 23, who's recently been spotted out and about with Shawn Mendez, 24, is getting ready for the second North American leg of her 'Emails I Can't Send' tour.
She made an inappropriate sexual reference about what the abbreviation BBC stands for while visiting BBC's London studios for a performance of her song Nonsense.
"How quickly can you take your clothes off, pop quiz. I'm American I am not British, so BBC it stands for something different. This live lounge is so lit because I'm in it, innit," Sabrina sang.
Whilst the acronym BBC in the UK is known to stand for British Broadcasting Corporation, it is also a slang reference with racial connotations in pornography.
The BBC have apologised for the error, saying: "An unedited version of the video was briefly posted in error, and the correct version is now available for viewers to enjoy."
This comes as Sabrina prepares to start her tour in Fort Lauderdale on 16th March, before making her way through Texas and stopping at the Greek Theater in Los Angeles on 20th April. She will then head to the east coast stopping at Nashville's Ryman Auditorium on 2nd May and New York City's Terminal 5 on 11th May.
She has toured in 14 major cities already and throughout the tour, she went viral for changing the outro to her song "Nonsense" each night.
Sabrina claims "Dolly Parton is a huge reference of mine during this album, but I also wanted it to feel modern at the same time."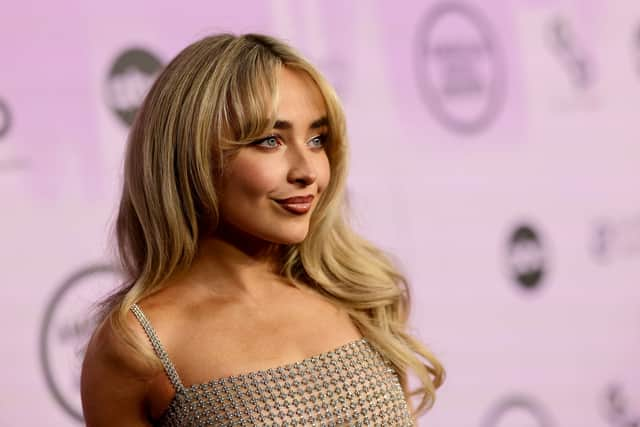 Fans have taken to Twitter to comment on her BBC Live Lounge performance:
One person tweeted in agreement with the BBC, writing: "This is so inappropriate, they did the right thing by taking it down!"
Others have sided with the singer tweeting: "I'm British and luv this, the BBC remain embarrassingly prudish!"
Many fans have commented on her seductive rendition of Harry Styles's hit track, "Late Night Talking" during her Live Lounge performance. Her soulful take on the pop song had fans hoping for a collaboration between the two stars, with one even commenting: "It's Sabrina's house now".