The Metropolitan Police has warned Just Stop Oil activists they are "fully prepared" to face them ahead of their planned protest to 'swarm and block' London's major roundabouts during rush hour on Monday morning (November 28).
The anti-fossil fuel campaigners have been holding up drivers on various roads for months, including the M25 over recent weeks. However, this time around, they are aiming to cause "maximum disruption" to road users as their new tactic. According to news reports, the group plans to march, "as slowly as possible, from key roundabouts, in multiple teams and timed phases."
The note, sent via an encrypted message app Signal, said: "There will be no sitting down on the road… but as the traffic will still be moving behind the march, angry drivers are unlikely to leave their vehicles and they will only be slowed down for a short period of time." It added police will face "a dilemma" of either allowing a "legal protest march" or threatening to arrest protesters.
However, the police said they are "ready to respond" amid further disruption by the campaigners, which is expected to take place from November 28 until December 14.
Commander Karen Findlay, Met Operations, said in a statement: "Just Stop Oil has already caused significant disruption to London's general public and people travelling on the M25.
"We are again fully prepared. We have a very experienced team with robust policing measures in place to respond quickly and effectively to any incidents of serious disruption to London. We also have specialist officers available to deal with a range of tactics including sophisticated lock-on devices."
Just Stop Oil protests: Police could be dealing with 'issues that matter'
She said while they will work with organisers to ensure the protests go ahead safely, she said the protestors did not engage with the police in advance to share their key locations or how many would be involved. She said this has caused the police to deploy more officers, regardless of whether any action takes place or not.
She said: "These are officers who could be dealing with issues that matter to local communities such as knife crime, safeguarding and responding to burglaries. Since 1 October, 11,923 officer shifts have been required to respond to Just Stop Oil activity.
"I completely understand the frustration and anger felt by the public who are seriously disrupted by a relatively small number of protesters and their deliberate tactics. Activists are affecting people's businesses, their lives, whether they are on their way to a doctor, a long awaited hospital appointment, on their way to work, to interviews, or to collect children. Therefore, I again urge Just Stop Oil organisers to engage with us to minimise disruption to Londoners."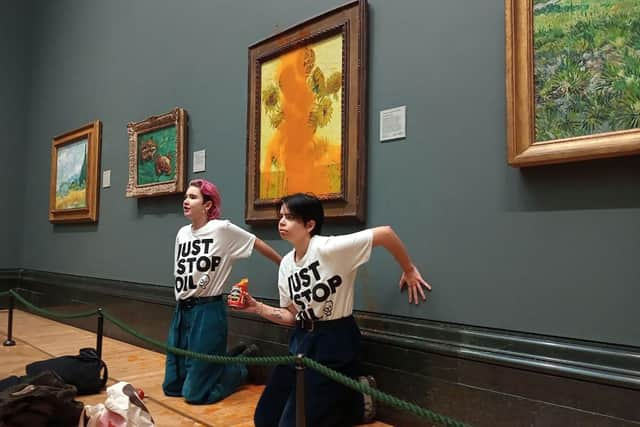 During October and November, the Metropolitan Police arrested 755 Just Stop Oil activists, with 182 charged so far. In October, Just Stop Oil launched their sustained action, in what is described as the "biggest ever civil disobedience campaign". As well as blocking roads, the campaigners made headlines targeting artwork, including throwing Heinz tomato soup over Vincent Van Gog's Sunflowers at the National Gallery in London.