Environmental campaigners Just Stop Oil has brought traffic to a halt on the M25 on several sections of one of the busiest motorways circling London.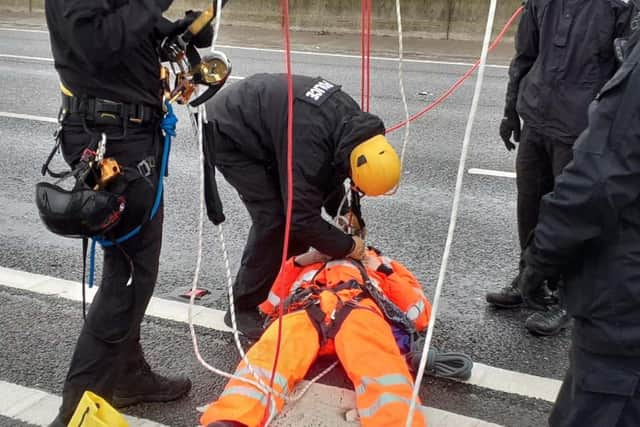 Eight people were charged on Tuesday 8 November, with conspiracy to cause a public nuisance following attempts to cause disruption on the M25.
They are due to appear at Westminster Magistrates' Court later today (Tuesday, 8 November).
At a series of protests currently taking place, Just Stop Oil say that around 15 protestors have climbed on to overhead gantries of the M25 at multiple points.
There are believed to be four separate incidents currently taking place across the M25, as police attempt to deal with the issue.
"We are working as quickly as we can to keep you moving," police said in a tweet.
The junction with the M23 for Gatwick Airport is reported to be extremely busy, with Just Stop Oil protestors on the carriageway.
Junction 12 for the M3 is closed in both directions, with severe delays on A-road. The M11 is also affected, and a protestor is reported to have climbed the gantry at Junction 31, closing the Dartford Tunnel.
National Highways said: "Due to the nature of the incident, we are unable to advise when the road will reopen. Road users may wish to reroute or delay their journey. More details to follow."
The environmental activists tweeted: "Just Stop Oil supporters will continue the campaign of civil resistance on the M25 in the coming days. We ask everyone who is planning to use the M25 or associated roads from 7am tomorrow to be prepared for closures and severe delays to their journeys or to make alternative plans.
"Once again, we urge National Highways to implement a 30mph speed limit across the entire M25 road network in line with their responsibility to keep the public safe. To the Government we say yet again, what did you expect?
"Under British law, we have the legal right, and a moral duty, to disrupt to prevent this great harm — the right of necessity. The UK Government's policy to allow new North Sea oil and gas results, as the United Nations has pointed out, in there being 'no credible path' to remaining at or below 1.5°C of heating.
"This will result in the collapse of ordered civil society, the loss of our rights and freedoms and the death of countless millions of people. We will not stand by and allow this mass murder to happen. We must Just Stop Oil now."