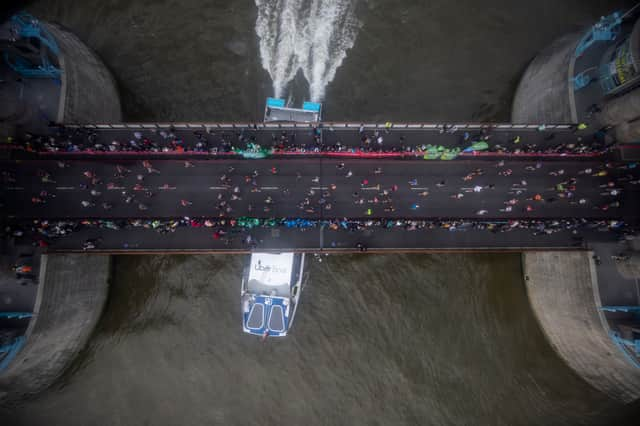 Tens of thousands of Londoners took on the famous 26 miles from Greenwich to the Mall on Sunday - in the first full London Marathon in two years.
Runners were treated to sunshine as the rain mostly stayed away - following dreadful weather on Saturday.
There were also tens of thousands of keen runners across the world taken on the virtual marathon, where they run their own 26.2-mile route.
The marathon was the first full event with normal Brits running for more than two-and-a-half years.
The 2020 race only had elite level runners, and this year's event was moved from April to dodge the Covid lockdowns.
At the elite level, Sisay Lemma of Ethiopa, who came third last year, won the men's race in exactly 2:04.01.
The women's was won by Kenyan Joyciline Jepkosgei in 2:17.42 - making her the seventh-fastest woman in history.
There was a recordbreaking Swiss double in the elite wheelchair races as Marcel Hug and Manuela Schär both set new course records.
Charlotte Purdue qualified for the 2022 World Championships by winning the British women's elite race in 2:23:26, becoming the third-quickest British female in history in the process.
Disgraced former health secretary Matt Hancock ran the marathon, making it one of his first public appearances since he resigned for having an affair in the Department of Health.
BBC presenter Sophie Raworth completed her race in just three hours 33 minutes, raising money for Cure Parkinson's.
She said: "Having run through the city's deserted streets for months during lockdown, it was so wonderful to run with thousands of people again.
"And the crowds! Amazing. A huge thank you to everyone who sponsored me."
Former Olympic gold medallist James Cracknell was another famous face running with the masses.
He said: "A special day, 35,000 plus runners, amazing crowds and even the weather played ball.
"Really felt like Britain is emerging from 'hibernation'.
"Although my legs have returned to lockdown in protest, 2 hours 55 minutes today. Thank you."
This was a theme echoed by many finishers, including former elite women's winner and women's race starter Liz McColgan, who said: "It's a great honour to do it today, it's bringing life back to the city."
Former England cricket captain Andrew Strauss ran in memory of his late wife Ruth, raising money for the Ruth Strauss Foundation.
He said afterwards: "It's just an amazing event, and a special thing to have run together."
Event director Hugh Brasher said: "We've really missed the togetherness after being more divided than ever.
"We are bringing people together one step at a time, both here today and globally.
"Our core value is #WeRunTogether and it has been a hugely complex challenge to do that, with so many scenarios considered.
"The amazing team strives extremely hard, day by day, to get it right."