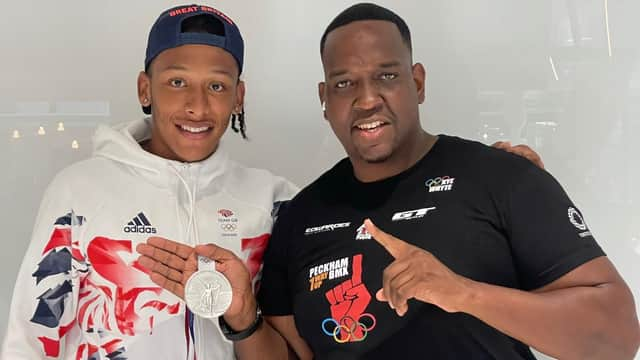 Olympics silver medallist Kye Whyte with his coach from Peckham BMX CK Flash. Credit: CK Flash
Tucked away in the corner of built-up South London is a BMX track which is fast becoming one of the most important in British cycling.
From the road, helmeted youngsters can be seen flying over jumps as they speed around the course.
The Burgess Park track is surrounded by the estates of Peckham, where many of the club's members hail from.
And the track is having astonishing success.
Peckham's Kye Whyte celebrating his BMX silver medal with gold medalist Bethany Shriever of Team Great Britain in Tokyo. Credit: Ezra Shaw/Getty Images
Coach CK Flash estimates that 70 per cent on the BMX team at the Olympics came from the Southwark club.
It is where Tokyo 2020 silver medallist Kye Whyte trained since he was a young boy.
He's the eighth person from Peckham BMX Club to race in the Great Britain team.
The 21-year-old - who is known as the Prince of Peckham - created one of the most iconic images of the games, when he carried fellow BMX star Bethany Shriver around the track in celebration.
He's been embedded in the club since he was a young boy.
Kye's parents celebrate his silver medal at the Peckham BMX track. Credit: Harriet Lander/Getty Images for National Lottery
Kye's dad Nigel was a coach, his mum was the secretary and his older brothers Daniel and Tre were some of the best riders in the country.
Tre, 27, claimed Bronze at the 2014 BMX World Championships, and was also the British champion in 2016.
At the Olympics, Kye said: "Everything revolved around BMX and I don't think I could have done anything else, really.
"In Peckham, I'm known for doing BMX and it's just like, 'he's the wheely kid or the BMX kid, he's not part of that. Let's just leave him out.'
"Living in the area that we do live in it's kept us on the straight and narrow."
Peckham BMX coach CK Flash with Kye Whyte when he moved to British Cycling. Credit: CK Flash
How it started
DJ CK Flash was Kye's coach since he was just three years old.
The Olympic star started training with former BMX champion CK, now 47, in Brixton.
CK helped get the funding for the Burgess Park track, and it has since become a Mecca for British BMXing.
"We were just training on this little back garden track, in the middle of the estate," CK - who has received an MBE for community services - explained.
"I went on to raise £1.1million to build a national training track in the heart of Peckham."
When he started coaching around 40 youngsters would turn up, and now the club gets around 110 each week.
A young BMX rider in action during a BMX event held at the Peckham track. Credit: Harriet Lander/Getty Images for National Lottery
The track is one of the longest and toughest in the UK, which helps create successful BMXers.
"Coming from Peckham, it wasn't a club that was already out there," CK explained.
"It's obviously a white sport, and we came in with people from the estate and turned it around.
"The way I've done it, it attracts young people all of the time.
"I've got the formula where you keep something consistent. - kids like structure.
"If it's raining or if it's snowing I would always turn up."
Youngsters race at the Peckham BMX track. Credit: Harriet Lander/Getty Images for National Lottery
And the coach thinks that the environment in Peckham has given young BMXers an edge.
"We train to be the best, and focus to be the best," CK, of Brixton, Lambeth, said.
"We're always in survival mode.
"If someone is riding for Peckham BMX and they're from the estate, they can see that they can go to the Olympics like Kye.
"They're seeing that it's a way out for them and most probably they're families.
"They are going to do their best, because they've got something to aim for.
"In BMX races there's sometimes milliseconds between winning and losing, but if you've got the hunger there, you're gonna put the extra in.
"That's why we produce so many athletes that go to British Cycling."
Peckham BMX's Kye Whyte finishes second in the Olympics final. Credit: JEFF PACHOUD/AFP via Getty Images
Medal success for Kye
CK and 200 other members of the BMX club packed out the community hall, opposite the track in Burgess Park, to watch Kye's Olympic races in the middle of the night.
The Prince of Peckham looked comfortable in the heats, and then was just edged into silver by the Netherlands' Niek Kimmann in a tight medal race.
The medal celebrations were wild in South London.
CK explained: "Everyone was cheering. It was louder than Notting Hill carnival.
"When he won the silver I just froze. It was crazy, I felt like I couldn't move, I couldn't believe it.
"I was really taken aback, it took a while for it to settle in.
"Someone from Peckham BMX winning silver at the Olympics.
"I was thinking about all the young people that are going to be inspired."
Britain's Kye Whyte celebrates on the podium for the victory ceremony for the cycling BMX racing men's event. Credit: JEFF PACHOUD/AFP via Getty Images
And CK thinks Kye's success will be a gamechanger for BMXing, not just in Peckham but across the country.
All of the bikes and helmets were booked out for weeks after the 21-year-old's silver medal.
"All 80 bikes were out of the container," CK said.
"People who had stopped riding a few years ago, even though they put on a bit of weight, squeezed into their kit.
"That was because of Kye.
"He's made it more accessible to young people.
"People are going to look at him and think I'm gonna ride BMX because that boy came from Peckham, and now he's on top of the world and he's got an Olympic silver.
"Let's get down our local track and see if we can do the same."
Young BMX riders race around the Peckham track. Credit: Harriet Lander/Getty Images for National Lottery
How to get involved
There are 12 BMX clubs spread across London, from Croydon in the south to Hillingdon in the west and Walthamstow in the north.
If you want to follow in Kye's footsteps and join the Peckham BMX Club, the track is in Burgess Park, Albany Road, in between Peckham and Walworth.
Annual membership is just £15, and training sessions are on Wednesdays, Thursdays and Saturdays.
Most clubs, like Peckham, provide bikes and helmets, so riders just need to make sure they know how to cycle.