Petrol stations across London are running out of fuel, as people desperately try to fill out so they can go to work.
The issues have been caused by a shortage of HGV drivers to transport the fuel, which has been exacerbated by people panic buying.
In order to get Londoners to work, LondonWorld has listed all of the petrol stations we have confirmed have fuel below.
This list is liable to change as staff will update it throughout the day, so please keep checking it (this list was updated on Thursday October 7).
This is a fast moving situation so if you visit one of the petrol stations and it is on the wrong list, or your local petrol station isn't listed, please email us at [email protected]
Central London
Shell Southwark, 101-103 Southwark Bridge Rd, London SE1 0AX
Shell Baker Street, Marylebone Rd, London NW1 5AR
BP Vauxhall Bridge Road, Victoria, SW1V 2RE (diesel only)
Shell, 104-105 Bayswater Road, London, W2 3HJ
Shell, Grosvenor Road, Pimlico, SW1V 3JY
Texaco 241 City Road, Old Street, EC1V 1JQ
Shell Victoria, Ebury Street, Victoria, SW1W 9QJ
North London
Morrison's 327 Southbury Rd, Enfield EN1 1TW
Harvest Energy, 130 Hale Lane, Edgeware, HA8 9RZ
BP Connect North Circular, 407-419 High St, North Finchley, London, N12 OAP
Sainsbury's Harringay, 681 Green Lanes, London N21 3RS
Esso Maida Vale, 115 Maida Vale, London W9 1UP (diesel only)
Sainsbury's Enfield, 3 Crown Road, Enfield, EN1 1TH
Tesco Extra Lea Valley, 1 Glover Drive, London, N18 3HF
Jet Edmonton, 169-171, Church St, London N9 9HL
Texaco Edmonton, 291 Montagu Rd, London N9 0EU
Shell, 1-13 Willoughby Lane, Northumberland Park, London, N17 0YH
Tesco Extra, 1 Glover Dr, London N18 3HF
Esso A10, Great Cambridge Rd, Enfield EN1 1JD
Esso Golders Green, 872 Finchley Rd, London NW11 6AH (diesel only)
Tesco Colney Hatch, Coppetts Centre, North Circular Rd, London N12 0SH
Esso Highgate, 513 Archway Road, Highgate, N6 4HX
Tesco Brent Cross, Tilling Rd, Brent Cross, London NW2 1LZ (diesel only)
BP Connect, 45 Russell Lane, Whetstone, London, N20 0BB
Shell Enfield, 233 Bullsmoor Ln, Enfield EN1 4SB (diesel only)
BP Hornsey Rise, New Orleans Walk, Hornsey, N19 3SH
Shell, 11 Colney Hatch Lane, Muswell Hill, N10 1QB (diesel only)
BP New Southgate, Oakleigh Road South, New Southgate, N11 1NH (diesel only)
Texaco Service Station, 156 Tottenham Lane, London N8 8SE
Colindale Asda, Capitol Way, Edgware Rd, London NW9 0AS
Shell York Way, 109-113 York Way, London N7 9QE
Co-op Food - Petrol Caledonian, 219-227 Caledonian Rd, London N1 0SL
Applegreen, 2 Bounds Green Road, Bounds Green, London, N11 2QH
Esso West Hendon, 67-73 Watford Way, London NW4 3AQ
Shell, 290 Willesden Ln, London NW2 5HS
BP Edmonton, 57 Fore Street, Edmonton, N18 2SX
Applegreen Palmers Green, 243 North Circular (A406), London N13 5JF
Shell Palmers Green, 148-150 Green Lanes, London N13 5UN
BP Hendon, 14 Finchley Lane, London NW4 1DL
Shell Hendon, 383 Edgware Road, Hendon, NW2 6LD
Shell Kilburn, 409 Kilburn High Rd, London NW6 7QE
BP Wellington Hospital, 21-41 Wellington Rd, London NW8 9SQ
South London
Esso Streatham Hill, Sternhold Ave, London SW2 4PB
Morrisons Peckham, Aylesham Centre, Rye Lane, Peckham, SE15 5EW
Esso East Dulwich, 13-19 East Dulwich Road, East Dulwich, SE22 9BD
Lewisham Tesco Superstore, 290 Lewisham Road, London, SE13 7PA
Asda Old Kent Road, 464 - 504 Old Kent Road, Peckham, SE1 5AG
Jet Deptford, 177-189 Creek Road, Deptford, SE8 3BU
Esso Catford, Brownhill Road, London, SE6 1AA
Shell Bromley Hill, 96A Bromley Hill, Bromley BR1 4JU
Sainsbury's Selhurst,120-122 Whitehorse Ln, London SE25 6XB (diesel only)
BP Forest Hill, Stanstead Road, Forest Hill, SE23 1HP
Esso Brixton, 330 Brixton Road, Stockwell, London, SW9 7AA
Tesco Extra, Surrey Quays Shopping Centre, Redriff Road, London, SE16 7LL
Tesco Old Kent Road, 107 Dunton Rd, London SE1 5HG
Tesco Norbury, 1076 London Rd, Thornton Heath CR7 7ND
Texaco Plumstead, 190-214 Plumstead High St, London SE18 1JH
Shell South Norwood, 123-127 Portland Road, London SE25 4UX
BP Greenwich, 43-53 Trafalgar Road, London SE10 9TS
Texaco, 300 Norwood Road, West Norwood, SE27 9AF
Texaco, 204 Croxted Road, Herne Hill, SE24 9DG
Jet Loughborough Junction, 42 Hinton Road, Loughborough Junction, SE24 0HJ
BP, Kidbrooke Park Road, Greenwich, SE3 0DZ (diesel only)
Esso, 37A Shooters Hill Rd, London, SE3 7HS (diesel only)
Esso Streatham, 120 Leigham Court Road, Streatham, SW16 2RW (diesel only)
Sainsbury's Bell Green, Southend Lane, Sydenham, SE26 4PU
Esso Tesco Forest Hill, 86 London Road, Forest Hill, SE23 3PE
Shell, 128-136 Beckenham Rd, Beckenham BR3 4RH
Sainsbury's, 263d New Cross Rd, London SE14 5UQ
Tesco, Croydon Rd, Elmers End, Beckenham BR3 4AA
BP, 115 Grove Vale, East Dulwich, SE22 8EN
BP, 107-111 Anerley Rd, Anerley, London SE20 8AP
Shell 165 Shooters Hill Road, London SE3 8UQ
Shell Lewisham, 357-361 Lewisham High St, London SE13 6NZ
Applegreen Streatham High Road, 275 Streatham Common S, Streatham High Rd, London SW16 3NN
Shell Crystal Palace, 4 Crystal Palace Parade, London SE19 1UN
BP South Norwood Hill, London SE25 6BS
Shell Gipsy Hill, 112-122 Gipsy Hill, London, SE19 1PL
BP Falconwood, Bexley Road, Eltham, SE9 2NL
Jet Plumstead, 1-3 Bostall Hill, London SE2 0RB
BP, 277 Kirkdale, London SE26 4QD
West London
Shell Acton Park, 213-217 The Vale, London W3 7QS
Esso Heathrow, Bath Road, Harlington, Hayes UB3 5AY
Shell Heathrow, 400 Bath Rd, Colnbrook By-Pass, Longford, West Drayton UB7 0HB
Asda Park Royal, 2-20 Western Road, Park Royal, NW10 7LW
BP, Great West Road, Hammersmith, W6 9TQ (only diesel)
Jet Kew Bridge, 400 High St, Brentford TW8 0DU
Sainsbury's Ladbroke Grove, 2 Canal Way, London W10 5AA
Shell, 609 Kenton Rd, Harrow HA3 9RY
Esso Queensbury, Honeypot Ln, Stanmore HA7 1JN
Tesco Extra Southall, Bulls Bridge Industrial Estate, Hayes Rd, Hounslow, Southall UB2 5LN
Harvest Harlesden, 2 Church Rd, London NW10 9PX
Heston Services, 55 N Hyde Ln, Hounslow TW5 0EP
BP Acton Green, South Parade, Acton Green, W4 5LG (only diesel)
BP Gunnersbury Avenue, London, W5 4LR
BP Western Avenue, Greenford, UB6 8ST
Esso Rontec Chiswick Flyover, 1 Great West Road, Chiswick, W4 5QJ
Shell, 106 Old Brompton Road, South Kensington, SW7 3RA
East London
Tesco Bow Roundabout, Hancock Road, Bow, London E3 3DA
Texaco, 194 High Street, East Ham, E6 3RR (diesel only)
Tesco Barkingside, 796 Cranbrook Road, Barkingside, IG6 1HZ
Jet Chadwell Heath, 287 High Road, Chadwell Heath, RM6 6AU
BP, 165 Alfreds Way, Barking IG11 0AT
Shell, 514 Ripple Rd, Barking IG11 9PG
Jet, 110 Blackhorse Lane, London, E17 6AA (only diesel)
Asda Bethnal Green, 112 Vallance Rd, London E1 5BW
Esso Redbridge Roundabout, Studley Drive, Redbridge, IG4 5AH
Texaco, 127-139 Bow Road, Bow, E3 2AN
BP 219 Cambridge Heath Road, Cambridge Heath, E2 9LH (only diesel)
Tesco Gallows Corner, Bryant Avenue, Romford, RM3 0LL
Jet Woodford Green, 300 Chigwell Road, Woodford Green, IG8 8PN
Asda Isle of Dogs, 151 E Ferry Rd, London E14 3BT
Asda Leyton, Marshall Rd, London E10 5NH
Sainsbury's Chingford, 13 Hall Ln, Chingford, E4 8HH
BP Plaistow, Newham Way, London, E16 1QX
BP Leyton, 666 High Rd Leyton, London E10 6JP
Jet Leytonstone, 509-525 High Rd, London E11 4PG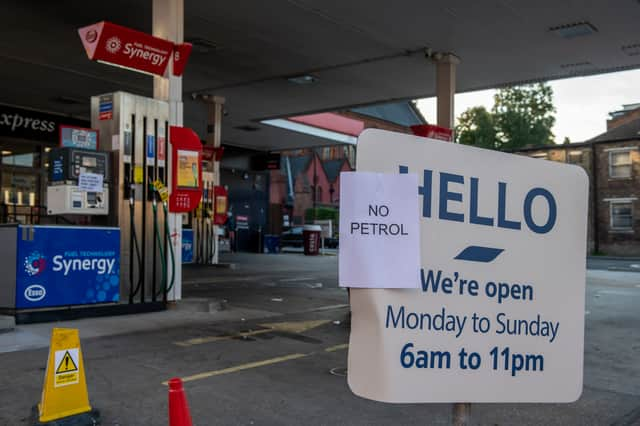 Why are petrol stations running out of fuel?
There is no shortage of petrol and thousands of forecourts are operating normally, according to the AA.
Motorists have been urged not to panic-buy fuel, after a number of petrol stations were forced to close because of a lack of HGV drivers.
Britain has a shortage of about 100,000 HGV drivers, Rod McKenzie of the Road Haulage Association told BBC Newsnight.
This is due to EU drivers moving back to the continent after Brexit, and HGV training being put on hold due to the pandemic.
The issue has been getting the petrol to the filling stations, and people panic buying fuel in large numbers.
BP said a "handful" of its filling stations had closed due to a lack of fuel, and Esso owner ExxonMobil also said a "small number" of its Tesco Alliance petrol forecourts had been impacted.
However some reports have put 90% of London's stations without fuel.
The AA said similar delays over recent weeks had been managed "with hardly anyone noticing".
Edmund King, the AA's president, said: "Fridays and the weekend always tend to be busier on forecourts as drivers either combine filling up with shopping runs, prepare for weekend trips or refuel for the start of the new working week.
"Drivers should not fill up outside their normal routines because, even if the occasional petrol station is temporarily closed, others just down the road will be open."
When will the fuel crisis end?
It's difficult to say just when the current fuel issues will be ironed out.
Elizabeth de Jong, policy director at trade association Logistics UK, told BBC Breakfast consumers must stop panic-buying to ease the fuel crisis while the Government implements longer-term solutions to tackle HGV driver shortages.
She said: "We are seeing the impact of panic buying, we have been assured through the Petrol Retailers Association and we have been assured by some of the larger petrol companies in the country that there is enough fuel for everyone, but yet we have become very concerned and are buying and buying and have caused a very big problem.
"I represent and have been dealing with the Government over the general shortage of HGV drivers, we have got a number of announcements there about increased tests, funding of new visas, so there are issues in the industry and some of these will take a while to resolve, some of these can be resolved, so a lot is being done, but we really need to keep calm, just as we did through Covid with toilet rolls, for this not to continue."