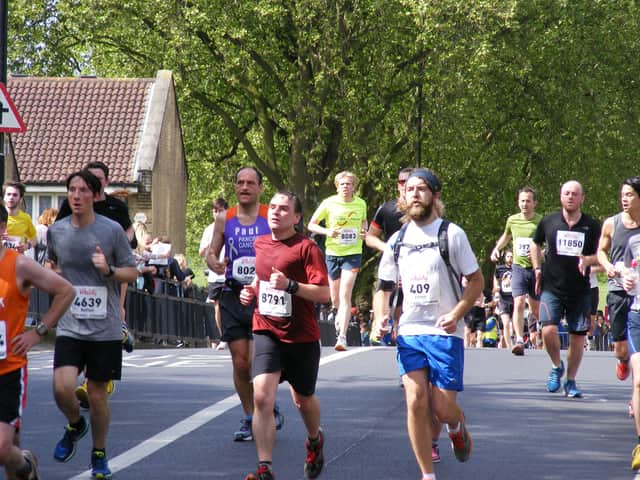 After a year-long hiatus due to the pandemic, the Hackney Half Marathon is back again and it's bigger and better than ever, with a record 30,000 runners set to take part.
This year participants will be serenaded by live bands and DJs at every mile of the route through east London's vibrant streets.
The event, which is part of the Hackney Moves Festival, took place virtually last year due to government restrictions but this weekend thousands of runners and festival goers are expected to assemble in Hackney.
From routes to start times here is everything you need to know about this year's Hackney Half Marathon.
When does the Hackney Half Marathon take place?
The 2021 Hackney Half Marathon will take place on Sunday, September 26.
What time does it start at?
The event is scheduled to start at 9am, but to enable the race to take part in a Covid-secure way runners will be allocated specific arrival and start times to control the flow of runners onto the course.
How long is the Hackney Half Marathon?
The Hackney Half Marathon is 13.1 miles long.
This is exactly half the distance of a full marathon (26.2 miles).
How do I get a ticket?
Tickets for this year's Half Marathon cost £54 and can be booked through the event organisers LimeLight Sports.
What is the route?
The Half Marathon starts in Hackney Marshes and covers a flat route through Hackney, which will take runners down Mare Street and through the historic Broadway Market.
Participants can take in Hackney Wick's vibrant street art, then explore green spaces including Haggerston and Downs Park, crossing over twelve canals and rivers.
Runners can pick up their pace in London Fields and then finally make their way back to Hackney Marshes for their triumphant finish.
Those who complete the course will receive an exclusive NIKE Dri-Fit technical t-shirt, medal and official race-time.
What roads will be closed?
All roads around the route will close at 06:30, ready for the Hackney Half to begin at 9am. Roads will begin to re-open from 12.45pm, once runners have passed by and when it is safe and feasible to do so and all roads will have re-opened by 3pm. The roads closed during this period are as follows:
Ada Street, Amhurst Road, Andrews Road, Bayford Street, Berkshire Road, Broadway Market, Brooksby's Walk, Cadogan Terrace, Cricketfield Road, Dalston Lane, Downs Park Road, Downs Road, Eastway, Goldsmiths Row, Gore Road, Graham Road, Gransden Avenue, Grove Road, Haggerston Road, Hepscott Road, Homerton High Street, Homerton Road, Kay Street, Kenworthy Road, Lamb Lane, Lauriston Road, Lee Conservancy Road, London Lane, Lower Clapton Road, Mare Street, Marsh Hill, Mentmore Terrace, Middleton Road, Monier Road, Morning Lane, Osborne Road, Paragon Road, Pembury Road, Ponsford Street, Pritchard's Road, Queensbridge Road, Queensdown Road, Rectory Road, Rothbury Road, Sandringham Road, Scriven Street, Semley Gate, Shacklewell Lane, Sheep Lane, Sidworth Street, St Mark's Rise, Teale Street, Urswick Road, Valette Street, Victoria Park Road, Wallis Road, Wansbeck Road , Warburton Road, Westgate Street, Whiston Road, White Post Lane, Wick Lan
Hackney Moves Festival
Alongside the Hackney Half Marathon, a further 75,000 people will attend the Hackney Moves Festival which will run from Friday September 24 to Sunday September 26.
Events over the weekend include the Hackney 5K and the Hackney Schools Challenge.
The 5K is free for runners over 13, but they must register beforehand.
Participants will run through the Queen Elizabeth Olympic Park, past the River Lea and the Olympic Velopark.
In addition to the 5K, the Hackney Schools Challenge will see hundreds of children from more than 15 schools in the area take on a one-mile course, having completed their own half marathon in the weeks leading up to the event.
Alongside the races, the three-day Hackney Moves line-up includes free entertainment, sports and fitness activities for all festival goers.