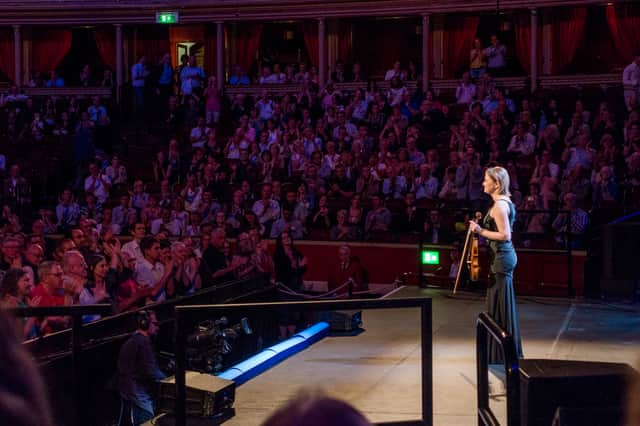 Russian-British violinist Alina Ibragimova is one of the musicians playing in the Concert for Afghanistan. Credit: Paul Hudson/Flickr CC
A group of London's finest classical musicians are coming together to play in a charity concert to raise funds for Afghanistan.
Concert for Afghanistan, which is taking place this Friday October 22 at St James' Church in Piccadilly, will be hosted by Classic FM's John Suchet.
The programme of the Concert for Afghanistan will include Debbie Wiseman's To Help, an anthem specially arranged for this concert, as well as Bach's Concerto for Oboe and violin in D Minor and Mozart's Flute Concerto No.1 in G Major.
The Concert for Afghanistan flyer. Credit: Concert for Afghanistan
Other scores will include Marcello's Oboe Concerto in D Minor and and Mozart's Symphony No.40 in G Minor.
The soloists are British oboist and conductor Nicholas Daniel, Russian-British violinist Alina Ibragimova and Lebanese-British concert flutist Wissam Boustany.
Enrico Alvares, project director, said: "This concert provides an opportunity for some of the finest musicians in the world to donate their time and abilities to help those they feel to be in great need.
"Everyone in this concert - whether performer, helper, listener physically present in the hall, or listener virtually present via streaming - is part of a very special event and one based entirely on love for fellow humans.
"You will hear that in every note. I guarantee it."
The London Mayor's Welcome Message to the Afghan Refugees is displayed at Piccadilly Circus is also displayed in Dari and Pashto. Credit: Joe Maher/Getty Images
Melanie Ward, UK executive director at the International Rescue Committee, said: "We are extremely grateful for all of the musicians dedicating their time and talent to this Concert for Afghanistan, as we are working relentlessly in Afghanistan to deliver urgent aid.
"As we were just celebrating the International Day of the Girl, a few days ago, we need to do everything we can to ensure Afghan girls can continue their education.
"It is great to see music bringing people together for such an important cause."
The recent transfer of power has caused immense uncertainty across Afghanistan and is compounding a decades-long humanitarian crisis that has more than 18 million people in need of humanitarian aid.
The deteriorating situation has put Afghans in danger, with women and girls bearing the brunt of the violence.
The International Rescue Committee has launched a $10 million appeal to support its urgently needed work.