A Hackney-based community youth group, has launched a new video-led campaign to raise awareness of the "ongoing adultification and over-sexualisation" of young black girls.
The film titled "Girls Rise Up" features imagery of young black girls carrying protest signs, sharing their aspirations and asking to be seen, loved and cared for.
The message "Child Q is a child" aims to show that young black girls need to receive the protection and nurturing that every child deserves.
Joyclen Buffong, founder at Rise365 said that Child Q highlights why "young black girls have such little trust in the authorities that are designed to protect their human rights."
"The young girls at RISE have spoken of their traumatic experiences within the school system and are choosing to use their voices to bring awareness and change.
"We want to assure young girls that we want to support them, to bring an end to the ongoing inequalities and negative perceptions faced by this community."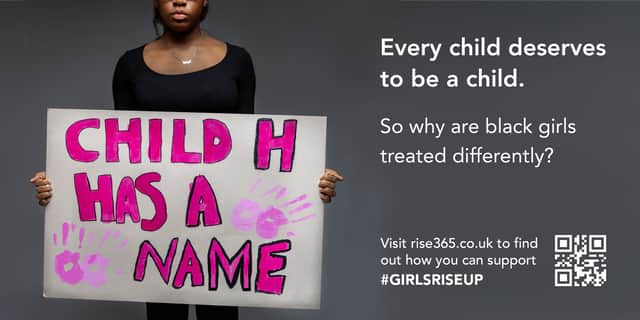 Earlier this year, a report released by the City of London & Hackney Safeguarding Children Partnership (CHSCP) found the search of Child Q was unjustified and racism was "likely" to have been a factor.
The news sparked days of protest in Hackney and, since then, further investigation has revealed that Met Police have strip searched at least 650 children in London in the past two years.
Labour MP for Hackney Diane Abbott said: "We have to draw a line, they [police] cannot treat our children like this."
A statement on the Rise 365 website reads: "Our young people were devastated by the news of what happened to child Q.
"Many of them are afraid knowing it could have happened to one of them.
"We want to let child Q know that she is not alone and we are fighting for justice.
"We want reform so that this won't happen again.
"No child should suffer at the hands of those who are there to protect.
"We want to change the stigma and stereotype surrounding our Young Black People.
"We are the change that we want to see."