On her last day as Metropolitan Police commissioner, Dame Cressida Dick made it clear that mayor Sadiq Khan forced her out saying: "I did not voluntarily resign."
Dame Cressida has spent 40 years in London's main police force - including five years as its top officer - but quit on February 11 after mounting scandals.
It was one of a string of controversies that plagued her during her time in the role, alongside the murder of Sarah Everard by then-serving police officer Wayne Couzens and the jailing of two Pcs who took pictures of the bodies of murdered sisters Bibaa Henry and Nicole Smallman.
There was also criticism of how the force handled the partygate scandal and the Daniel Morgan report which blasted the Met's failure to tackle corruption.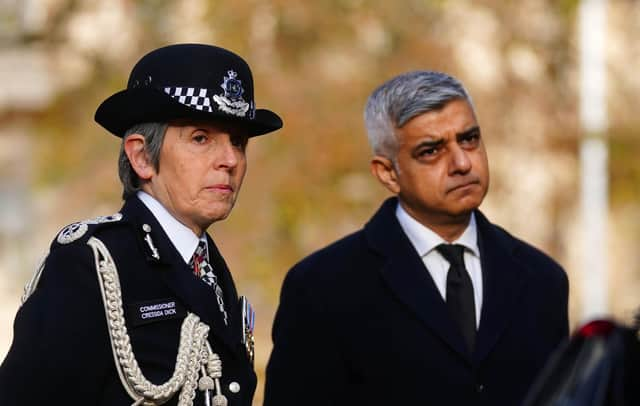 As her tenure draws to a close, the Met's most senior officer said she was "really proud" of what the force had achieved in her five years in the job, adding that it is "much more diverse, much more professional and bigger" with more than 34,000 officers employed.
But during a visit to the Metropolitan Police Specialist Training Centre in Gravesend, Kent, Dame Cressida reinforced that the move was not her decision, stating that the mayor "caused me to say that I would step aside".
Discussing the circumstances surrounding her departure, Dame Cressida said: "The mayor of London is a democratically elected person. He has a job to do, he has certain responsibilities in relation to the Metropolitan Police Service.
"He caused me to say that I would step aside, I did not voluntarily resign. What happened in the run-up to that and subsequently in the last few weeks perhaps, I don't know, will be looked at by Sir Tom Winsor."
Her visit was part of a series of outings she completed prior to her final days in office, which was finalised with a passing out parade at Hendon in north-west London.
After arriving in Gravesend, Dame Cressida was applauded by firearms officers and public order officers who presented her with a certificate following her 40 years of service.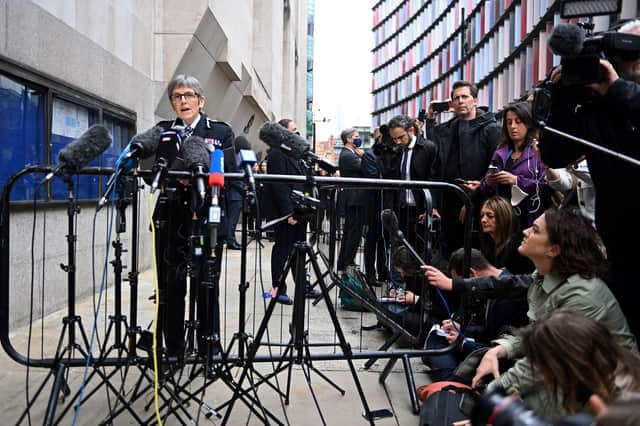 She also thanked each officer and trainer at the centre, with many also thanking her in return for her leadership.
Speaking about whether she had any regrets about things she might have done differently, Dame Cressida told journalists: "I guess when I sit there, after I have left, I will look back and I will analyse further, what happened potentially, what I could have done or what others could have done in particular circumstances.
"But I'm really proud of what the Met has achieved in this time. I think London should know that it has a fantastic police service, a world-leading police service that people from all over the world come to see, that has improved.
"I joined 40 years ago, and in so many respects it's much more diverse, much more professional, bigger. And it is very determined to improve even further, and it will do."
Dame Cressida previously apologised publicly following the conclusions into the cases involving Ms Henry, Ms Smallman and Ms Everard, said she was "seething angry" about the racist, sexist and homophobic messages from officers at Charing Cross station and defended how the force dealt with partygate.
Two inquiries are currently under way looking at the culture within the Met.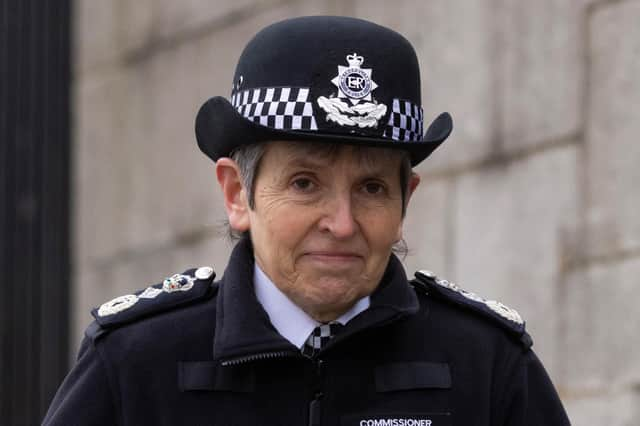 Dame Cressida said the culture in the force "has been changing" following the death of Ms Everard and the publication of the WhatsApp messages.
She added: "I believe during my commissionership you have seen a real opening up of the Met. We are much more transparent, we are much closer to our public, and we have been seeking to root out the people who have let London down or may let London down, those people who can't live up to the professional standards that London would expect of its police service.
"We've had some horrible things done in the last year by people who were wearing and shaming the uniform of the Metropolitan Police. (It was an) awful, awful event with Sarah Everard being killed, a terrible thing, unimaginably bad for everyone. Since then, some other things have shocked the Met.
"But we haven't stood by – we were already changing very fast."
She then listed work being undertaken by the force to improve it, such as investing in professionalism, updating its unit which deals with officers who commit domestic abuse and sexual offences and involving the public to "help improve its professionalism".
Dame Cressida will take unused annual leave after April 10, with her last day of employment being April 24.
Deputy commissioner Sir Steve House will temporarily serve as acting commissioner while the recruitment process is ongoing, with her successor expected to be appointed in the summer.
A previous statement from Mr Khan's office said: "The mayor thanks Dame Cressida Dick for her decades of public service.
"The mayor has been clear that candidates for the next commissioner must have a plan to restore the trust and confidence of Londoners."