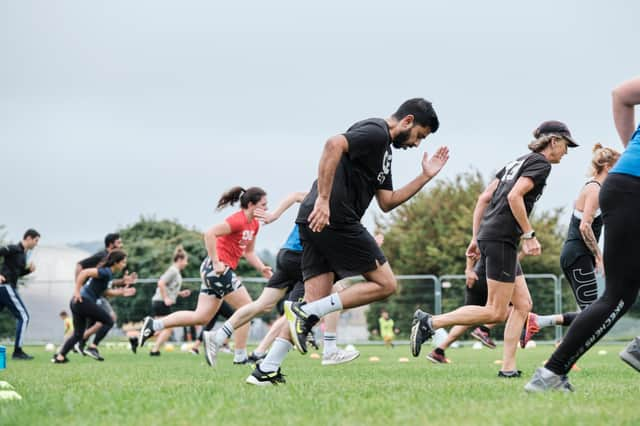 Fitness fanatics Tom Marien and Richard Giles are on a mission to get Londoners fit and healthy this winter.
The pair, who run One Element, a leading outdoor social fitness company in the capital, firmly believe in the benefits that exercising outdoors can have on our mental health, especially during the dark winter months.
Over the last 14 years, the business has expanded and One Element's exercise boot camp sessions now run all over the city from Docklands in the east to Twickenham in the south west.
"I think that when we do exercise, when we do anything that pushes us even slightly out of our comfort zone, we create bonds with people that are very special," said Marien, 41.
"That's why when you play in a sports team, you make such lifelong friends.
"And the same thing happens when you go to a group training class, like a boot camp, you build those connections."
Giles believes that the community aspect of boot camps are particularly important in cities like London.
"I think what people like is feeling they belong to something," the 39-year-old explained.
"I think that's a big thing for people, especially in London.
"I think London is quite well known for being quite hard to break into that community.
"I think by knowing those people you're training with, it kind of gives you that motivation to go out on those colder wetter days.
"Knowing that actually there's a friendly face there, there's somebody who's going to push you, you're not just kind of dragging yourself to the gym, spending more time on your own indoors.
"I think it's the feeling of being part of something bigger."
Over the pandemic, data shows that mental wellbeing in the UK deteriorated.
According to recent figures from the Office for National Statistics, one in six adults experienced some form of depression in summer 2021, compared with one in 10 before the pandemic.
Marien believes that exercise is the medicine Londoners need to help improve their mental health.
"There's evidence now that shows that exercise is more powerful than both drugs and talking therapies combined in alleviating depression and anxiety," he explained.
"When we exercise, we produce a huge number of chemicals in our brain.
"This includes the serotonin which makes us feel connected to people, the dopamine which makes us feel positive, the one that everyone always talks about endorphins, which reduces the amount of pain.
"There's also something called endocannabinoids, which makes us feel the runner's high or that optimism and positivity.
"Dopamine, interestingly, makes us more aware of things around us and more curious and more interested in what's going on.
"So if you produce dopamine and you're outside and you're with people, you become more curious which is a wonderful concept.
"I think being curious about things in life is one of the best protectors against depression or low mood."
According to a study by the University of Essex, exercise during the winter months can be used to help combat seasonal affective disorder.
Marien agrees with these findings, stating that exercising in the cold helps us to build our resilience.
"Let's say you take up cold water swimming, or you take up a bootcamp and you go out training in the cold, in the wet, in the rain, twice a week, you're going to be building resilience to the cold," he said.
"You're also going to be rebuilding resilience to the lactic acid that you build up in your cardiovascular system and this leads to pathways in the brain.
"So when you get to that lactic threshold, you can push through it.
"And they've shown that these pathways in the brain are transferable.
"So you build resilience in exercise.
"And you can transfer that across your social life, to your family life, or to your workplace."
Londoners looking to get active outdoors can join one of One Elements boot camps in a range of locations across the city, including Battersea, Clapham, Docklands, Richmond, Tooting, Streatham and Wandsworth.