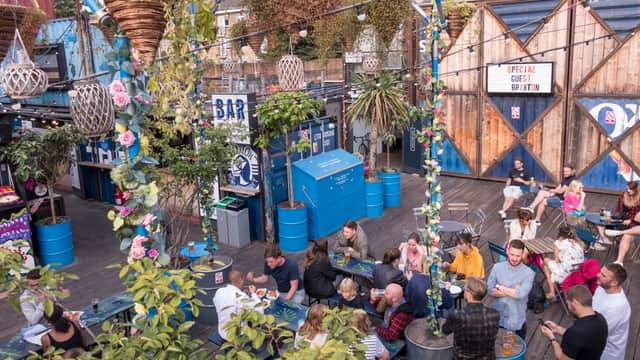 Punters enjoying themselves at Pop Brixton. Credit: Shutterstock
With summer all but over, and autumn on the horizon, Londoners are looking for a little more shelter as we sip our after work pints.
To help you stay dry when going for drinks with friends, LondonWorld has compiled a list of our favourite covered pub beer gardens across the capital.
As the weather cools going into autumn, you'll be able to enjoy your drinks outside come rain or shine.
If there are more coronavirus restrictions, these beer gardens might be the only places we can go for a drink.
The Clarence Tavern, Stoke Newington
Chef Harry Kaufman – formerly of Garden Cafe, St John Bread and Wine and Lyle's – oversees menus that change with the seasons and celebrate ingredients from a select group of small British producers.
Tuck into the likes of skate wing or burrata with blood orange segments and a glass of low intervention wine in their heated, covered garden.
The Edinboro Castle, Camden
North London isn't blessed with as many rambling beer gardens as south london, but The Edinboro Castle is up there with the best.
Not only the outdoor bar, which makes ordering a breeze, there are also cosy wooden cabins complete with pillows and picnic rugs where you can retire to if the weather leaves a little to be desired.
It's also right on the corner of Regent's Park, an ideal post-ramble watering hole.
Pop Brixton is a collection of shipping containers, with food, beer and wine. Credit: Shutterstock
Pop Brixton, Brixton
The covered area at the top is a buzzy date spot, complete with street food, punchy cocktails and cool music.
S11 is a bar that operates from a series of hatches, or if you're out to impress, opt for Specialist Cellars, which mainlines in unsung natural wines from Australia and New Zealand.
The Beehive, Tottenham
Inside the mock Tudor building, you'll find a games room with pool, darts and board games, so if it becomes too miserable outside you can always withdraw and get down to some serious competition.
The beer offering salutes local heroes such as Beavertown, Redemption, Five Points and One Mile End breweries.
Given that it's enormous and they keep most of the tables for walk-ins, this one is perfect for last-minute impromptu drinks.
Vinegar Yard is an open air bar near London Bridge. Customers enjoy a drink at the outdoor seating just after sunset. The Shard and Guy's Hospital are behind. Credit: Shutterstock
Vinegar Yard, Southwark
Hunker down in the cover of its fairy-light festooned tents and sip your way through an enormous selection of draught beers from London breweries, as well as classic cocktails.
Special occasion? Pre-book one of their snug rum shacks which seat up to six people and come with a designated table server so you never have to queue for a drink.
King's Head, Roehampton
This much-loved pub between Richmond Park and Putney Heath looks like a country inn thanks to its white clapboard exterior and mature trees.
The garden is as leafy as a private home, making it a serene space for weekend-day drinks.
After dark, lanterns and a well-curated wine list lend themselves to classy evenings with family or friends.
Not all tables are covered but many are, so if the weather is looking inclement request one when you book.
Oh and don't forget to try one of the nostalgic puddings, which have a cult local following.
The Magic Roundabout, Battersea
Everyone loves the idea of discovering a 'neighbourhood gem' and The Magic Roundabout is exactly that.
Peeling murals of trees and flowers on the outside set the tone for a slightly bohemian experience that feels as if it belongs to another time.
The garden is huge and has the atmosphere of a festival thanks to bean bags, colourful furniture, live bands and locals who look like they've plenty of stories to tell.
They also provide blankets and hot water bottles.