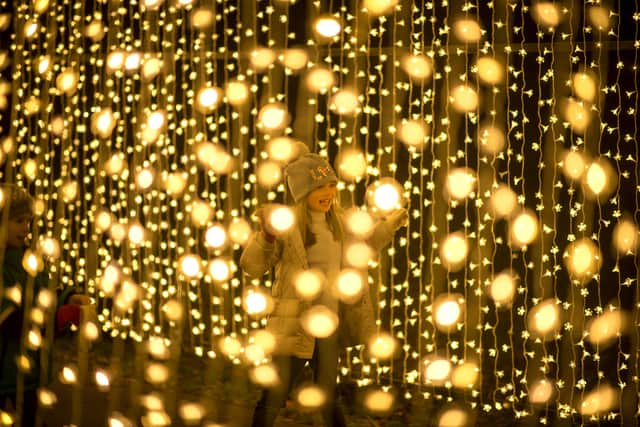 The Christmas lights at Kew Gardens. Credit: Jeff Eden
It's the most wonderful time of the year, with the festive season upon us London is starting to light up.
What better way to get into the Christmas spirit than by taking a trip to see one of the many dazzling illuminations in and out of the city.
Carnaby Street lights. Credit: Lynn Rusk
Carnaby Christmas Kaleidoscope
Carnaby Street, Soho, W1 Til January 2 Free
Carnaby Street has teamed up with refugee charity Choose Love to create its Christmas Kaleidoscope installation which features more than 600 sparkling 3D and 2D butterflies and sees Carnaby's iconic arch lit up with shimmering pink discs.
Covent Garden Christmas
Covent Garden Til January 3 Free
This year, Christmas at Covent Garden features its iconic Christmas tree, an immersive Lego installation, copious amounts of mulled wine and its daily snowfall.
The area will feature over 115,000 festoon lights, bathing the streets with a powerfully festive glow.
A special addition this season is Disney's Frozen takeover, due to the family favourite musical currently playing in the West End at Theatre Royal Drury Lane.
Lightopia at Crystal Palace. Credit: Lightopia
Seven Dials Winter Festival
Seven Dials, Covent Garden From November 19 to 21 Free
This weekend will see the Seven Dials area taken over by festive shopping, free events, workshops and masterclasses and a three-day line-up of live music and Christmas entertainment.
Visitors can marvel at the Neal's Yard arch which has been illuminated and revel in several interactive live installations.
Lightopia at Crystal Palace
Crystal Palace Park, Thicket Rd, SE19 2GA From November 19 to January 2 Tickets Adults £19.50 -£22, Children (3-15) £13-£15, Infants Free, Family £58-£70
Lightopia will return to Crystal Palace Park this weekend where visitors can enjoy interactive exhibits, lanterns, lasers, immersive light installations, and magical illuminated trails.
This year, the famous dinosaurs have even been given a makeover.
Christmas lights at Kew. Credit: Jeff Eden
Christmas at Kew
Kew Gardens, Richmond, TW9 3AE November 17 to January 9 Tickets Off Peak £21.50, Peak £26.50
This year's after-dark festivities at Kew Gardens feature sparkling tunnels of light, dancing waterside reflections, and trees drenched in jewel-like colour that lead to the panoramic Palm House light display.
Visitors can journey through the mesmerising flickering flames in the Fire Garden, spot larger-than-life illuminations and say hello to Father Christmas along the way.
Regent Street Christmas Lights
Regent Street Til January 2 Free
For those of you wanting to start your Christmas shopping early, Regent Street's winged spirited illuminations have taken to the sky once again.
Shoppers can marvel at the glorious golden angels while ticking off their present lists.
Christmas at Kenwood
Kenwood House, Hampstead Ln, NW3 7JR November 26 to January 9 Tickets Adults £21.50 - £24.75, Children £14.00- £17.00, Family £65-£77
Kenwood House is installing a new Christmas light trail at its stately location on Hampstead Heath, in which the grounds will come alive with a spectacular burst of Christmas magic and sparkle.
According to organisers visitors of all ages will be captivated by this "visually stunning, multi-sensory mix of light, fire and sound".
At the end of the trail, there'll be an abundance of craft stalls, street food and bars.
Winterfest
Wembley Park, HA9 0GG November 25 to January 4 Free
After a year-long hiatus, Winterfest returns to Wembley Park, under the theme Reunited in Light.
The event will kick off with an official switch-on of London's tallest LED tree.
Made up of 100,000 mesmerising lights, the walk-through tree will be dressed with brand-new digital artwork City Lights, commissioned by Brent artist Yoni Alter.
Other attractions include 'Reunion', a unique light installation from Kumquat Lab, which will be unveiled in Market Square as a world exclusive.
There will be other light installations and a photo exhibition at Winterfest as well.
The Greenwich lights. Credit: Greenwich Council
Sparkle in the Park
Maryon Park, 30 Woodland Terrace, Greenwhich, SE7 8EN December 1 to 5 Free
Greenwich's light trail returns for a second year with an array of dazzling events.
As well as the spectacular light trail, delicious food and fairground rides, visitors will be able to enjoy magical Christmas activities, live performances and seasonal market stalls.
The event is unticketed so you don't even need to book in advance.
Winter Light at the Southbank Centre
Southbank Centre, Belvedere Road, SE1 Til January 9 Free
Featuring new works and returning favourites, the exhibition is installed across the Southbank Centre's buildings and along the Thames riverfront.
Light and colour is this year's theme, and the artists use a dazzling array of techniques to explore ideas about nature, time, politics, society and the act of looking.
Featured pieces include Zarah Hussain's algorithmically generated, Islamic-inspired patterns and Anne Roininen's spooky car wrecks.