Metropolitan Police detectives are "researching and assessing material" posted on social media by activists threatening an "uprising" against low-traffic neighbourhoods.
The group was also found to be monitoring senior Hackney councillors - including mayor Philip Glanville and transport boss Mete Coban - who were responsible for bringing in the controversial traffic calming measures.
This has led senior officers in Hackney Police to begin assessing material posted on social media to check if any crimes may have been committed.
A detective told LondonWorld: "We have not opened a criminal investigation at this point.
"We are researching and assessing the material brought to our attention, to identify if an offence may have been committed."
The Hackney councillors - and former cabinet member Jon Burke who helped introduce the LTNs - were furious at the activists.
Mr Burke had already called for the police to investigate the LondonWorld findings.
He said: "Time for the Metropolitan Police to uphold the rule of law by investigating these campaigns of intimidation and vandalism, and bring the perpetrators to justice.
"I received a hand-written death threat from an anti-low traffic neighbourhood fanatic last year, which also threatened to murder my children.
"Now councillors are being stalked.
"The Met can find people tweeting nasty things halfway around the world, so why no action here?"
Mayor Glanville wrote: "The endless and deeply sinister charm of the anti-active travel campaigners.
"I can now add a terrorist-style attack to the long list.
"Odd given I'd also just had a detailed and respectful conversation with a group member."
While Cllr Coban commented: "It doesn't matter how much they follow me on my runs or my day-to-day movements.
"I am here to serve my community and make sure our children can grow up in a greener and cleaner world that we all deserve to share."
Low-traffic neighbourhoods - which prioritise pedestrians and cyclists over cars - were rolled out during the coronavirus pandemic, to allow people to travel safely away from public transport.
Supporters say they are essential to tackling pollution and climate change, by encouraging Londoners to take more sustainable transport.
However opponents - who claim the closure of residential roads has gridlocked main roads in London - are threatening to take matters into their own hands.
Madcap schemes were uncovered as part of a two-week LondonWorld investigation, which saw undercover reporters infiltrate a series of anti-LTN groups on social media.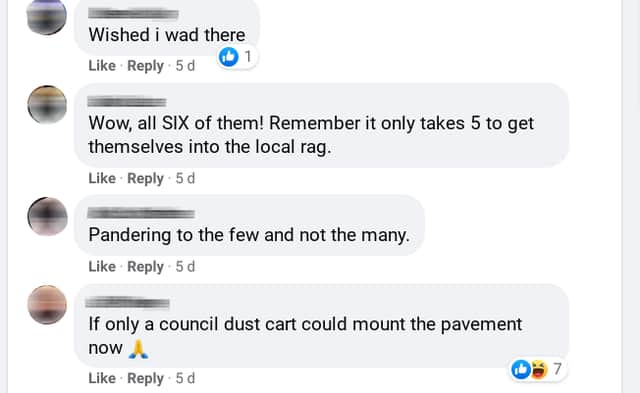 Users in one group shared chilling real-time updates on the locations of senior Hackney council officials – including Mayor Glanville and Cllr Coban.
A picture taken from a parked car showed the duo deep in conversation with four female colleagues.
The caption read: "They are on Stoke Newington Church street."
One user replied with a plea for a vehicle to mount the pavement, hinting at an ISIS-style truck attack.
He wrote: "If only a council dust cart could mount the pavement now."
Another wrote: "Wish I was there."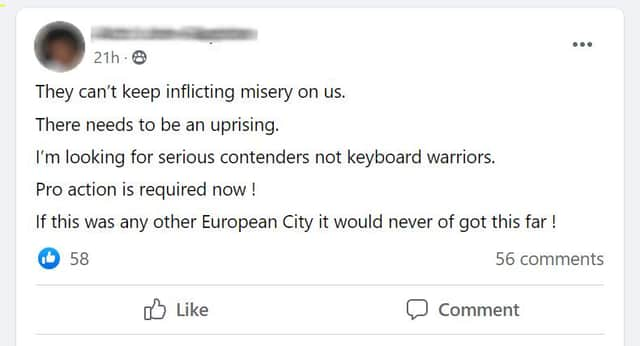 Another popular post on the group saw activists agree to organise "uprisings" over Telegram, after being told to "be careful" when discussing plots in public.
One prolific member – who LondonWorld cannot name for legal reasons – called for an "uprising" over the controversial traffic schemes.
He wrote: "They can't keep inflicting misery on us.
"There needs to be an uprising.
"I'm looking for serious contenders not keyboard warriors.
"Pro action is required now!"
Numerous other posts were uncovered threatening "civil disobedience".
Last year, anti-LTN activists cut the wires to traffic cameras in the east London borough and also spray painted over "no cars" signs.
In Dulwich Village, Southwark, vigilantes dug up the planters which had been used to create a traffic filter.
LTN schemes can see drivers issued fines of up to £130 for using the wrong roads – even if they live locally.
In July, Lambeth Council was forced to step up security patrols after LTN rebels swiped street signs and vandalised planters used to block traffic.
And Ealing Council scrapped LTN plans earlier this month after 2,000 protesters marched on the Town Hall over a trial scheme.
Hackney Council has been contacted for comment.