This month a number of people are taking part in Veganuary, an annual challenge run by a UK non-profit organisation that encourages people to follow a vegan lifestyle for the month of January.
Haworth encourages Londoners taking part to have an open mind and shares one of his recipes so we can all have a go at creating our own plant-based fine dining experience at home.
Herbaceous pancake, pickled beetroot, chickpea aioli & wild rocket salad
Herbaceous pancakes
Gf plain Flour x 100g
Chickpea flour x 10g
Bicarb x 1 tsp
Picked Parsley x 10g
Rocket x 10g
Fine Salt x 2g
Olive oil x 1 tbsp
Water x 200ml
To start add all the ingredients into a thermo mix jug and blitz until green and smooth, approx 2 minutes.
Pour into a medium sized mixing bowl and add a small ladle.
Put a small non-stick frying pan on a high heat, using a pastry brush, lightly brush the pan with sunflower oil, add one full ladle to the hot pan and cook for around 1 - 2 minute.
Using a flexible spatula from the outside of the pancake, work your way around and gently flip onto the other side. Cook for another 1 - 2 minutes turning down the heat by half.
Take the pancake out of the pan gently onto a tray lined with parchment paper.
Allow to cool then using the largest sized cutter, cut out a nice clean circle.
Store in the fridge in an airtight container lined with parchment paper.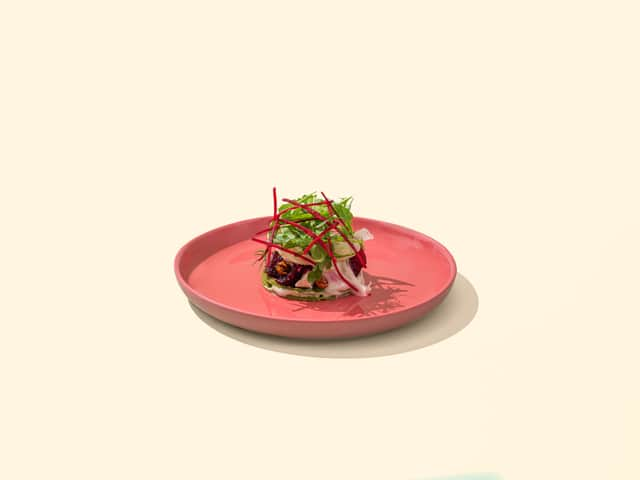 Baked & pickled beetroot
Large beetroot x 3
Olive oil x 1 tbsp
Fresh thyme x 2 sprigs
Salt x 1 pinch
Apple cider vinegar x 100 ml
Salt x pinch to taste once serving
Preheat the oven to 190C. Or alternatively use barbecue.
Cut out a square of parchment paper & tin foil - 25cm by 25cm.
Place two of the beetroots in the centre of the parchment paper with the tin foil underneath.
Add the oil, thyme & a pinch of salt to the beetroot and wrap tight in the foil.
Put in the oven and roast for around 1 hr, take out of the oven and with a small knife the pierce the beetroot to check it is tender and with ease the knife should go through the beetroot.
Allow to cool at room temperature for around one hour.
Using gloves peel the beetroot skin off with your hands, this should peel easily whilst the beetroot is still warm. (do not put in fridge until skin is peeled)
Using your hands naturally break the beetroot into random sized chunks around 2cm by 2cm.
Using a mandolin or a sharp knife cut thin pieces of the beetroot then finely julienne them.
Dress with apple cider vinegar and a pinch of salt.
Fennel & rocket salad
Fennel x 1 head
Lemon x 1 juiced
Olive oil x 1 tbsp
Rocket x 100g
Salt to taste
Shave the fennel very thin on a mandolin.
To order drain the water, put the fennel on a tray with a dry cloth, add to a mixing bowl & dress.
Last minute fold in the rocket.
Chickpea Mayo
Chickpea liquid x 80ml
Sunflower oil x 100ml
Olive oil x 60ml
Roast garlic x 1 clove pureed
Lemon juice x 1 tbsp
Apple cider vinegar x 1 tsp
Place the chickpea water in a kitchen aid bowl, add the xantham & garlic.
Start to whip up using the whisk until it starts to come to a soft peak then slowly start adding both oils as you would a mayonnaise.
Once all oil is added slowly and it is mayonnaise like texture, firm but light, add all of the second part of the recipe mix with a pinch of salt, taste, check then store in squeezy bottle.
Wash the chickpeas and dry at 46 degrees overnight and store in an air tight container.
Place one pancake in the centre of the plate.
Add one tbsp of chickpea aioli in the centre of the pancake.
Place another pancake directly on top.
Start to build with dressed pieces of beetroot to cover the surface area of the pancake.
Add 6 - 1 cm by 1cm pieces of mozzarella evenly across the beetroot & pancake.
Add one tbsp of chickpea aioli.
Add a tbsp size of fennel salad on top.
Garnish the top with a handful of dressed rocket.
Drizzle olive oil on the top & around the dish to finish.
For more information on Plates you can visit its website.