London Lions to play charity game to support families living in food poverty
The London Lions will play Montenegrin team Budućnost VOLI this evening (Tuesday November 1) at the OVO Arena Wembley.
Watch more of our videos on Shots! 
and live on Freeview channel 276
Visit Shots! now
The London Lions will host their next home fixture in the EuroCup at the OVO Arena Wembley, with all attendance fees being waived in favour of donations to a food redistribution charity.
The basketball legends have teamed up with City Harvest, a London based charity which supports families living in food poverty.
City Harvest rescues surplus food from manufacturers, suppliers, producers and retailers, and delivers, for free, to over 375 London charities feeding those facing food poverty.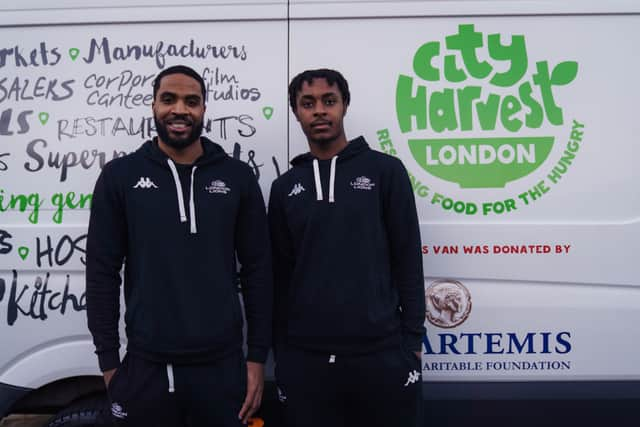 This comes as research by the London Assembly found that London boroughs make up five out of the top 10 UK areas with the highest level of child poverty.
And child food poverty rates in Tower Hamlets, East London are close to double the national average, according to a report from City Hall.
This cause is close to home for Lions player Jonathan Komagum who received free school meals when he was a child.
"I grew up and lived in a place called Ferrier Estate which was in Kidbrooke and I attended Holy Family Primary School," Komagum said.
"I received free school meals when I was there because my father left when I was younger and so I was being raised by my mum and there were three other siblings so four children in total.
"Of course, my mum had four children to take care of and as a result of our circumstances we had free school meals.
"There is a lot of child poverty that is happening in England right now – caused by the cost of living crisis, prices going up and people not making enough money to allow them to get by."
He added that he hopes his team's partnership with City Harvest will help improve things for families finding it tough right now in London.
Sarah Calcutt, CEO of City Harvest said: "City Harvest is delighted to be the new charity partner of the London Lions.
"As part of the fabric of London, City Harvest thrives on connecting key players with areas of need.
"We supply free food to many youth groups and schools running fit and fed programmes.
"These free community sessions encourage young people to channel their energy into sports and teamwork to develop key skills, agility and their overall health.
"We thank everyone for supporting us by making a donation so we can continue to offer nutrition to children who would otherwise not eat.
"So many families are struggling to feed their children right now, please help us to help them."
A £1 donation to City Harvest will provide up to four free meals for children supported by the organisation.
The London Lions will play Montenegrin team Budućnost VOLI this evening (Tuesday November 1) at the OVO Arena Wembley.
You can apply for free tickets using this link and make your donation to City Harvest.