London Fashion Week 2023: When is it, are there free public events and can I get tickets?
London Fashion Week, organised by the British Fashion Council, returns from September 15-19 with top designers' spring/summer collections.
The lineup for London Fashion Week (LFW) September 2023 has been announced. The five-day event will feature catwalk shows, presentations, appointments and events from both menswear and womenswear designers, including LFW favourites Paul Costello, Simone Rocha, Richard Quinn, Roksanda and Molly Goddard.
New to the schedule this season is Eirinn Hayhow, Holzweiler, Piferi (BFC Fashion Trust 2023 recipient), Spencer Badu and Srvc.
From venues to designers, here's everything you need to know about this season's London Fashion Week.
What is London Fashion Week?
London Fashion Week is a biannual event organised by the British Fashion Council.
It happens once in February, when autumn/winter collections are shown and once in September when designers showcase their spring/summer collections.
The new seasons are shown early each year to inform the high-street fashion market's designs and upcoming trends.
London Fashion Week is the second in a series of four, with New York kicking off the season, followed by London, Milan and Paris.
When is it and what is the schedule?
London Fashion Week September 2023 kicks off on Friday September 15 and will run over the weekend, finishing up on Tuesday September 19.
There are invite-only catwalk events throughout the day and in the evening, as well as city-wide activities which Londoners can attend.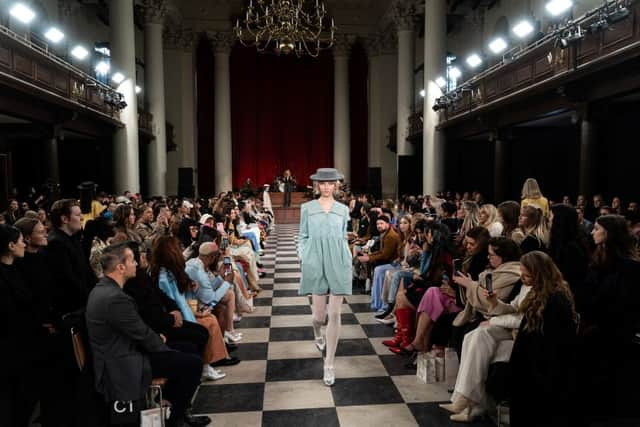 Who organises it?
The British Fashion Council is the not-for-profit organisation that runs London Fashion Week shows and events every year.
Founded in 1983, the collective aims to enable sustainable growth and strengthen British fashion in the global fashion economy.
As well as supporting the British fashion industry, the BFC is responsible for supporting the next generation of designers. It supervises fashion higher education and apprenticeships in the industry.
Can I get tickets?
In-person catwalk events at London Fashion Week are invite-only.
However there are a number of shows being live streamed including Irish designer Banshees of Saville Row and US designer Connor Ives.
The British Fashion Council's London Fashion Week City Wide Celebration will return with events taking place all over the city. Events include designer Q&A sessions, workshops around Zero-Waste Craftsmanship and upcycling and live music performances.
Some events are free and some are ticketed. The full schedule can be found here.
How can I watch shows online?
What designers should we look out for?
Inspired by the exquisite juxtaposition of trash and haute-couture, vintage and contemporary, Eirinn Hayhow - a London-based designer label - is leading the gender-fluid high-vibe couture conversation.
Hayhow creates her own dyes and plant inks from foraging herbs, plants, and berries and uses fruit and vegetable waste. She grows her own bio leather and bioplastics using herbs, fruit, vegetable waste, coffee granules, and crystals.
For this season's London Fashion Week, Hayhow launches her latest collection, Noise and Flowers, which explores the power of play within nature and the power of plant magic.
Piferi is a vegan designer shoe brand created by Italian designer Alfredo Piferi.
Born from a mission to change the perception of leather-free footwear, Piferi crafts luxury designer shoes using bio-based, and recycled earth-conscious materials.
Resolute to drive a post-gender revolution, Toronto-based Spencer Badu founded his eponymous label in 2015 during his freshman year of college.
A nonconformist by nature, Badu's creative force is driven by a need to express his point of view through tailoring the gender-free world he wants to inhabit.