Freddie Mercury exhibition London: What is Bohemian Rhapsody about? Lyrics for Queen classic for auction
Scaramouche, Fandango, Galileo, Figaro, Bismillah, Beelzebub - what does Freddie Mercury's Queen masterpiece mean?
Watch more of our videos on Shots! 
and live on Freeview channel 276
Visit Shots! now
Among the Freddie Mercury artefacts on display and on sale in London right now are the original lyrics to the song which is both Queen's weirdest and their most popular: Bohemian Rhapsody. From "Is this the real life? Is this just fantasy?" onwards, a good number of us could recite the next six minutes from memory, without really knowing what it all means.
Freddie Mercury's scribbled notes could fetch more than a million pounds at auction next month at Sotheby's, alongside items including the singer's baby grand piano, on which he composed some of the band's greatest hits and which could fetch up to £3 million.
The items in Freddie Mercury, A World of His Own are on show for the public now and the sale begins on September 5, which would have been Mercury's 77th birthday. Draft lyrics for Don't Stop Me Now, Somebody to Love and We Are the Champions could fetch hundreds of thousands of pounds.
What is Bohemian Rhapsody about?
'Bo Rhap', as it is apparently known by some fans, wears its grandeur proudly. In 1975, Mercury brought together ideas for distinct songs to create a masterpiece to feature on A Night At The Opera.
The lyrics are packed with melodrama and high cultural references:
Scaramouche - a 16th century clown character
Fandango - a Spanish dance
Galileo - the 17th century founder of astonomy
Figaro - The Marriage of Figaro was a play by Pierre Beaumarchais that inspired operas including a masterpiece by Mozart
Bismillah - an Arabic phrase meaning "in the name of God", which appears at the start of the Quran
Beelzebub - a name for Satan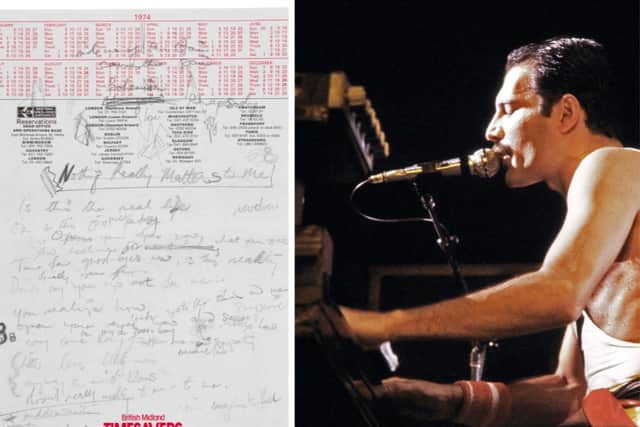 After questioning reality, the singer confesses to his mother that he has executed a man, telling her he must face up to it - but that doesn't want to die.
Then he disappears into a blind panic, conjuring the figures listed above, while still appealing to his mother to free him. He grows resentful ("So you think you can stone me and spit in my eye") before nihilist finale: "Nothing really matters to me."
So that's what the lyrics say, but what's it about?
The title refers to the bohemian movement of cultural and artistic freedom, dating back to 19th century France. A rhapsody is an enthusiastic expression of feeling or an epic poem.
Drummer Roger Taylor is reported to have said the song is "fairly self-explanatory with just a bit of nonsense in the middle".
The way the track was composed, suggests there may be something to this, with piecing together scraps of lyrics as he does the music.
But biographer Lesley-Ann Jones argued in Wire that Bohemian Rhapsody was a "coming out song" for Mercury, who did not discuss his sexuality publicly. Jones put the theory to Mercury in 1986 and he refused to be drawn. But she writes that after Mercury's death at his Kensington home in 1991, his partner, Jim Hutton, told her she was right.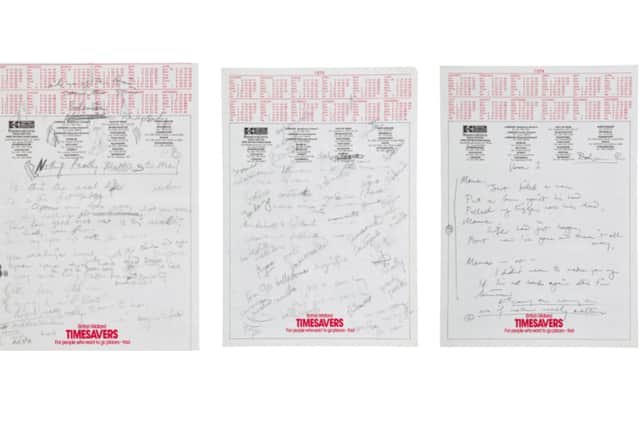 Freddie Mercury at Sotheby's
David Macdonald, head of single owner sales at Sotheby's, said: "This summer, Sotheby's is throwing open the doors to Freddie Mercury's London home, inwhat will be a true celebration of his wonderful life.
"His sense of joie de vivre and generous spirit is a thread that runs through the entire collection, which takes us on a journey through his life – from his school days, to college, the fledgling years of his career and of course his greatest stage moments.
"So much has already been written and discussed about Freddie Mercury in the past 30 years, but perhaps never before have we had the privilege of coming so close to illuminating his personal world, something only known until now by his nearest and dearest – a true joy to discover."
Tickets and how to get to Freddie Mercury, A World of His Own
The exhibition is free on a 'first come first served' basis and runs until September 5 at Sotheby's in New Bond Street, London.
The nearest Tube stations is Bond Street on the Elizabeth, Central and Circle lines.