Fireworks, jazz and Diwali: Five events to do in London this weekend
From fireworks to the festival of lights and experimental theatre, there are plenty of fun activities in the capital this week.
Watch more of our videos on Shots!
and live on Freeview channel 276
Visit Shots! now
The clocks have gone back and temperatures have dropped, which means we're officially in winter season.
There is plenty going on in London this weekend, with Bonfire Night and London's Christmas calendar beginning to kick off.
From winter markets to jazzy evenings, here are five events happening in London this weekend November 5 to 7 we think you should check out.
Fireworks Display
Various Locations November 6 & 7 Pre-book Tickets
Remember, remember the fifth of November - yes it's that time of year again -  Bonfire Night.
And what better place to commemorate the evening than in the city where Guy Fawkes and his motley crew attempted to blow up the Houses of Parliament and King James I in the Gunpowder Plot of November 5 1605.
An Evening of New Jazz Fireworks
Cadogan Hall, 5 Sloane Terrace, SW1X 9DX November 5 Tickets £22.50 to £50
This unique concert features a line-up of some of the coolest names in contemporary British jazz, including LA guitarist Chris Standring accompanied by Geoff Gascoyne on bass and a string orchestra, performing the Vinyl version of his new album Wonderful World.
Singer/songwriter Jo Harrop will perform her debut original album The Heart Wants and pianist Paul Edris will perform his solo album in full.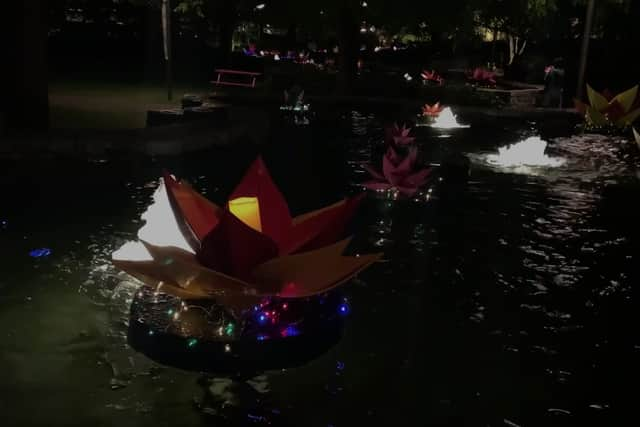 Diwali light display
Jubilee Gardens, Canary Wharf Til November 7 Free Entry
The water fountain in Jubilee Park in Canary Wharf has been lit up this week as part of the Diwali celebrations.
Floating lotus flowers inspired by the Indian artwork Rangoli are drifting across the water.
Diwali originates from the word 'deepavali' meaning 'rows of lights'.
The lights also act as a spiritual reminder that inner light can protect households from spiritual darkness.
The installation was created by South African artist Richard Bragg and visitors are being encouraged to view the display during the dark, from 5pm.
Visit the Secret Museum
Museum of Homelessness, Unit 1, 52 Lant St, SE1 1RB Til November 6 Donations Accepted
Catch the final weekend of the Museum of Homelessness' Secret Museum, a special hidden museum that will tell you stories of homelessness, once you find it.
Hidden in a secret central London location, the museum consists of objects and stories from activists, community organisers and people who live at the sharp edge of inequality.
Secret Museum is an invitation into a world of solidarity and underground organising, where the collective aim during 2020 was to save lives and uphold people's human rights.
Once you sign up for the free event, you'll be posted instructions about where in central London to start the experience, before joining a Homeless Task Force crew and working out where to find the Secret Museum via a trail of clues.
In Bed With My Brother: PRIME_TIME
Barbican Centre, Silk St, Barbican, EC2Y 8DS Til November 6 Tickets £15 to £18
Experimental theatre provocateurs in Bed with My Brother present PRIME_TIME, a new work which takes aim at Amazon's founder billionaire Jeff Bezos.
This piece is a riotous reassessment of the web giant and the power he holds over our planet and beyond.
PRIME_TIME is inspired by cyberfeminists and ancient Amazonian warriors who went to battle with men.
The show is soundtracked by the music of the late electronic musician SOPHIE.