Blur: Best 50 songs by Albarn, Coxon, James and Rowntree ranked ahead of Wembley Stadium shows
In a career spanning nearly 35 years, Blur have recorded perfect singles, anthemic ballads and jagged noise-fests. We rank the top 50.
Watch more of our videos on Shots! 
and live on Freeview channel 276
Visit Shots! now
Blur came along at just the right time for me, with Parklife riding high as my school years ended and Britpop hitting fever pitch as I moved to Camden as a student.
I don't know how many times I saw them live but I'll never forget being at the front of Wembley Arena in December 1995 or little over a year later at Nottingham Rock City, on the day Beetlebum went to number one, when the band were supposed to be tearing themselves away from Britpop.
They were my 'gang', the group driven by the 'band-mance' between Graham Coxon and Damon Albarn - a dynamic that's part of the tradition from the Stones to Oasis to The Libertines. And I had it in my band at the time.
History has perhaps cast Blur as something of a cartoon, due in part to songs like Country House - and the fact that Damon's next project was literally a cartoon. But listen back and the songs stand up now, straddling pop and discord. Even amidst the divisive The Great Escape sit beautiful oddballs like He Thought Of Cars and Yuko and Hiro.
I started off this list aiming for 20, then realising I could easily do 50. It is ranked but it's entirely my opinion, which will have changed by the time it's published. It was written ahead of the Wembley Stadium concerts - and ahead of the release of The Ballad of Darren, which may yet turn out to be a modern classic.
A classic Blur punk banger, ripe for chaos on stage and an audience shout-along: "Say something, say something else."
49. Pressure on Julian (1993)
While Parklife feels like an album of singles - Modern Life Is Rubbish brilliant tunes undercut by a very English oddness. This one is weird, though the title apparently refers to Julian Cope, with whom founder of Food records David Balfour played in The Teardrop Explodes.
I think it's fair to say there's not much in She's So High to suggest the sophistication of Blur's coming albums, but as a swaying indie anthem it's lovely.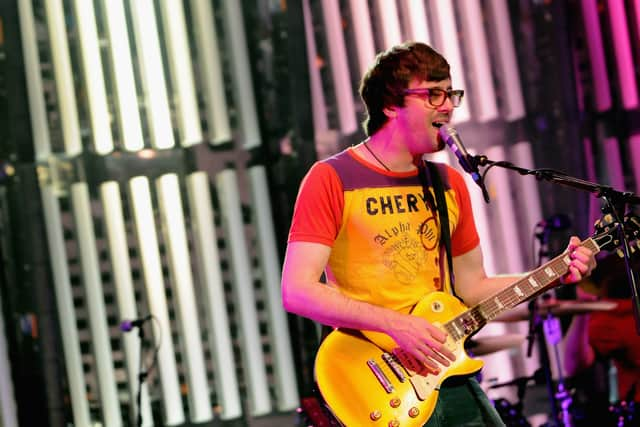 It may rip off the melody of Oh! You Pretty Things (probably hence its Beetlebum b-side status) but what a melody to rip off.
Is it about a hangover or estranged loved one or both? It's charming and simple, with a great guitar solo.
45. Eine Kleine Lift Musik (1995)
For my money, the best of their incidental instrumentals (there is some vocal, but to all intents and purposes it's an instrumental). It was Blur's contribution to The Help Album, which raised funds for the charity War Child, which provided aid in war-stricken areas including, at the time, Bosnia and Herzegovina.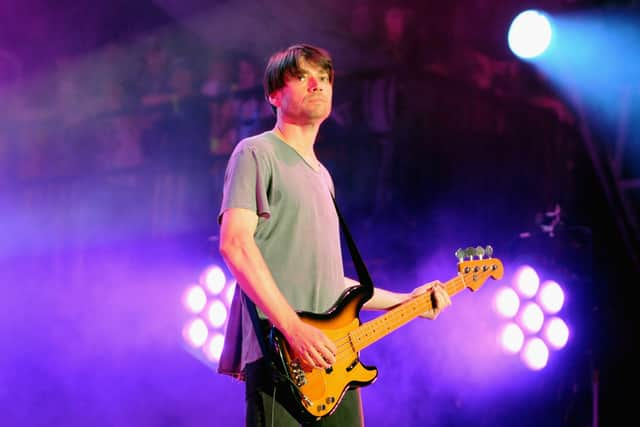 "Then it's back to work A-G-A-I-N."
43. Look Inside America (1997)
Blur had made a thing of Modern Life is Rubbish being a response to grunge and Britpop followed suit. This album track from Blur has them discovering that the US is every bit as confused as England, but "she's alright".
It comes on like a sequel to Sing, which is a good thing.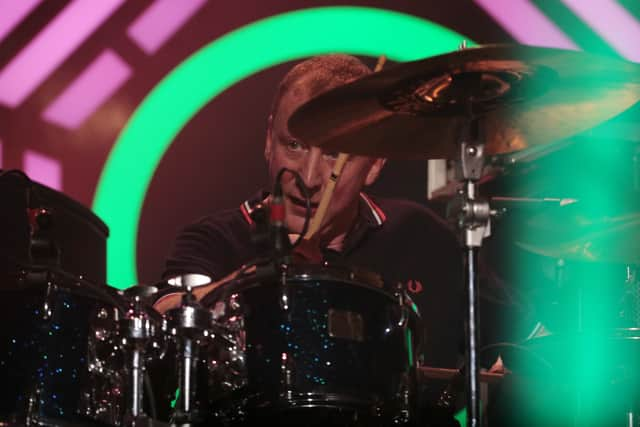 Named after an Adidas trainer, apparently, which doesn't really explain the pained explosion halfway through. Somehow it feels like the spirit of the 13 album.
For all that the self-titled Blur album was inspired in Iceland and by America lo-fi indie like Pavement, it is Bowie whose stamp is most obvious. The lovely Strange News From Another star is a clear homage and Beetlebum b-side All Your Life is very Oh, You Pretty Things (see above). But with M.O.R., Bowie and Brian Eno eventually got a songwriting credit, being as it is a close take on Boys Keep Swinging. It's still thrilling, though. For the single, a meatier 'Road version' was recorded, but I prefer the looser album version.
39. Swallows in the Heatwave (1997)
The M.O.R. b-side is a dirty guitar track that feels like it appeared out of nowhere in the practice room - and is all the better for it.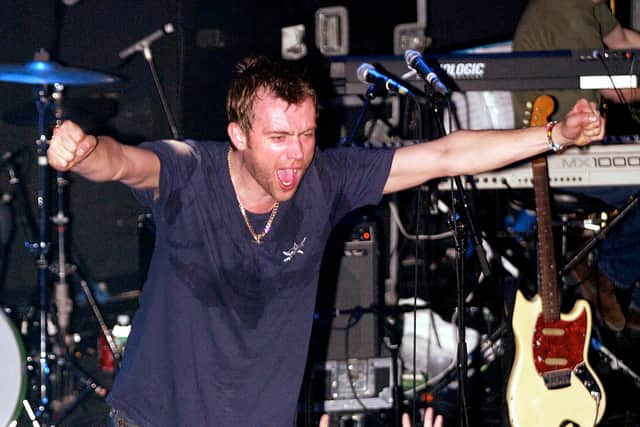 Over 14 years ago, on songmeanings.com, someone named 'anope' wrote that Battle is "part lullaby & part alien abduction". That's pretty good.
37. Music Is My Radar (2000)
The one new track from Blur: The Best Of is an oddity which feels like the band failing to do Can. Some days it really got me dancing and some days it annoys the hell out of me. Mainly the former.
A lost gem recorded as a standalone single for Record Store Day in 2010, it's so exclusive it's not on Spotify (although it is on YouTube).
2015's The Magic Whip doesn't feature heavily in this list, which is not to say it's a bad album, it's just difficult to compete with the band's golden period. There are strong melodies, possibly the strongest being Ong Ong, a chirpy, bouncey tune with a "la, la, la" hook and an "I wanna be with you" lyric.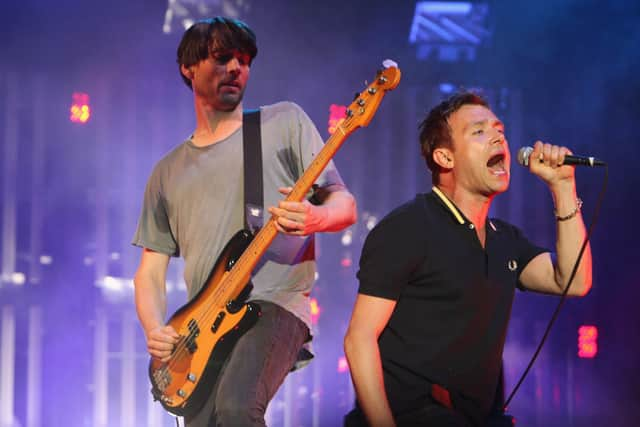 34. Battery In Your Leg (2003)
With its mournful melody and lyrics, it felt like a love letter to Damon's struggling relationship with Graham ("This is a ballad for the good times") - a feeling heightened by it being the guitarist's only credit on Think Tank. But hope remained: "You can be with me. If you wanna be, you can be with me."
33. The Narcissist (2023)
I don't know how this will be seen when the dust has settled on the new album and these comeback shows, but at first listen it's an anthemic indie banger about something or other.
32. Under the Westway (2012)
Albarn has lived for years near the Westway in Notting Hill. It was referenced in For Tomorrow and Fool's Day, and is closely connected to The Clash - the band of his Good The Bad And The Queen band mate, Paul Simonon. The elevated dual carriageway got centre stage in this song, described by Alex James as a classic Blur ballad. Five years after the single's release, 'under the Westway' would take on a different meaning, with the Westway Sports and Fitness Centre a base for the relief effort as the Grenfell Tower tragedy unfolded.
In a couple of years the labels should release a double a-side with Roll With It for the 30th anniversary, so entwined are the songs. Plenty of people think it's sh*t. I think it's great. No claim of irony can save the video though.
The deeply disturbing sonic adventure at the centre of 13 feels like the moment Blur listened to Bowie's Low and remembered there are no rules.
It was the single that was supposed to smash the charts while trashing the indie scene and sticking it to the music biz man. But everyone was too busy listening to Nirvana's Nevermind to notice.
28. There's No Other Way (1991)
The second single from Leisure was a bit of a strange false start for the band. Stylistically it's straight out of the baggy scene and it made the top ten. Even the aforementioned Kurt Cobain was a fan. But it wasn't a direction they wanted to go in.
It may have started as a joke, as Graham has claimed, but Song 2 is probably their most famous song. I remember first listening to it on a taped recording of a Dublin concert broadcast on Radio One on June 22, 1996. Musically it was complete but the lyrics were different and I'm not sure Damon ever really finished them.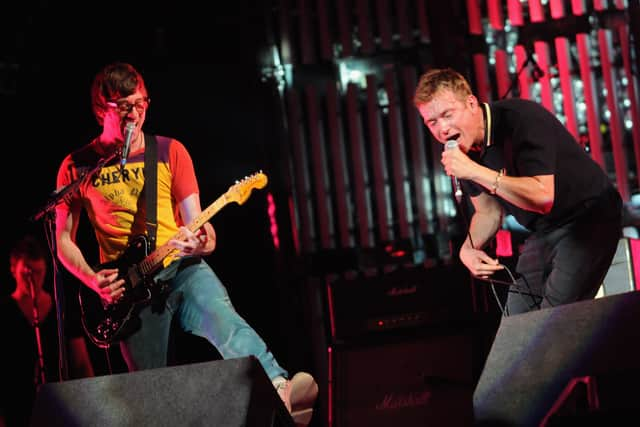 It's the song that most suggested that Damon would unleash the hugely successful pop fusion of Gorillaz on the world (he has connected the two himself). It's probably not about a whole lot but it's as exuberant as it gets and packed with lovely, crunching Graham guitar noises.
This single from 13 was notable for a striking video by Hammer & Tongs, in which an animated milk carton goes off in search of missing child Graham Coxon (who is on lead vocals for the song). It regularly makes 'greatest music video' lists, and it's probably their most memorable, but I would probably go for the live footage from End of a Century or for No Distance Left To Run, for which our heroes were filmed sleeping.
Closing (nearly) the much-maligned The Great Escape is a moment of pure, sad beauty: "I never see you. We're never together. I'll love you forever."
Possibly the most reviled Blur song, but you're all wrong. Graham said about For Tomorrow: "Everyone, wherever they are in the world, knows what la la la means." Damon took this mantra to the extreme with this Great Escape single.
22. Country Sad Ballad Man (1997)
Blur's self-titled change-of-direction album kicks off with Beetlebum and Song 2 - so far, so pop - but then comes this brilliantly wonky song, whose melody no degree of lo-fi production can derail.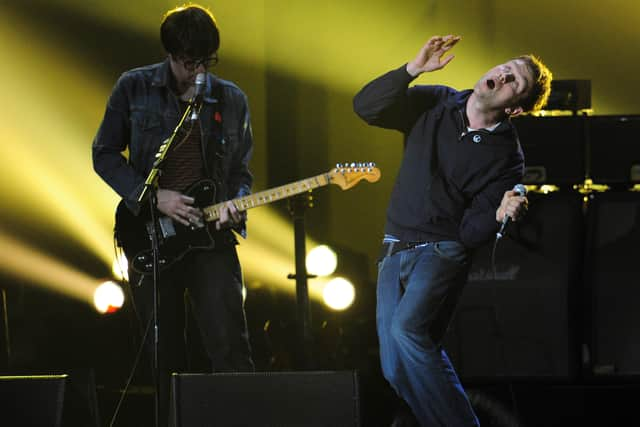 An indie-punk banger that was a b-side to There's No Other Way, but more notably it soundtracks a classic scene from the documentary film Starshaped, where a baby-faced Damon comes a cropper with some on-stage antics when an amp falls on his foot.
Johnny Cigarettes' gushing NME review of The Great Escape proclaimed that "after all the trials, tribulations, Brits, Brats, and number one ego contests, this is Blur's real triumph, truly their finest hour". I remember it well because in the heady days of 1995, that's how platinum albums were made. The review didn't age well but I don't disagree with much of it. I do think however that he was correct when he suggests Best Days is a "gorgeously dewy-eyed, croaky contemplation of the lonely uncertainties that tear at our existence". Well, quite.
19. Get Out Of Cities (1997)
Another b-side, this one from Song 2, and an absolute belter. I've no idea why this didn't become a live staple.
18. You're So Great (1997)
No, Graham, you're so great and we love you. Coxon fans finally got to see him centre stage.
Leisure's high point was most likely saved from general obscurity by an appearance on the seminal soundtrack to Danny Boyle's Trainspotting. "So what's the worth in all of this, if the child in your head, if the child is dead?" puts it squarely in that film's world.
A beautiful, touching song about the end of a relationship, it's delicate and glittered with sadness. It was twice given a new lease of life: first with a French vocal as a b-side to Parklife and then rerecorded at Abbey Road as a duet with Françoise Hardy, which always felt a bit unbalanced to me.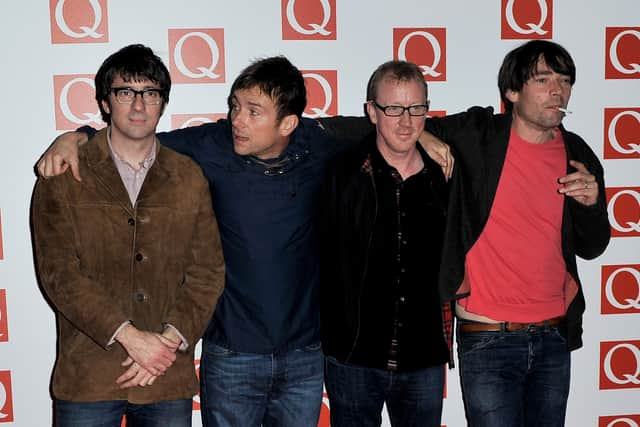 15. Chemical World (1993)
A huge tune. Chemical World has the best hanging jump, launching on the riff's pause and landing when it crashes back in. I can draw a diagram if anyone requires.
Its frivolous tone, carried over to the next album, marked Blur's card for years to come. But I still look back on a singalong at Nottingham Rock City as one of my favourite communal musical experiences.
Secreted among the amazingly pop Parklife opening run of Girls & Boys, End of a Century and Parklife itself is the great Blur single that never was. The rapidly imploding Tracy seems to consider doing a Reggie Perrin but opts for something else. "I'd love to stay here and be normal. But then it's just so overrated."
12. No Distance Left To Run (1999)
"It's over. I knew it would end this way."
When Tender came out, it was entirely derivative, full of half-familiar hooks lifted from gospel and blues, via everyone else who had mined those traditions over the decades. And yet it was brilliant and matured with age as a live favourite, the fans backing the band as the London Community Gospel Choir do on the record.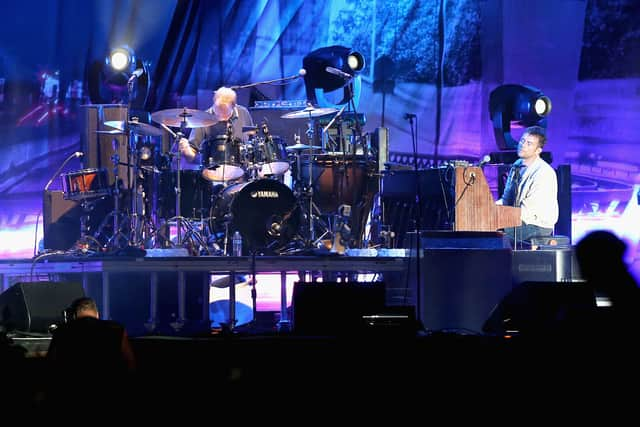 I didn't like it when it came out. I think I felt it was just being what it was parodying. But it's brilliant fun. Blur were the best band of the era for pogoing and this is the ultimate pogo song. And, commercially, it saved the band.
If ever a Blur song was written with its audience in mind, this feels like it. While it may be influenced by Kubrick and Burgess, the "It really good happen" chorus is made for the masses. I guess that's the point.
8. Death of a Party (1997)
Lyrically it's without a smidgen of hope. God knows what the band thought when they realised what the lyrics were, but on record it's an organ-driven beauty, elevated (as so often is the case) by Graham's sensitive, discordant guitar.
Somehow this grew to be one of my favourite Blur songs when I wasn't listening to much Blur during lockdown. "I feel so unnecessary - we don't think so, you seem star shaped."
6. He Thought of Cars (1995)
If Girls & Boys, Parklife and Country House hadn't happened, would Blur have instead been seen as top-rank purveyors of pop sadness? "Moscow's still red, the young man's dead, gone to heaven instead. The evening news says he was confused."
For many fans the greatest Blur song and a set closer. The shipping forecast never before packed such an emotional punch.
Think Tank was recorded largely without Graham Coxon (sacrilege) but still featured strong Albarn songs, including this one absolute classic. A layered, textured piece of melancholy that is up there with his best.
Blur broke from Britpop by listening to American indie, going to Iceland and releasing a massive number one single. Okay, it might not have got quite so much attention if Country House hadn't happened, but it's a stone-cold classic.
2. End of a Century (1994)
Probably about domesticity and contemplation of the future or something. I don't know. What I do know is that it was perfect for belting out with friends after my A-levels and at countless Blur gigs through the rest of the '90s.
Topping the list could have been several of the band's singalong anthems - This Is a Low, End of a Century, even The Universal - but the lead single from Modern Life is Rubbish moved them on from Leisure and Popscene with a song with a scale made for arenas, and with a healthy dose of London, prepping the audience for Britpop. For the full Blur experience, listen to the Visit To Primrose Hill Extended version, with its horn stabs undercutting Graham's guitar solo.