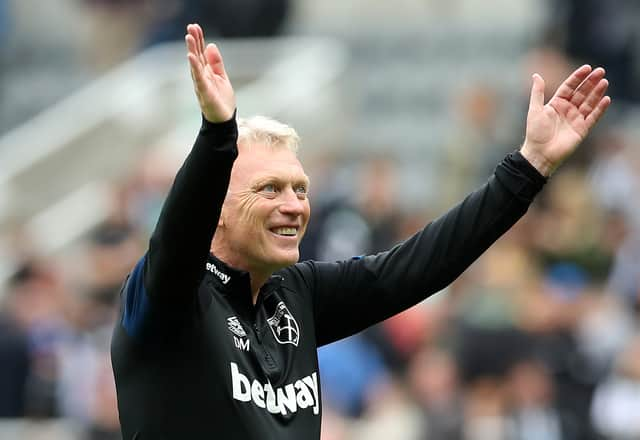 West Ham's unbeaten start to the season will be tested when Cristiano Ronaldo and his Manchester United team-mates visit the London Stadium on Sunday.
The Hammers are riding high after an impressive 2-0 away victory against Dinamo Zagreb in the UEFA Europa League while United are hurting from a 2-1 defeat to Young Boys in the Champions League.
Manchester United manager Ole Gunnar Solskjaer knows another defeat will crank the pressure on him and questions of whether he is the right man to lead this team will be amplified.
David Moyes has rebuilt his reputation after the humiliation and mockery he suffered while at Old Trafford, he would love to get one over his former employers, but how does he go about it ?
Target the full-backs
Cristiano Ronaldo, Jadon Sancho and Mason Greenwood will guarantee goals and terrorise opposition defenders with their pace, trickery and finishing prowess.
On the evidence of the first two games they've played together, they will terrorise the league, but what they provide in attack,they lose in defence.
They all don't like to drop deep and help the full-backs, leaving them exposed to one-on-one situations that players like Said Benrahma and Jarrod Bowen can take advantage of.
The solution to having wide players who don't support the full backs is having a good defensive midfielder who can drop into the space created by the absent wingers.
Solskjaer's headache is that the trio of Matic, Fred and McTominay haven't been great at covering every blade of grass and have often left the back line exposed.
Cede possession to Manchester United
Manchester United have always had trouble breaking down a low block under Ole Gunnar Solskjaer.
That was evidenced again this season when they traveled to the St Mary's to play Southampton and they were lucky to come away with a point that day.
The host kept things tight, got their goal and frustrated Manchester United who threw caution to the wind in search of the winner late on.
David Moyes will have to go with a similar plan if he is to cause an upset, allow United the ball in areas that can't hurt them and pick them apart when they get excited with possession.
Tomas Soucek as an auxiliary target man
The sending off of top scorer Michail Antonio couldn't have come at a worst time, David Moyes has built a career out of playing tall-big-target men who can fight and keep defenders busy while finishing off counter attacks.
How he got the best out of Marouane Fellaini playing as a centre-forward remains one of the underrated tactical moves in Premier League history.
The same trick is working with Michail Antonio who he has helped transform into one of the best Premier League target men. His tally of five goals in his first five games of the season is evidence of the coaching prowess of David Moyes.
In Antonio's absence, Jarrod Bowen, Said Benrahma are options but they will be eaten alive if played through the middle by Manchester United giant centre back pairing of Raphaël Varane and Harry Maguire.
Hardworking midfielder Tomáš Souček could do a job as a striker on Sunday, with a height of 6ft 4in, he can keep the aerially dominant centre-back pairing of United busy and forced into making mistakes.
Stay in the game
Manchester United will start the game like a house on fire, and the Hammers will do well to stay in the game.
The visitors are hurt from the disappointment of the Champions League and are likely to wan to put this game to bed as soon as possible, they will be frustrated and start committing mistakes the longer they go without being able to put this game to bed.