Four Chelsea players who have been better than Enzo Fernandez this season including 20y/o
Enzo Fernandez was crucial for Argentina at the World Cup, Chelsea need him to be better after this international break.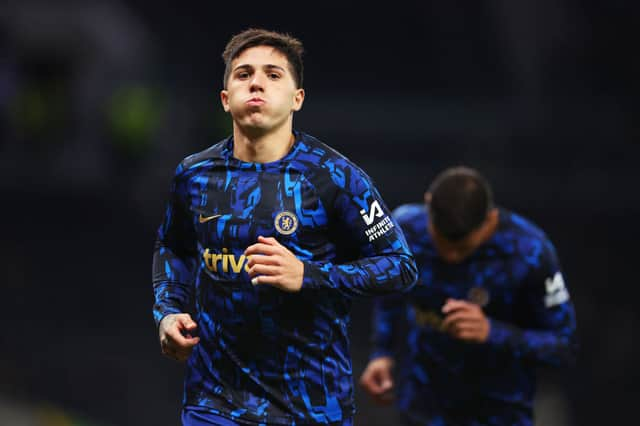 February 2024 will be one year since Chelsea announced they'd broken the bank and signed Enzo Fernandez from Benfica in a deal that was reported to be a British record 121m euro (£107m) transfer fee.
He had won the World Cup with Argentina and was named the best young player of the tournament in Qatar. Benfica had held on and ultimately got what they wanted but Chelsea were convinced they'd secured the next big thing.
A midfielder who was press-resistant, dictated games and created and scored goals to form the foundation of what was going to be the new Chelsea.
But since then, it's just been two goals, a few glimpses of his obviously evident talent but nothing close to what many had envisaged.
He was withdrawn against Manchester City and there are beginning to be doubts creeping in. The arrival of Moises Caicedo was supposed to be his freedom pass, but it's rather shown that he might need more than just one player to get the best out of him.
Some say a lot more players have to perform to bring the best out of him but great players bring the best out of others.
He's missed only one league game, won four of them, lost three and drawn the rest. He's also had 21 shots with only six on target. He has a shot accuracy of 29%, hit the woodwork twice and created three chances.
So with Chelsea not back in action until the weekend against a wounded Newcastle side, here are four players who are having a better season than the Argentine World Cup winner.
Marc Cucurella: The left-back has recovered from a tough first season and aided by injuries to both Reece James and Ben Chillwell has forced himself into the first team. He's had six league games, created three chances, made 13 interceptions, won three and lost only one of the six games he's been involved in.
Moises Caicedo: The Ecuadorian is beginning to look settled at Chelsea after a slow start, it's incredibly unlucky that his brilliant striker against Tottenham was called for an offside by VAR.
Caicedo has been involved in 10 league games, won four, drawn four and has a shooting accuracy of 25% from 10 shots and created one chance. He's made more interceptions than any other Chelsea player.
Conor Gallagher: Chelsea's best player and it's incredible to think he was put up for sale by the club in the summer. He's turned it around and there are talks of a contract extension.
Gallagher has played in all 12 league games, won four and lost four. 50% shooting accuracy from 12 shots, four assists and four chances created.
Cole Palmer: Chelsea's main man at the moment. 10 league appearances, two assists and four goals.