'Appalling and homophobic': Chelsea fans issue strong statement as Wolves slapped with groundbreaking FA fine
Wolves were fined £100,000 and placed in an action plan after fans took part in a homophobic chant during a Premier League fixture last season.
Watch more of our videos on Shots! 
and live on Freeview channel 276
Visit Shots! now
Chelsea supporters have welcomed the FA's decision to sanction Wolverhampton Wanderes for homophobic chanting in April.
Wolves were fined £100,000 and placed in an action plan as the FA ruled that the Premier League club had not done enough to educate their supporters about the homophobic nature of the 'Chelsea rent boy' chant. The chant was declared a hate crime by the Crown Prosecution Service in January 2022 and its singing is now a breach of FA rules.
The song is still regularly heard at fixtures but Wolves become the first club to be punished by the FA. As well as the fine, the action plan issued requires the Midlands club to review its handling of such issues and its communication with fans to stop such incidents from happening. One supporter also received a fine and three-year ban from the sport for their involvement in instigating the chant.
The Chelsea Supporters Trust said: "The Chelsea Supporters' Trust welcome the FA's decision and reaffirms its commitment to working with Chelsea FC, Chelsea Pride, and other groups to eradicate homophobic and offensive chanting.
"Chelsea players and supporters have become too familiar with these appalling and homophobic slurs. Pink News explains why the chant is homophobic along with a version of the history of the term.
"The article also acknowledges the tireless work of Tracy Brown, Chair of Chelsea Pride, in raising awareness of the discriminatory nature of the slur as part of Chelsea's #NoToHate campaign."
The Supporters Group noted that although it was the first time a club had been fined for its fans singing the chant, a number of individuals had been punished for singing the homophobic song.
In July 2023, a Fulham fan received a fine and three-year ban for homophobic chanting during a match at Stamford Bridge in February. That same month, a Leeds fan received the same punishment for such behaviour during a match in March.
In May, an Everton fan was imposed the same fine and three-year ban for their actions during a match in March and last year a Spurs supporter was convicted of the same hate crime in May 2022.
Wolves accepted the punishment handed down by the FA and criticised the 'offensive' behaviour from those fans involved. A club spokesperson said: "We accept the decision and punishment handed to us by the FA's regulatory panel, and once again reiterate that homophobia, like all other forms of discrimination, has no place in football or society.
"Our ethos at Wolves is about being 'One Pack' – an attitude our supporters are very passionate about and that extends to our relationships across the football community, regardless of rivalries or what happens on the football pitch.
"Homophobic chanting is offensive and wholly unacceptable. Hearing discriminatory language negatively impacts peoples' experiences of football and is also in direct opposition to the values of Wolves. Furthermore, it is a criminal offence, as illustrated by numerous prosecutions relating to the chant, one of which is a Wolves supporter in attendance at the match in question, resulting in a three-year football banning order and a fine issued by the Crown Prosecution Service.
"Ahead of the match against Chelsea, Wolves were aware of the possibility of discriminatory chants, and acted proactively by briefing staff and stewards on the FA's letter and the CPS position on the 'rent boy' slur and reiterating the club's matchday reporting procedure for a zero-tolerance approach to all forms of discrimination, harassment and victimisation relating to sex, gender, sexual orientation as well as religion or race and disability.
"However, despite the prominent visibility of the Not In Our Pack reporting text line, which can be found in our pre-match guide, in every concourse, on our perimeter LEDs and on the back of all tickets, there is an acceptance that there was no direct communications to supporters before the game specific to the 'Chelsea rent boy' chant, and its classification as a hate crime.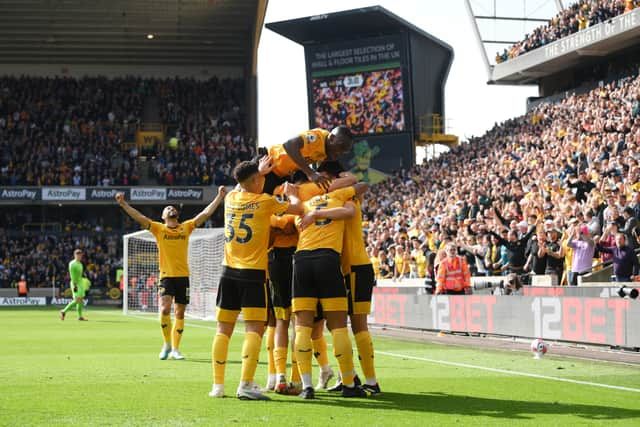 "In line with the FA's Action Plan, Wolves will continue to make positive changes to matchday communications and continue its One Pack campaign, highlighting the fact that it operates a zero-tolerance policy towards discriminatory abuse of all kinds.
"We thank all supporters and staff who directly reported the chanting to stewards, as well as through the Not In Our Pack reporting text line, and encourage supporters to continue to report and call out discriminatory behaviour in all walks of life. Those who used the slur were committing a criminal act, and anyone subsequently identified and found guilty will face a lengthy stadium ban.
"We will continue to campaign for inclusivity in football and society and to tackle discriminatory abuse whether inside stadiums or online. Furthermore, Wolves will not cease in its work with supporters, communities and local stakeholders to drive LGBTQ+ inclusion and ensure the game we love is a place where everyone is respected and can feel safe playing or supporting their team."