Alan Shearer and Jamie Carragher agree over Chelsea's 'main man' after Man City drama
Pundits have been raving over a Chelsea star who had a major say on Sunday night's clash with Manchester City,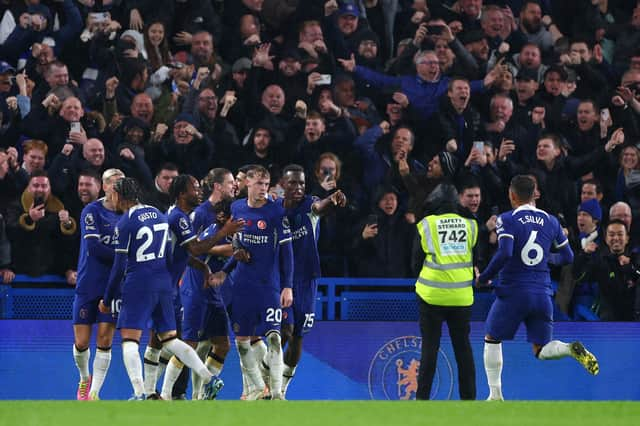 Alan Shearer and Jamie Carragher have been raving over Chelsea frontman Cole Palmer after his penalty heroics on Sunday evening. The Blues were involved in a hugely entertaining battle with Manchester City, drawing 4-4 at Stamford Bridge.
Chelsea gave as good as they got during the game, but they needed a 95th minute penalty to secure a point. Palmer stepped up to take the penalty against his old club having made penalties his own since arriving in the summer, and he was coolness personified, striking high into the net and scoring despite Ederson guessing the right direction.
Palmer now has four goals in 10 league appearances for Chelsea, and still only 21 years of age, he is making quite the impression at Stamford Bridge. "What stands out for me is that I admire him for leaving Manchester City," Carragher told Sky Sports.
"I get frustrated by players who are at big football clubs that don't really play. They'll say they've won the Champions League, the league three times, they've done this and they've done that. But we all know they're a squad player.
"They come off the bench every now and again. I admire the fact he's moved to Chelsea because he'll be feeling a lot better in these four to six weeks than he probably ever has done at Manchester City, no matter what medal he's picked up. We all know as players, in your heart of hearts, you know when you deserve a medal - when you've been a big part of something.
"When you're on the outside looking in, it doesn't feel great. So he'll feel an awful lot better, even if he's at Chelsea the next two or three years and he picks up just a Carabao Cup or one FA Cup. He'll feel his body of work here, if he continues the way he's going, is a lot better than what he's done at Manchester City and the medals he might have won. It's nonsense to me, to be honest.
"Everyone plays a part, but you all know when you've played a major part in a team's success. He's a major part now in this Chelsea team and he almost feels like the main man.
"He's part of the group of players I feel who are making a late surge for the tournament next summer for England. The way he's playing right now, you feel there's a great chance he could end up in that Euros squad."
Alan Shearer also spoke about Palmer on Match of the Day 2 on Sunday night, adding: "Very impressive Chelsea performance, Reece James was superb, Conor Gallagher, Raheem Sterling was incredible but 21-year-old Palmer was absolutely sensational.
"One of the impressive things about him is he always tries to pass forward into forwards. His first thought is can he do that, can he run forward. There was nothing short of it being magnificent when he had the ball. Offering himself when under pressure and then driving forward and setting Chelsea into really good positions.
"He is 21 and been there for five minutes and is a regular and main players in that team he looks so confident. When all this is going on with the penalty he is the calmest man in the stadium. No pressure at all for him. he was superb and magnificent. It was a good deal for both parties, City and him, no way he would be a regular at City. They got good money for him."