'Disaster' - Roy Keane and Gary Neville disagree in Arsenal v Man City claim
Arsenal slipped up in the title race to hand Man City hope again and pundits Roy Keane and Gary Neville have been having their say on the latest twist
Watch more of our videos on Shots!
and live on Freeview channel 276
Visit Shots! now
The gap between the current leaders and Manchester City has closed again after the Gunners drew 2-2 with West Ham on Sunday.
Mikel Arteta's side were unable to make an early two-goal lead count, and now City are just four points behind with a game in-hand.
Neville weighs in on potential Arsenal title miss
With an exhilarating title race set to go right down to the wire, Neville believes Arsenal will still have a lot to be proud of even if they miss out on the silverware.
In fact, the former Manchester United man believes finishing second would still be an 'unbelievable' result for the North London outfit.
"I'm not saying they won't be disappointed and heartbroken by it. What's happening now was always going to come. They were going to lose their nerve, lose their energy and make mistakes," he told Sky Sports.
Neville stated it would 'not be a disaster' if Arsenal were to relinquish the top spot to Man City this late in the season. A second-place finish would be the club's best finish since the 2015/16 season.
"It's not a disaster. If I was Manchester City's players and I didn't win the league with Erling Haaland up front scoring 50-odd goals, with Jack Grealish and Riyad Mahrez as well — I think that would be a disaster," Neville continued.
"Last season, they [Arsenal] struggled to get over the line to finish in the top four. The same players are still there. It wouldn't surprise me if they struggled to get over the line to win the title. And if they didn't do it, I would almost half expect it. That was a huge setback — but Arsenal not finishing in the top four is not the same as Arsenal winning the league."
Keane dismisses Neville take
Keane was a lot less compassionate than his former teammate, stating there is "no chance" it would be a successful season for Arsenal if the do not win the Premier League.
Arteta has thrown all of his efforts into the league campaign, sacrificing runs in other competitions in the process. Because of this, Keane believes it would be a "huge disappointment" if the title doesn't head home to North London this year.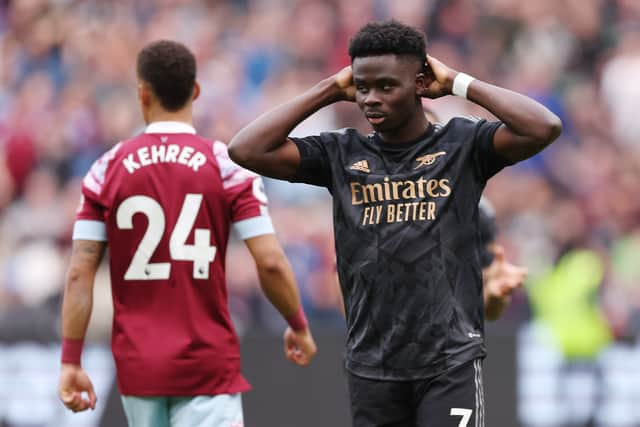 "Arsenal have no distractions. They looked tired at the end [against West Ham], they were hanging in there against Liverpool last week. That's not a great message to say they're up for the fight and they're enjoying it. It's obviously playing tricks in their heads.
"In the last week or two, Arsenal have lacked composure, particularly when they've got into winning positions. They could still go on to win it because they're in a fantastic position if they can just keep their heads and have a bit of composure, but the question was if they were to finish second, it's a disappointment for Arsenal."
Arsenal's next challenge will be against Southampton, while Man City still have the matter of the Champions League and FA Cup to focus on alongside their league title pursuit.
The two title challengers will face each other on Wednesday, April 26th, which will surely cement either side's fate in this nail-biting tussle.