Arteta vs Postecoglou - psychologist on how Arsenal and Spurs managers' VAR reactions will impact players
Mikel Arteta and Ange Postecoglou took two very different approaches to VAR last weekend, but how will they both impact their players?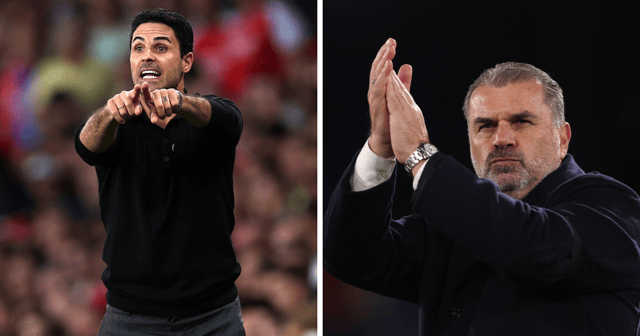 This season's North London rivalry is shaping up to be one of the fiercest in recent history after a strong start to the Premier League by Arsenal and Tottenham Hotspur.
Both the Gunners and Spurs have charismatic managers at the helm with the bosses' press conferences so far this term providing some blockbuster moments. The tightly-wound Mikel Arteta contrasts chatty Aussie Ange Postecoglou and the differing managerial styles were clear for all to see last weekend.
After his side were defeated at St James' Park, a red-faced Arteta blasted the Premier League's refereeing standards while, down in London, a calm Postecoglou took the decisions in his stride. Those contrasting reactions make for great viewing but, as sports psychologist David Charlton points out, manager reactions can end up having crucial knock-on effects for players.
Speaking moments after the final whistle at St James' Park, Arsenal manager Arteta labelled the VAR decision to allow the Magpies goal as 'embarrassing' and 'a disgrace' multiple times. He added: "It's not acceptable, there's too much at stake. I don't want to be in the hands of these people. I don't know how to feel. I'm wasting my time, we are wasting our time. I feel sick to be part of this. I feel sick. It's not a goal, it's not a goal."
Arteta outburst could make players reckless
For Mr Charlton, who set up Inspiring Sporting Excellence and is an HCPC Registered Sport and Exercise Psychologist specialising in Mental Toughness, such outbursts from Arteta could come back to bite him.
The expert said: "If a coach wants a player to act in a certain way, then they are a role model to the player. They have to act in that way.
"You'd like the player to maintain a big picture, that they can see a situation from a variety of angles. You want a player to show passion but not boil over, which can be a red card or two yellows in a game situation.
"That's what you'd want from a player on the pitch but Arteta isn't really modelling that himself. If one of his players goes and reacts to a decision this weekend and ends up getting yellow carded and sent off later in the game, there's an argument to say he's only got himself to blame."
It may be somewhat of a blessing, therefore, that Arsenal don't play another side currently in the Premier League top eight this month, meaning time to cool down before another high-pressure fixture such as that with Newcastle United.
Could Gunners' defence of Arteta outburst be a bigger strategy?
However, as Mr Charlton acknowledged, Arteta's post-match comments may have been calculated for the benefit of his players. It was, indeed, unusual to see the club release a statement this week backing the Spaniard's rant.
The club said: "Arsenal Football Club wholeheartedly supports Mikel Arteta's post-match comments after yet more unacceptable refereeing and VAR errors on Saturday evening. We'd also like to acknowledge the huge effort and performance from our players and travelling supporters at St James' Park.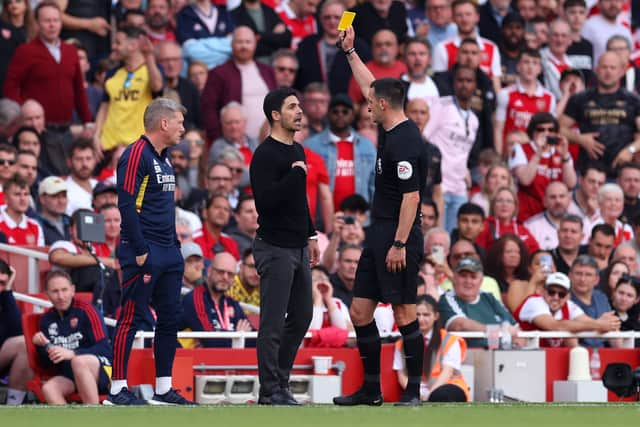 "The Premier League is the best league in the world with the best players, coaches and supporters, all of whom deserve better. PGMOL urgently needs to address the standard of officiating and focus on action which moves us all on from retrospective analysis, attempted explanations and apologies."
Such a line, taken by the manager and club, helps to deflect attention away from the first-team stars and towards the referees and Premier League. As Mr Charlton pointed out, little has been said about the errors in the Gunners' St James' Park performance.
The psychologist said: "I don't know Arteta, but is this a PR stunt? Did he decide he was going to go all guns blazing, no matter the consequences, to put some pressure on the PGMOL and the Premier League?
"That was a classic Jose Mourinho tactic, to deflect. Arteta doing what he did deflects all the attention onto him and the players who maybe didn't perform to the best of their ability avoid scrutiny. Knowing professional sport, he's done that but behind closed doors, they are looking very closely at the performance."
Whether carefully plotted or a moment of passion, the furious Arsenal approach certainly seems to come with greater risks to players' mental state than that of Postecoglou.
Speaking after the 4-1 defeat to Chelsea, the Australian said: "Decisions are decisions: you either accept it or you don't. Some of it is self-inflicted [but] if we are going to go out and complain about bad decisions every week what will happen is what happened today: a forensic study of every decision.
"I think that's the way the game is going. I don't like it - I could be a lone voice as I'm told that's the way forward. With VAR intervention it just felt like a lot of standing around.
"At some point, we have to accept the referee's decision. This constant erosion of referees' authority, this is what the game is going to get: they will not have any authority, it is going to get diminished and we are going to be in the control of someone a few miles away watching a TV screen."
How calm Postecoglou reaction will toughen Spurs players
For Mr Charlton, Postecoglou's response could mean that Spurs stars are less easily riled in upcoming fixtures when decisions don't go their way. Where some may want to see that fight, the psychologist points out that the players can win a mental battle before the match even begins.
He said: "A manager ideally would want a player who can intimidate his opponents and be 1-0 up before the match starts. If your emotions aren't in check and they are all over the place, are you doing that?
"I think you'd quite enjoy as an opponent being able to wind them up and get a card from them. There's a power in being able to stay quiet and smile in these situations. That means that when it comes to decision-making, they won't let emotion take over on the pitch. Obviously, in the two interviews, Arteta wasn't seeing any perspective himself, whereas Ange was very different."
How Arsenal and Spurs stars react to their two opposing managers remains to be seen but it seems certain that VAR controversy will be going nowhere anytime soon with mind games aplenty still to come.