Alexandre Lacazette missed a penalty in the second half, but in the end it didn't matter as Mikel Arteta's side went home with the three points their performance deserved.
The win moved Arsenal above West Ham into fourth place in the Premier League, and into the Champions League spots, an impressive position to be in given they started the season with three defeats.
It was another strong outing for the increasing fan-favourite Aaron Ramsdale, who kept another clean sheet to see out an important victory.
So with Arteta seeking a new leader, here are five reasons why Aaron Ramsdale should be the natural replacement for the ousted Gabon international.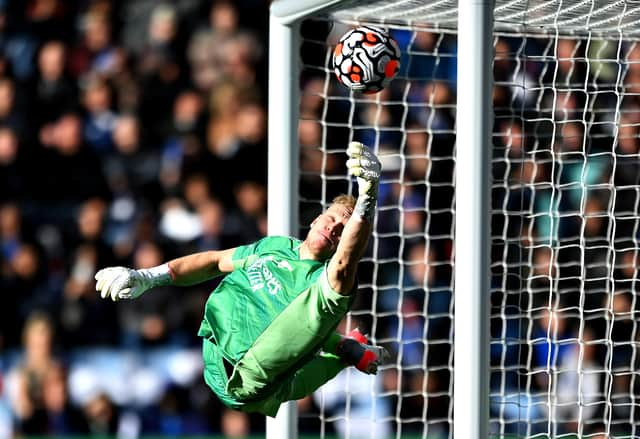 Natural leader
The England number two has had a transformative effect on this team since joining in the summer.
His arrival has coincided with a change in fortunes for every player.
Before his Premier League debut, Arsenal had lost their three of opening games and were heading for a dreadful season.
But he came in, and has held everything together, inspiring a previously porous defence to new heights.
It's easy to see how well he commands his back line, and his flexibility and passion seems to just kick everyone else into life at the Emirates Stadium.
The fans have already created a song for him.
At Arsenal for a long time
Arsenal have had 11 captains in the last 14 years, and the number is more alarming when narrowed down to the last five seasons.
The Gunners hierarchy have had issues with Robin Van Persie, Granit Xhaka and Pierre-Emerick Aubameyang, and the next choice must be someone who is guaranteed to stay long at the club.
He should also be a reflection of the morals, values and passion to play that the club cherishes.
In the three months that Ramsdale has been at Arsenal, he's not only changed opinions about himself but also become a fan favourite and is helping take the club from mid-table to fighting for a place in the top four again.
The £24 million paid for him is already looking like a bargain.
His game is on the up
Bernd Leno is a very good goalkeeper, and will feel very unlucky to have lost his starting position, but part of that is down to the brilliance of Ramsdale who has been exceptional since he was given the opportunity.
In the 15 Premier League games he's played for Arsenal, he has eight clean sheets, helped the team to nine wins and has conceded 13 goals.
The former Sheffield United man has made 52 saves, and won the club's player of the month award for October and November.
Behind the scenes, he is also said to be a genuine likeable person in the dressing room.
Just at the right age
One of Arsenal's greatest captains, Tony Adams, was made captain when he was only 17 and he went on to become a club legend before ultimately handing it over to Patrick Vieira.
Ramsdale is only 23, for a goalkeeper who is already knocking on the doors of the England's starting slot, it's the best time to push him.
The success of Hugo Lloris, who is the captain of both England and Tottenham, makes a strong case for Arsenal to look beyond an outfield player and hand the armband to the ever improving Ramsdale.
He understands what it means to play for a club like Arsenal, he has the mental fortitude to lead a dressing room having captained Sheffield United during a difficult period.
Has so much experience for his age
Aaron Ramsdale might be flying at the moment, but he's had to earn his spot at the top level.
In his two Premier League stints before joining Arsenal, he had been relegated at both clubs.
Despite experiencing the lows of demotion from the Premier league at Bournemouth and Sheffield United, nothing seems to faze him.
His attention to details is unrivalled in training, and his desire for clean sheets is made evident after every save.
Not many goalkeepers will come into a team like Arsenal and immediately take up a leadership role like the goalkeeper who was born in Stoke-on-Trent and was a childhood West Brom fan.
The fans already love him and he would represent the present and future of the Gunners.