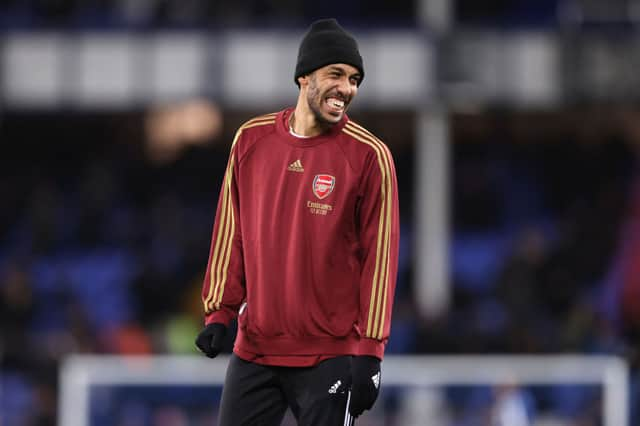 Arsenal have confirmed that Pierre-Emerick Aubameyang has been stripped of their captaincy and will not feature in Wednesday night's Premier League clash against West Ham.
The forward was found to be in breach of the club's disciplinary code after returning to the club late following a trip to France last week.
Subsequently, the Gunners have taken punitive action against Aubameyang, and have reiterated their stance in an official statement.
We've gathered all of the details you need to know, including the 32-year-old's current contract situation, below...
Why has Aubameyang faced disciplinary action?
Aubameyang has been stripped of his captaincy by Arsenal, after breaching disciplinary rules by returning late to the club from a short trip to France.
The Gabon international was consequently omitted from the Gunners' squad for their 3-0 win over Southampton at the weekend.
The club have since announced, however, that Aubameyang will also be out of contention for Wednesday's clash against West Ham, and will no longer wear the captain's armband for Mikel Arteta's side when he does eventually return to the starting XI.
LondonWorld understands that the forward was in France to visit his mother, who is suffering ill health, but arrived back in England later than the Gunners were expecting him to.
This is not the first time that Aubameyang has been left out of a game due to disciplinary issues.
Back in March, the striker was omitted from Arteta's squad for a North London derby after arriving late to a team meeting.
What have Arsenal said about Aubameyang?
The Gunners released an official statement confirming that Aubameyang had been stripped of his captaincy on Tuesday.
It reads: "Following his latest disciplinary breach last week, Pierre-Emerick Aubameyang will no longer be our club captain, and will not be considered for selection for Wednesday's match against West Ham United.
"We expect all our players, particularly our captain, to work to the rules and standards we have all set and agreed.
"We are fully focused on tomorrow's match."
What is Aubameyang's contract situation?
Aubameyang's current contract with the Gunners isn't due to expire until the summer of 2023.
After a prolonged period of speculation surrounding his future, the 32-year-old put pen to paper on a new deal at the Emirates last September, vowing at the time to make himself an "Arsenal legend".
What is Aubameyang's salary?
According to a report from The Times, Aubameyang's contract extension was worth somewhere in the region of £55 million.
Spread out over the course of its three-year duration, that figure amounts to around £250,00 per week - although it is understood that with loyalty payments and bonuses, his actual weekly wage is probably closer to the £350,000 mark.
At the time, Aubameyang's agreement made him one of the highest-paid players in the entire Premier League.