Restaurant review: Korean Grill Kensington at the Millennium Hotel - 'Splendour of Korean culture'
Housed in the Millennium Hotel near Gloucester Road Tube station, Korean Grill Kensington (KGK) offers guests an 'Omakase' dining experience in an elegant setting.
Watch more of our videos on Shots! 
and live on Freeview channel 276
Visit Shots! now
If you're a fan of Korean food and culture, you'll be excited to hear about the opening of  the first Korean grill restaurant in the Kensington area.
Housed in the Millennium Hotel near Gloucester Road Tube station, Korean Grill Kensington (KGK) offers guests an 'omakase' dining experience in an elegant setting.
Omakase means "I leave it up to you", so diners leave it up to the chef Joseph Ahn to select and serve seasonal specialities.
The restaurant offers a journey into Korean barbecue culture with each table fitted with a tabletop style grill.
Having lived in Japan many moons ago, I had experienced Japanese 'yakiniku' cuisine which translates to grilled meat and an occasional Korean barbecue meal.
This was my first experience in London and I was filled with nostalgia and excitement.
General manager Tommy Kim was very accommodating and picked out the best soju for us (we went with the grape flavour) and talked us through each step of our meal.
Soju is a type of Korean vodka made from fermented grains. The menu offers an abundance of flavours from strawberry to plum to grapefruit.
For starters we were served delicious Korean dumplings and stir fried glass noodles, which was the perfect warm up for the main course..
Next up we were served bibimbap, a Korean favourite. The dish consisted of hot stone rice, with beef and vegetables topped with an egg yolk.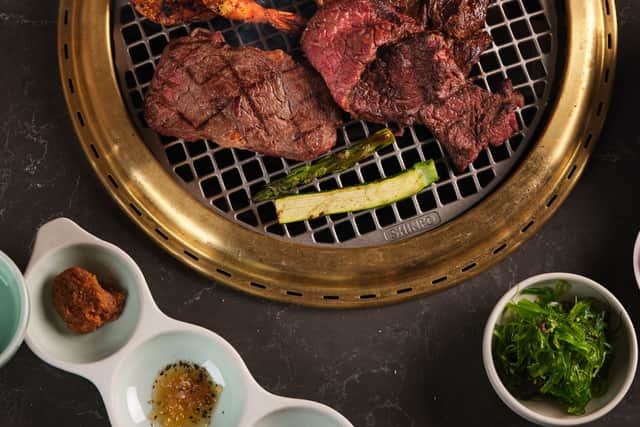 Then for the main event! The meat! We were served the KGK special king kalbi, which is a diamond cut beef short rib marinated in the restaurant's signature sauce.
KGK has a precise way of barbecuing, which involves first heating the grill then greasing it. Once the rings are red hot the meat and vegetables are then carefully placed onto the grill.
The meat is best cooked one side at a time, ensuring one side is charred before flipping. Once cooked you can cut the meat into bite sized pieces with the scissors provided, dip it in the sauce using the metal chopsticks and enjoy.
For dessert we finished our meal off with some homemade roasted soybean ice cream.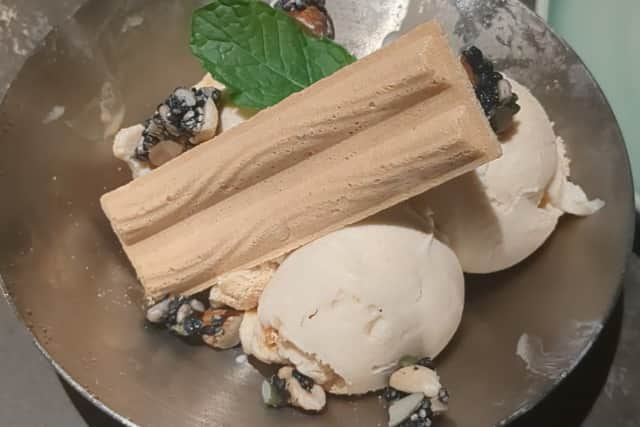 Korean Grill Kensington offers lunchtime set menus between £22 and £25 offering Korean salads, a choice of bulgogi (marinated beef), Bibimbap, rice/soup and a seasonal dessert.
The evening a la carte menu, which we tried, is priced at around £65 per head.
As it was a Tuesday night, the restaurant was quite quiet but I'm sure once the buzz gets around it will become impossible to get a booking so get in now while you can.
KGK is the perfect spot for a work party, stag do or family get together as Korean barbecue culture is designed to be shared with others.
It offers guests delicious food, excellent personalised service and a fantastic insight into the richness and splendour of Korean culture.
We drank: Grape soju (£15)
We ate: Sunbi Sang Cha Lim (Korean dumplings and glass noodles) (£8 pp)
Dolsot Bibimbap to share (£12)
Korean Grill Kensington special King Kalbi to share (£45)
Homemade roasted soybean ice-cream (£7 x 2)
Address: Korean Grill Kensington, Courtfield Road, South Kensington, London, SW7 4QH