Two independent London pubs have announced they won't be showing the Qatar football World Cup and denounced the event as "mired in money, corruption, blood and intolerance".
Owners of The Compton Arms, in Islington, and The Gun, in Homerton, confirmed neither venue will be streaming games, despite the international tournament being an "important form of revenue".
It comes amid widespread criticism of the event being held in the gulf state from LGBTQ+ and human rights organisations following persecution and 6,500 migrant worker deaths.
Charity Amnesty International has warned human rights abuses "persist on a significant scale" with some migrant workers forced to work 18-hour days.
While Human Rights Watch has warned Qatari security forces are "detaining and abusing LGBT people for [being] who they are", acting with "impunity" as recently as September.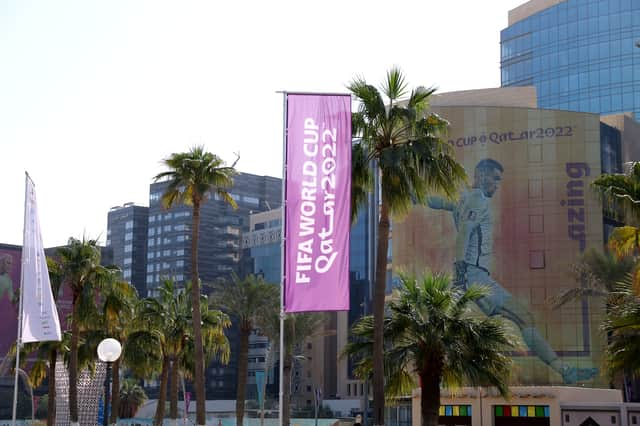 A statement on the Instagram pages of both pubs read: "This won't come as a surprise to those who regularly drink in our pubs, but we will not be showing the Qatar World Cup at The Compton Arms or The Gun.
"This is something we've thought a great deal about, because pubs should show World Cups.
"They bring us together in a way that few other shared televised occasions can.
"They are a really important form of revenue for pubs at a time when our government is actively shafting all of us.
"Normally, they are really good fun too.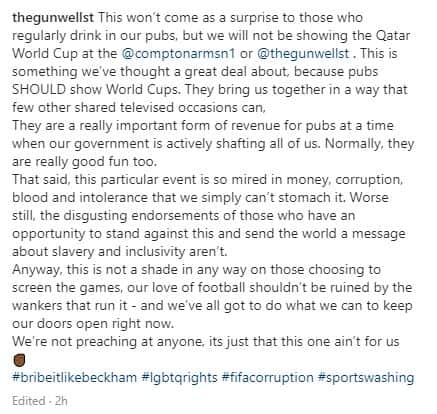 "That said, this particular event is so mired in money, corruption, blood and intolerance that we simply can't stomach it.
"Worse still, the disgusting endorsements of those who have an opportunity to stand against this and send the world a message about slavery and inclusivity aren't.
"This is not a shade in any way on those choosing to screen the games.
"Our love of football shouldn't be ruined by those that run it - and we've all got to do what we can to keep our doors open right now.
"We're not preaching at anyone, it's just that this one ain't for us."
Footballer Gary Neville also faced a grilling on comedy panel show Have I Got News For You over his involvement in the event.
FIFA bosses have urged competing nations to focus on football, with a letter to the 32 countries reading: "Everyone is welcome regardless of origin, background, religion, gender, sexual orientation, or nationality."
England captain Harry Kane has promised to wear a rainbow armband in support of LGBT rights while other nations have promised to take a stand.