"To win the climate war, you first need to win the climate argument."
So opens the description of Sadiq Khan's upcoming book, Breathe, on his publisher Penguin's website.
The book, which tells the story of the mayor's "political transformation" into a climate advocate, following a diagnosis of adult-onset asthma brought on by London's polluted air, is due out on May 25, with promo including an event with LBC presenter James O'Brien at the Southbank Centre on May 24.
Ahead of the launch of Breathe, we spoke to Zack Polanski, a Green Party Assembly Member, deputy leader of the Green Party and chair of London's environment committee, to discuss some of the key climate issues during the mayor's time so far.
While Mr Polanski praised Mr Khan for "speaking on issues well…particularly around air pollution", and for initiatives such as the recent Superloop announcement and the growth in cycleways, he said elsewhere, the mayor has been lacking in his climate commitments.
ULEZ
It is impossible to discuss the mayor and his actions on climate change and air pollution without at least touching on the Ultra-Low Emission Zone (ULEZ).
The Green Party is in favour of Mr Khan's plans to expand the zone to incorporate all of Greater London, and included it in its manifesto when Sian Berry ran for mayor in 2021.
There has been push-back on the scheme, including from five councils which have launched a judicial review into the expansion, due to be heard in court this summer. However, the mayor has consistently reiterated that the decision to expand the ULEZ was necessary, amid his claim that around 4,000 Londoners die prematurely every year due to toxic air.
Mr Polanski, while describing the ULEZ expansion as "a good step", said its introduction over several stages has "created unnecessary division and complexity", and that he would like to have seen it implemented London-wide in one go.
He said he believes the £110m scrappage scheme to be insufficient, and that it requires further investment from the mayor to properly support those needing to transition to cleaner vehicles.
Beyond ULEZ, Mr Polanski said the mayor should look at introducing road user charging in the future. Something Mr Khan has spoken of on several occasions. Road user charging would see motorists paying a fee depending on factors such as how polluting their vehicle is and how far they drive.
"The general aim is to charge a vehicle based on the type of emissions, the time of day, the roads it's driving on. So rather than having a blunt instrument and a flat fare, it's going back to the simple principle that the polluter pays, and ultimately, you are disincentivising people from driving at all."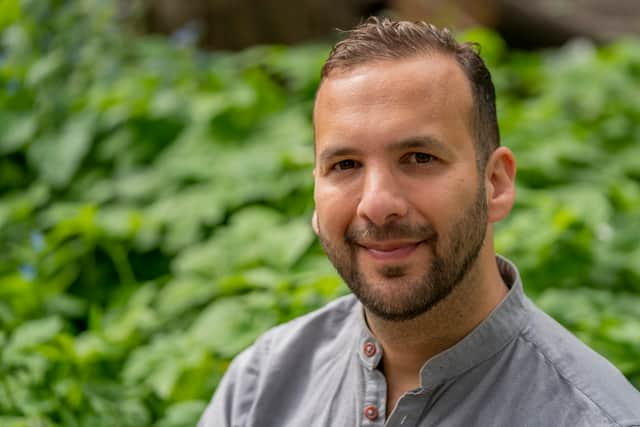 Silvertown Tunnel
Other than the expansion of the ULEZ, the Silvertown Tunnel project is possibly the most controversial of the mayor's climate-related initiatives.
If built, it will connect Greenwich to Silvertown in Newham via a tunnel beneath the Thames, which the mayor and Transport for London (TfL) say will deliver benefits including reducing congestion around the nearby Blackwall Tunnel.
However, Mr Polanski claims the argument falls flat in reality, and will have a disproportionate impact on those living in areas with some of the worst air quality in London.
"Ultimately, the main point here is about induced road demand, and there's a very simple principle that if you build more roads, that creates more traffic," he said.
"So the mayor always frames this as an argument for reducing congestion, but we know that argument is nonsense. And ultimately, if you're trying to clear up the air, and everything he is doing correctly with the ULEZ, is then being contradicted by building a road tunnel."
Stop the Silvertown Tunnel Coalition is among the groups to have called on the mayor to pause and review the project, arguing that his claims it is incompatible with his targets on the climate and reducing traffic levels in London.
A spokesperson said: "Roads are fossil fuel infrastructure. More roads produce more traffic, and more traffic adds to climate breakdown. Roads also exacerbate harmful air pollution. In the Silvertown tunnel's case Newham, one of London's most deprived communities, is threatened with up to 30,000 new vehicle journeys through its already highly polluted streets. The tunnel bans cyclists and has HGV lanes, and encourages rather than discourages car use. This can only hurt the health of children in Newham and Greenwich. Sadiq Khan should follow the Welsh government's example and take into account its contribution to climate breakdown and the welfare of future generations."
They continued: "Until he takes seriously our demands to repurpose the tunnel for greener uses, such as for trams or cargo bikes, he is a climate delayer of the sort he is all too ready to call out himself here."
When asked about the Silvertown Tunnel project, a spokesperson for the mayor said it is part of a package of works, including new charges on both the Blackwall and Silvertown Tunnels and improved public transport.
They added both tunnels will also be inside the expanded ULEZ, which they claim "will reduce pollution from traffic across London, including the area immediately around the tunnel approaches".
Retrofitting homes
Another area in which Mr Polanski says the mayor needs to be doing better is the retrofitting of homes across London, making them more energy-efficient and so reducing carbon emissions.
In June 2021, Mr Khan announced a "retrofit revolution" would be taking place in the capital. The package of measures unveiled included a new £3.5m centre of excellence to help social housing providers access funding to improve their stock, and a partnership deal worth up to £10bn to deliver low-carbon upgrades to London's social housing.
At the time, the mayor said: "A strong economic recovery from Covid-19 and a green recovery are not mutually exclusive. This transformative approach to retrofit will directly help those living in ageing, energy-inefficient homes, and could play a vital role cutting energy bills and tackling fuel poverty. It will also support Londoners with the skills they need for jobs in the green economy, rebuilding our city post-covid so that it's cleaner, greener and fairer."
Since that announcement, Mr Polanski has called on the mayor to invest more into scaling up the workforce necessary to deliver these results.
In November 2022, Mr Polanski said: "What's certain is that Londoners can't afford their skyrocketing energy bills, and that the mayor isn't ready for the retrofit revolution he declared 18 months ago. Installers are telling me there's a need for more trained people now, even at current levels of demand, and two thirds of young people say they want a green job. We agree that sustained government investment is essential. But the mayor has a £320m training budget at his disposal. It's baffling that he is unwilling to be more proactive in using it."
Speaking to LondonWorld, Mr Polanski added he believes the mayor has been "missing in action" on the topic, and that he has instead resorted to claiming he can't show leadership until the government gives him more money.
"He'd be the only person in history to declare a revolution and then ask government permission for it," Mr Polanski said.
In response, a spokesperson for the mayor pointed to his support of a number of homes retrofitting programmes since he took office, including his Warmer Homes programme, which has retrofitted more than 3,800 properties, and Retrofit Accelerator Homes, which has over 1,800 contracted and due for improvements.
Breathe is due out on May 25.