ULEZ and LTNs: Sadiq Khan's policies should be open to government veto, says MP Theresa Villiers
A former cabinet minister wants the government to be able to overturn schemes such as ULEZ and LTNs.
Watch more of our videos on Shots!
and live on Freeview channel 276
Visit Shots! now
A former cabinet minister has called for government powers to block Sadiq Khan's Ultra Low Emissions Zone (ULEZ) expansion.
Theresa Villiers, Tory MP for Chipping Barnet, said ministers should have the power to overturn transport schemes such as the ULEZ expansion and low-traffic neighbourhoods (LTNs) where there are "very serious concerns". 
In August, mayor Sadiq Khan plans to expand the ULEZ boundaries to cover the whole of greater London, meaning motorists driving inside the M25 will be required to pay a £12.50 daily fee if their vehicle does not meet emissions standards.
Mr Khan says the "health emergency" of pollution in the city needs to be tackled. A City Hall report, reviewed by Imperial College London, found that 4,000 Londoners die prematurely every year due to toxic air.
Theresa Villiers MP, Chipping Barnet
Ms Villiers said her proposals could force a rethink and could apply to other projects including LTNs, introduced by local councils, and moves to build on station car parks. She will seek to introduce the Greater London Authority Act 1999 (Amendment) Bill in the Commons on Wednesday through the 10-minute rule motion procedure, although it is unlikely to become law in its current form.
Ms Villiers told the PA news agency: "A key theme is the unhappiness, especially with ULEZ but also with a number of the other controversial transport schemes the mayor has introduced.
"A lot of my constituents would like the government to be able to step in and ask the mayor to think again. My bill, in principle, would allow that to happen although you will appreciate this procedure is more about raising issues really than the promise of actual legislative change."
She said decisions made in London have an effect on people outside the city and that ministers should be able to intervene if these people are not being considered.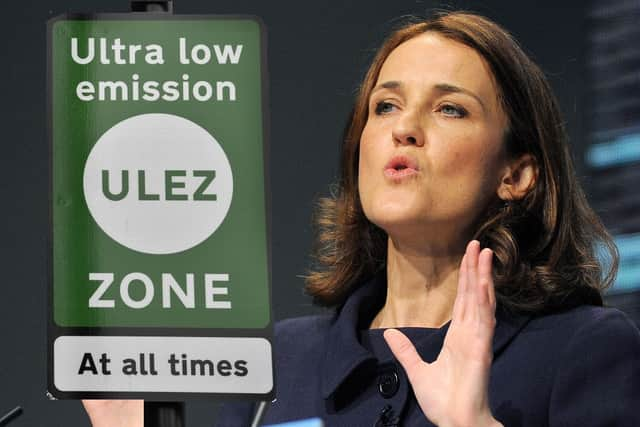 She said: "I'm sure some people will say you can't interfere with the devolution settlement, but decisions on our capital city can have a massive impact on millions of people who commute in and out, as well as the UK's economy as a whole.
"So I think there is a place for intervention by ministers. I'm not saying this should happen as a matter of routine. But where there are very serious concerns about the decision by the mayor of London I think it's legitimate for my constituents to want the Government to step in and ask that the mayor does something different."
Villiers added that improving air quality in London is important but claimed that the ULEZ expansion "is the wrong scheme at the wrong time".
She said the scheme would have a "very limited impact on cleaning up our air…yet it will have a really tough impact on many people who are probably already struggling with rising prices and also on small businesses who may be dependent on vans".
Sadiq Khan, mayor of London
A spokesperson for the mayor said: "The mayor has been clear that the decision to expand ULEZ London-wide was not an easy one, but necessary to tackle toxic air pollution and the climate crisis. It is disappointing that some backbench MPs are wasting parliamentary time playing politics. Both No 10 and the transport secretary have been clear this is a matter for the elected mayor.
"With around 4,000 Londoners dying prematurely each year due to air pollution, there is no time for inaction and it's people in outer London, particularly the poorest households, who suffer the most from the damaging health effects.
"Nine out of 10 cars in outer London are already ULEZ compliant. For those with the most polluting vehicles the Mayor has launched his £110 million vehicle scrappage scheme - the largest scheme ever launched by any city in the UK - to help low-income Londoners, disabled Londoners and micro businesses, sole traders and charities to replace their polluting vehicles.
"The mayor is calling on the government to match his action on toxic air by funding a targeted national scrappage scheme or providing funding to London and the surrounding areas to support the switch to cleaner vehicles. The government have given millions of pounds for scrappage schemes in other parts of the country, but not a single penny to London."