Russia's war in Ukraine began on February 24, 2022.
At 4pm on Friday crowds assembled in front of the St Volodymyr statue in Holland Park to pay tribute to the victims of the war in an Ecumenical memorial.
Flowers were laid by the statue and the Ukrainian national anthem was sung.
Many attending were draped in the Ukrainian flag, while women and children wore flower crowns in their hair.
Guest speakers thanked the host families who took part in the Homes for Ukraine scheme and the UK government for its support of the Ukrainian people.
The crowd then marched through Kensington to the Russian embassy for a rally.
Several chants were heard including "Russia is a terrorist state" and "Putin is a criminal."
A giant projector then beamed the Ukrainian flag onto the Russian embassy building, which was then met with cheers and repeated chants of 'Ukraine stay strong'.
To date, over 82,000 Ukrainian refugees have been welcomed into the UK so far, and many have settled with host families after the government's Homes for Ukraine initiative last year.
The Disasters and Emergency Commission report that the British public and businesses have raised £400 million in donations to charities to help Ukraine.
More than 8,000 Ukrainian civilians have been killed since the war started on February 24 2022, according to the Office of the United Nations High Commissioner for Human Rights (OHCHR). Of them, 487 were children.
More than 8 million Ukrainian refugees are currently scattered across Europe, with an estimated 5.9 million internally displaced people in Ukraine.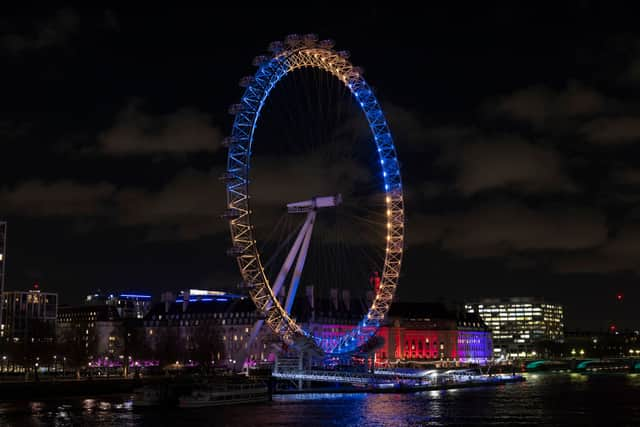 Across the capital City Hall, Trafalgar Square, the London Eye and other London landmarks were lit up in solidarity with Ukrainians in London and abroad.
The National Theatre, Oxo Tower and Southbank Centre was also lit up in Ukrainian colours, and the at both Piccadilly Circus and Outernet showed a message of solidarity to all those impacted by the invasion of Ukraine.