A street in London has been renamed 'Kyiv Road' to mark the first anniversary of Russia's invasion of Ukraine. The road is just a short distance from the Russian embassy and covers a small section of Bayswater Road, running from Palace Court to Ossington Street.
The Leader of Westminster City Council, Adam Hug, said the new road name was "a fitting gesture" to commemorate Ukraine's inspiring bravery.
He said: "The request for a new place name has come from the Ukrainian community itself. Westminster is home to Ukrainians displaced by the war, and our residents have opened their hearts and their doors to those fleeing Putin's war machine.
"As the centre of international capital, it seemed to us entirely fitting that part of our city should carry a torch for the unbowed defenders of Ukraine.
"It's a small stretch of road, but we want to show the people of Ukraine that their struggle has a visible place in our city."
When Mr Hug took office in May 2022 he pledged to rename a road in Westminster to mark the war in Ukraine.
Vadym Prystaiko, Ukraine's ambassador to the UK, said: "Kyiv Road is a symbol of solidarity with the Ukrainian people and a tribute to their unwavering spirit in the face of aggression.
"It is a reminder that the struggle of Ukraine has the attention of the international community.
"We are grateful to the Westminster City Council and its residents for their support in honouring our nation's capital and its brave defenders."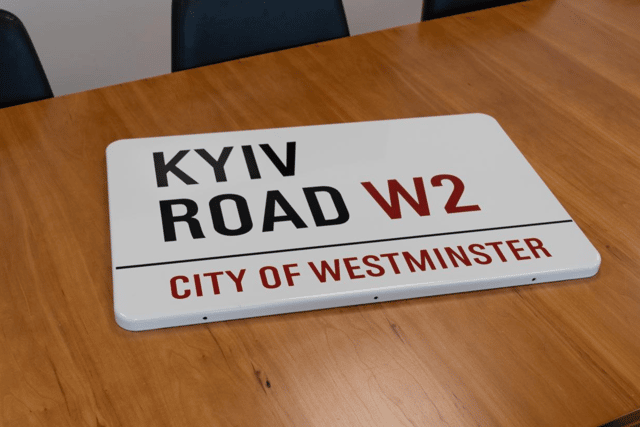 London has made several gestures to mark the year anniversary of Russia's invasion including holding a vigil at Trafalgar Square where speakers including Dame Helen Mirren shared emotional Ukrainian poems and a minute silence is to be held at 11 am on February 24 across the country.