An RMT worker believes the rail strikes this week are for better pay for "every worker in the country".
It comes as members of the Rail, Maritime and Transport union (RMT) on Network Rail and 13 train operators began their nationwide strike on Tuesday, June 21, over pay, conditions and pensions.
Oluwarotimi Ajayi, who was on the picket line outside Liverpool Street station said that the fight was "not only for the rail workers, it's for every worker in this country".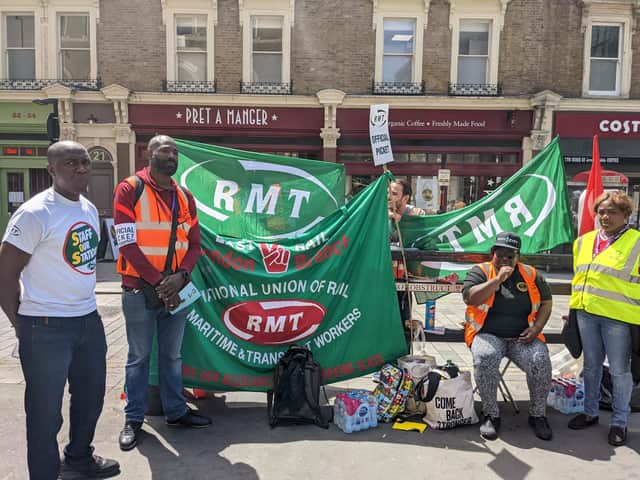 He told LondonWorld: "We are out today striking to protect our jobs, pay and our terms and conditions.
"The Tory government has decided to cut £4bn from the railway which is £2bn from Network Rail and £2bn from the London Underground.
"They say they also need to cut whatever pay rise we demand from the railway.
"We think that this is not acceptable, we think that is an attack on our member's pay, jobs and conditions."
Transport secretary Grant Shapps has criticised the rail strikes as "unnecessary" but said there was "nothing" the government could do to "change the reality [of strikes] this week".
While RMT boss Mick Lynch said that the strikes will continue till their demands are met.
He said: "The dead hand of this Tory government is all over this dispute and the fingerprints of Grant Shapps and the DNA of Rishi Sunak are all over the problems on the railway and the problems in our society.
"Until they allow these employers to negotiate freely, I can't see that we're going to get a settlement on the issues that are in front of us."
Ajayi said: "The fight is not only for the RMT workers, the fight is about better pay for every worker in the country.
"During the pandemic the railway was there, protecting people to go into work.
"At that time the Tory ministers were partying, while people were dying.
"We were there protecting the railway and also trying to protect our families.
"We say that we will not accept that, we want decent pay for all our members and for our country."