St Paul's gyratory: What are the walking and cycling improvements in the City of London's plans?
The City of London Corporation's redesign includes closing off the bottom of King Edward Street to install a new, 3,000sqm public square.
Watch more of our videos on Shots! 
and live on Freeview channel 276
Visit Shots! now
Plans to improve walking and cycling facilities and construct a new public square at the St Paul's gyratory are welcome, says a local campaign group, but more needs to be done to effectively ensure it delivers the safe network required.
The City of London Corporation (CoLC) earlier this month passed plans to redevelop the area around the gyratory just north of St Paul's Cathedral.
The plans involve closing the bottom of King Edward Street, installing a two-way traffic system on Newgate Street and St Martin's Le Grand, and constructing a new 3,000sqm public space.
A host of cycling and walking improvements are featured in the designs, including segregated cycle lanes, all of which are to be delivered as part of phase one, between 2024 and 2025.
Phase two will involve the removal of the rotunda and roundabout near the former Museum of London site, subject to the CoLC's London Wall West development going ahead.
Some concerns were raised during the council meeting in which the plans were approved, including potential increased congestion around Little Britain, and whether the work would impact ambulance delivery times at nearby St Bart's Hospital.
Asked by LondonWorld how the redevelopment may affect journey times, a CoLC spokesperson said: "Some journeys will be a little shorter and some slightly longer.
"For example, a taxi travelling eastbound on Newgate Street towards New Change or Cheapside will have a shorter journey as Newgate Street becomes two-way for all vehicles.
"A car wanting to travel northbound would in future use St Martin Le Grand, then turn left into Angel Street and right into King Edward Street. This would be a slightly longer journey but only if you were travelling eastbound along Newgate Street.
"Other journeys would be largely unaffected and there are no restrictions on which vehicles can use which street, except for the full closure of the southern section of King Edward Street to create the new public space where all vehicles would be prohibited."
In terms of mitigation, the spokesperson added: "As traffic modelling progresses, we will continue to revise traffic signal timings to optimise the flow of traffic and minimise any predicted delays."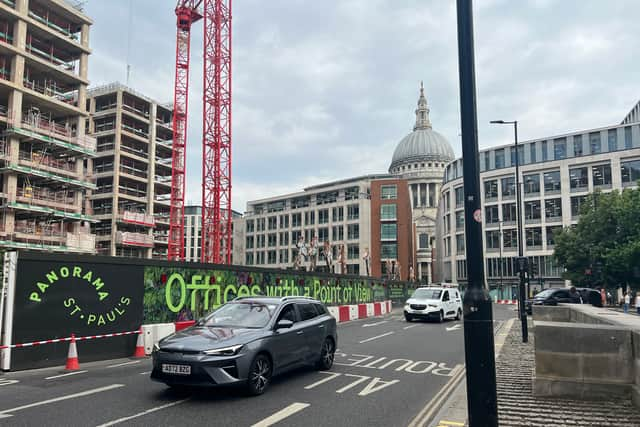 What are the walking and cycling improvements planned?
Among the works involved in the plans is converting almost 1,500sqm of existing carriageway to pavement space for people to walk.
This includes the pedestrianised public space on King Edward Street, as well as footway widening across the project area.
Pedestrian crossings will also be improved, by reducing the distance to cross and increasing their regularity, with pavements also to be raised across the entrance and exits of side roads to give walkers priority.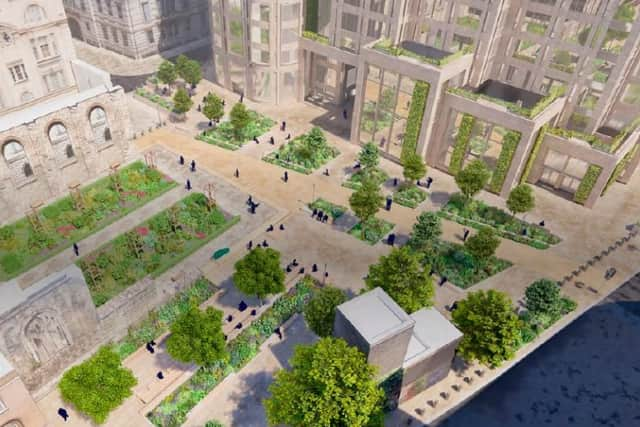 Regarding cycling, the CoLC spokesperson said: "Our proposals plan to introduce over 800 metres of east-west and north-south cycle routes.
"New routes will be created eastbound on Newgate Street and northbound on St Martin Le Grand and turning movements at the Newgate Street/Cheapside/St Martin Le Grand/Cheapside junction will be much safer than now. Cycle routes will be protected wherever space permits.
"With the introduction of the new cycle routes, we are proposing not to permit cycling through the new public space on King Edward Street."
A spokesperson for London Cycling Campaign, which submitted a response to the consultation on the plans, said: "London Cycling Campaign is delighted to see this proposed transformation of the St Pauls Gyratory from a hostile highway into a place for people, with benefits for people cycling as well – such as protected tracks on St Martin le Grand."
However, they said the plans are "much weaker" on Newgate Street, "even though this east-west route is part of the City's planned cycle network.
"We urgently need to see a fully connected, safe network for cycling across and within the City, without which its climate and safety goals will be impossible to achieve."
Chairman of the CoLC Planning and Transport Committee, Shravan Joshi, said: "I am delighted that we have been able to approve the St Paul's Gyratory proposals which have come about after extensive engagement with such a diverse range of stakeholders, ensuring that the completed works benefit everyone.
"These works will greatly benefit the cultural offer of the Square Mile, by creating a corridor for pedestrians from the Tate Modern to the London Museum.
"As footfall across Central London continues to rise, the overall work programme at St Paul's Gyratory will make it a safer, more pleasant environment for everyone to travel through. It means we can enhance this public space in line with our Destination City policy to make the Square Mile a desirable, safe and inclusive visitor destination."