Peak hour travel fares will remain unchanged in London, Sadiq Khan has confirmed, after a recent report called for them to be temporarily scrapped on Fridays to boost passenger numbers.
Published in partnership with Eastern City Business Improvement District (EC BID), and written alongside Daniel Graham, a professor of statistical modelling at Imperial College London, the report states that, three years on since the first lockdowns, the economic impact of hybrid working remains "uncertain".
In its executive summary, the report says that in April 2023 Londoners came into the office an average of 2.3 days per week - 59% of January 2020 levels - with two days each week the most common working pattern.
The authors continue to argue that, while acknowledging "there are very clear upsides to greater flexibility for the employee", this must be balanced against "benefits to innovation and creativity of workers interacting with each other face-to-face and of the on-the-job learning that happens when colleagues are in the same room".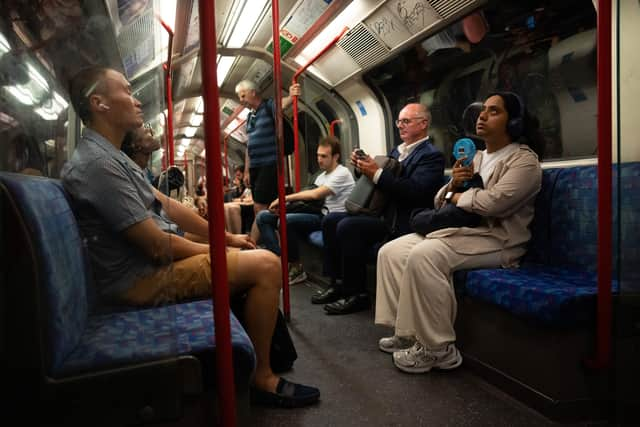 To promote the benefits of working in an office, the Centre for Cities report makes several recommendations to the mayor and government, including maintaining existing levels of transport, conducting more research into the impact of hybrid working, and reducing fares.
On this last point, the authors write that the mayor should temporarily scrap peak morning fares on Fridays, the quietest day of the working week, to boost ridership.
Andrew Carter, chief executive at Centre for Cities, said: "The Covid-19 pandemic and the lockdowns that came with it inadvertently forced many advanced economies into a big experiment in new ways of working. What this does to an economy that relies on creativity and interpersonal interaction is still unclear. But the historic context is vital: London's city centre has been an enormous success story over the last hundred years. Unless something fundamental has changed in how people generate and share ideas, the future should be at most a moderated version of the past.
"Home working has delivered many immediate benefits for workers in knowledge-based industries, such as reduced commuting and more flexibility. But these immediate benefits must be balanced with the potential longer-term costs of lower levels of creativity and less on-the-job learning, particularly for younger workers who do an unofficial apprenticeship through learning from their older colleagues.
"Lifting Covid-19 restrictions on its own has not been enough to bring some workers back. Policy makers should be wary that we don't passively let a public health emergency turn into a longer-term negative impact on the economy."
Responding to the report, a spokesperson for the mayor confirmed there are "no immediate plans" to change the timing of off-peak fares.
They said: "There is no doubt that commuter habits have changed fundamentally since the pandemic with more people choosing to work from home.
"Sadiq continues to work to make fares as affordable as possible. He froze TfL fares for five years, saving Londoners hundreds of pounds each year and helping to encourage more people onto our public transport network. Fares in London are 12% cheaper than they would have been without the action the mayor has taken since 2016. He has also introduced the Hopper bus fare to make transport more affordable for millions of Londoners.
"The mayor is always looking at ideas to get more people travelling back into London. Boosting tourism and leisure travel remains a major priority for the mayor, and he has been encouraging people back into central London with his successful Let's Do London campaign and TfL's Welcome Back campaign."
Since restrictions were lifted on public transport in early 2022, tube ridership has steadily risen and is now at around 80% of pre-pandemic levels, across a weekly average.