Londoners are being encouraged to "safely intervene" if they witness sexual harassment taking place on public transport in the capital.
Posters will appear on buses, trains, stops and stations asking people to help victims by defusing the situation and offering them support.
The initiative comes after Transport for London (TfL) figures showed an 81% year-on-year increase in sexual harassment incidents reported by women to police.
The transport body said it hopes the campaign will encourage a "culture of active bystanders", by giving people clear information about how they can help victims.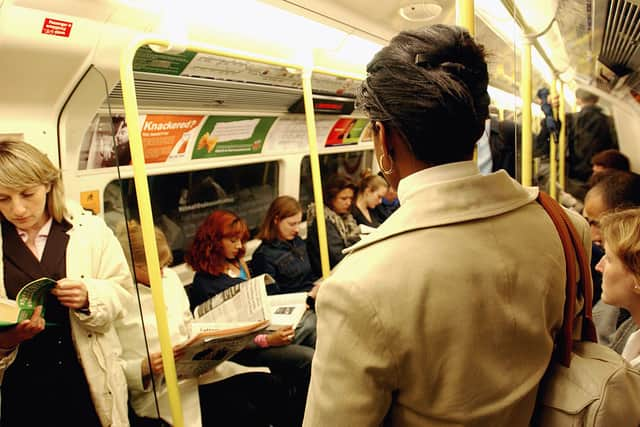 The posters urge witnesses of sexual harassment to help victims by creating a distraction, making notes, asking if they are OK, and reporting the incident.
TfL says it is not asking customers to police the network.
The transport body said there are more than 2,500 police and police community support officers and 500 TfL enforcement officers.
It added that thousands of frontline transport workers, including bus drivers, have been trained to support victims of sexual harassment, and that there is an "extensive" CCTV network.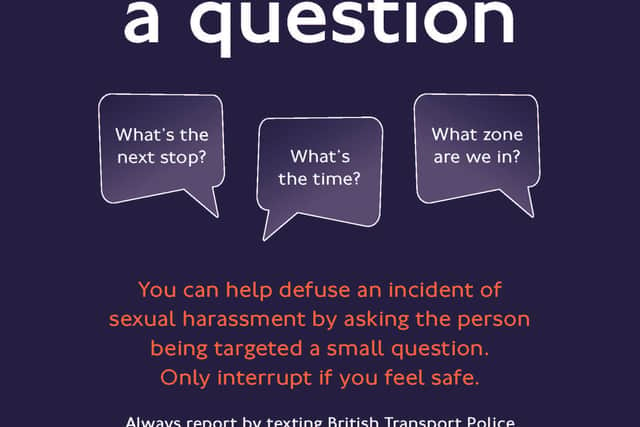 Louisa Rolfe, assistant commissioner with the Met, said: "Research suggests perpetrators re-offend so your intervention or just reporting to police can make a big difference.
"We understand the importance of keeping women and girls safe in London.
"It is our priority to tackle all forms of violence against women and girls."
London's deputy mayor for transport, Seb Dance, said: "TfL takes a zero-tolerance approach to all forms of sexual harassment on London's public transport network.
"As well as proactive police patrols taking place across public transport, TfL staff are trained on supporting members of the public, and this campaign provides practical guidance on how to recognise and report incidents."
Sexual harassment can include rubbing, groping, masturbation, leering, sexual comments, indecent acts, or someone taking photos or filming without consent.
Incidents can be reported on the Met police website, by texting British Transport Police on 61016 or by using the BTP Railway Guardian app.