He told LondonWorld how, after being trapped at Heathrow Airport for 12 hours, he plans to drive for his next holiday.
It comes as airlines have been instructed to cut flights from the west London airport to deal with the mounting disruption.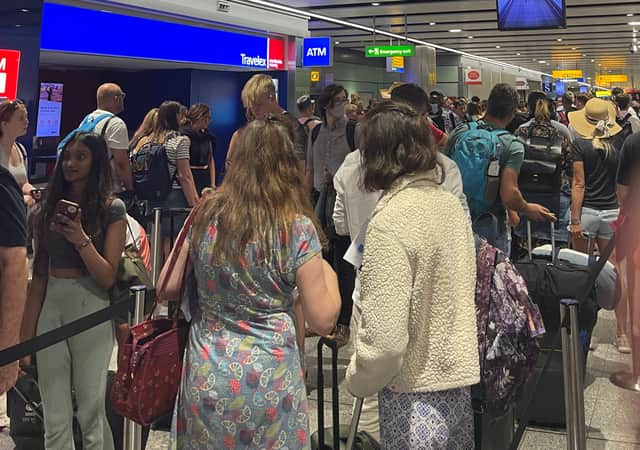 'Flying is no longer glamorous or fun… I think for my next holiday I will drive'
"I was travelling this weekend with my family to Portugal to meet old US-based friends that we haven't been able to see for several years now.
"We arrived in good time on Sunday, about three hours before our flight, having already checked in online. We were flying with BA out of terminal three.
"The first hurdle was baggage drop. It was hard to find the right queue with very few members of staff to help direct.
"It took around 45 minutes to get to a desk to drop our bags. We were then directed to join the security queue.
"I am a seasoned flyer but I hate airport stress and paid for fast track to reduce the risk of missing a flight. But we were told it was all one queue until right at the end - and that queue started outside in the drop-off area.
"It was well-regulated with a lady holding up a 'queue starts here' lollipop and another staff member handing out cans of water to those queuing. It moved relatively quickly and we were through security in an hour or so.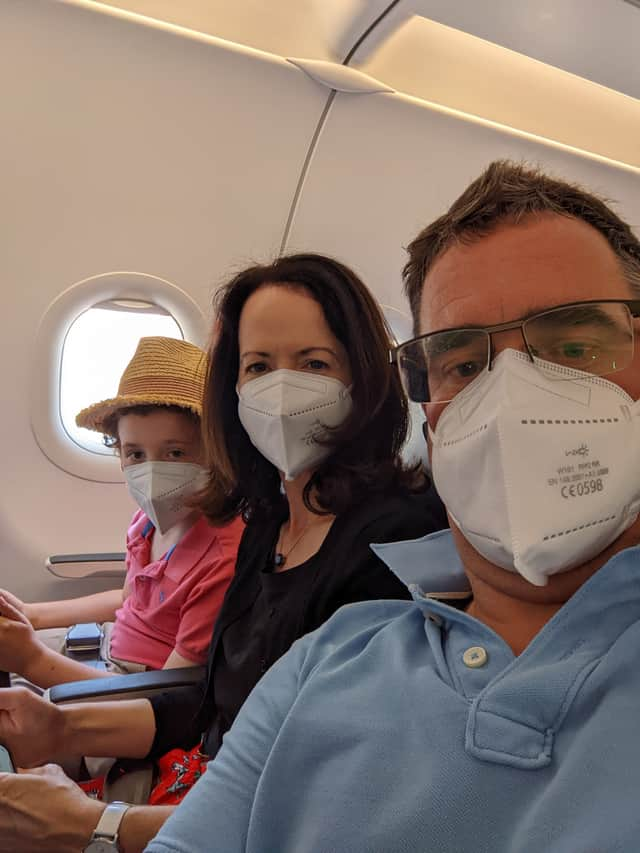 "A pair of queue-jumpers were very unpopular and given short shrift by our section of the queue, but generally the mood was positive as we progressed to security.
"We had a few minutes to grab some lunch before running to the gate which was showing as 'boarding' but where we were told that the aircraft had a technical problem with a wheel.
"The BA gate team were fantastic - checking with families that they were OK and getting a snack trolley and water for everyone.
"However, they were rotated off for an altogether less helpful team - and the checks for being able to leave the gate area became less charming and more officious.
"The constant refrain of 'just 10 more minutes' puts passengers in a terrible position.
"We fear missing our flight if the problem is in fact fixed in 10 mins, but we also lack the ability to go and settle in somewhere more comfortable and have refreshments.
"After an hour and a half of this, we were told that we had 50 mins before departure so we were able to go off, get a cup of tea and try to glimpse a little of the Wimbledon final.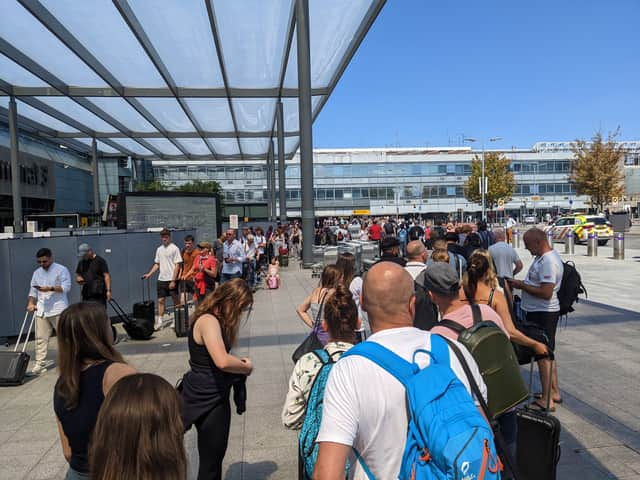 "We hurried back to the gate after our allotted time to find that there was no one there and all the staff had gone.
"The announcement board did not show a new gate for another 45 minutes, but by checking the BA app, some passengers were able to find a new gate. People started gathering there in a space with too few seats and no air conditioning.
"We started to recognise fellow passengers as some of us snuck back to the air-conditioned terminal and took shifts checking the gate. The mood remained resilient and patient.
"Children were distracted by screens and we suffered our lot as a new aircraft was promised. We would miss dinner tonight but at least we would be on our way.
"After nearly two hours a passenger shouted across the gate area that the flight was in fact cancelled and that the gate staff were not going to announce it.
"My heart went out to the many children who spontaneously started crying at their lost holiday and the many adults who were just about holding it in.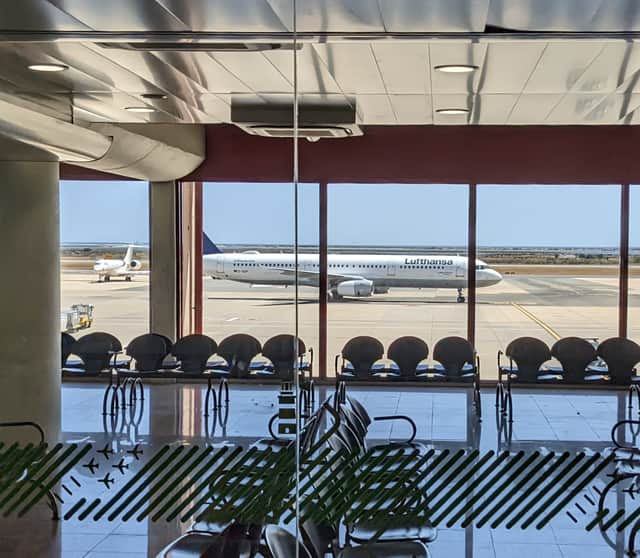 "The gate staff pulled us in to confirm the cancellation. We were promised that we would be automatically rebooked in 30-60 minutes and that we should go and collect our bags.
"It's a sad experience to queue for passport control when you have been nowhere and arrive in a baggage hall to find no BA staff and - with no arriving flight - no carousel assigned. The mood was potentially nasty and some tempers flared.
"We patiently waited for our bags, identified gate staff and begged for a hotel voucher (one double room for three people), food vouchers (£10 per person to be spent in the terminal) and a transfer voucher (one bus every hour - for your sanity pay for a taxi).
"The flight was not rebooked, and it was clear that all flights the following day and from other airports were fully booked. Were BA going to leave us in the lurch?
"We called our travel agent who told us they couldn't rebook our flights as BA had not cancelled it on the system and we were even then still showing as checked in.
"We flirted briefly with the crazy and expensive idea of abandoning BA altogether and driving to Bristol to catch the 7am EasyJet flight.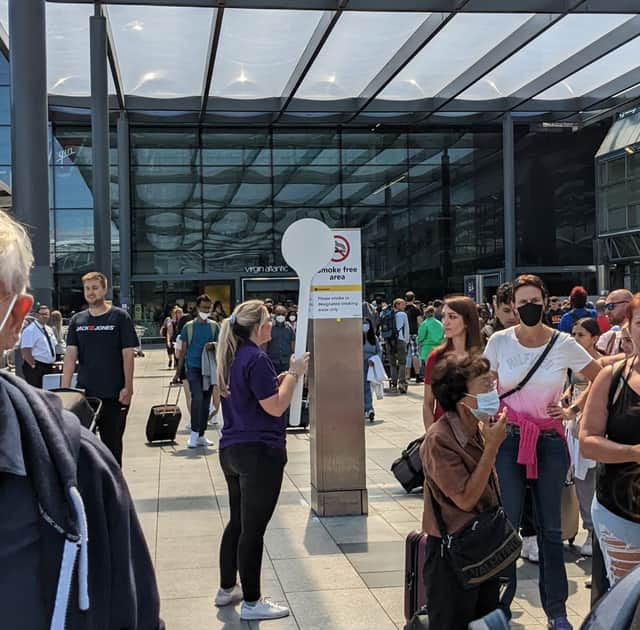 "However, the newly promoted customer services lead, Christian - having had a pretty stressful day - eventually took pity on us and called the BA reservations line and got us on a flight via Frankfurt the following morning. I know that many who left airside before us were not so lucky in getting re-booked.
"Twelve hours after arriving at the airport and nearly five hours after our cancellation, we collapsed into our hotel room for just a few hours of sleep before resuming our journey.
"Terminal two on Monday morning had a long but well-organised baggage drop queue. Again, it took about 45 minutes and another hour through security.
"Fast track was separate but even slower than the regular queue as the airport had not opened up all the scanning lanes.
"The security staff seemed inexperienced in handling large queues leaving one hoping that they focus training on training on security not customer service.
"Finally we were on our way. Frankfurt was little better than London with queues everywhere and Lufthansa staff told us it was mayhem all over Europe - this is not an isolated Heathrow problem.
"Overall I saw many people put up with the situation with great stoicism and dignity and I was struck by some wonderful moments of kindness, and camaraderie by fellow passengers and staff alike.
"It is clear that flying is no longer glamorous or fun and the whole industry is short-staffed or re-staffed with inexperienced teams who do not have the customer service focus of old.
"There will be issues throughout this summer and beyond and BA - an organisation strong on process - needs to brush up considerably on its procedures for what happens when there are delays and cancellations and how it communicates this to passengers who may well be experiencing it for the first time.
"A delay is bad and a cancellation worse, but feeling that you are being lied to or fobbed off is intolerable.
"We have put a claim in for compensation as the cancellation was caused by a technical problem and while BA have acknowledged the claim we have not heard how long we will need to wait or when it will be paid.
"I think for my next holiday I will drive."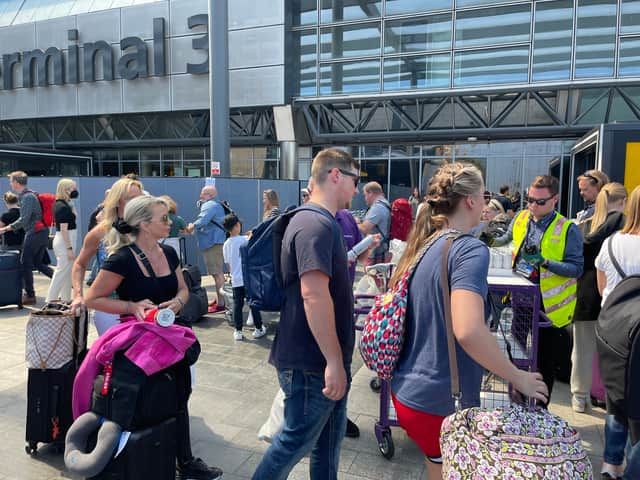 A Heathrow Airport spokesperson said: "We started recruiting back in November last year in anticipation of capacity recovering this summer, and by the end of July, we will have as many people working in security as we had pre-pandemic.
"New colleagues are learning fast but are not yet up to full speed.
"We have also reopened and moved 25 airlines into terminal four to provide more space for passengers and grown our passenger service team.
"However, there are some critical functions in the airport which are still significantly under resourced, in particular ground handlers, who are contracted by airlines to provide check-in staff, load and unload bags and turnaround aircraft.
"They are doing the very best they can with the resources available and we are giving them as much support possible, but this is a significant constraint to the airport's overall capacity."