Passengers have been left to suffer "phenomenal" queues as disruption at Heathrow Airport resembles a "cattle market", as bosses admit 60 plus flights have been cancelled today.
Footage from Sunday shows huge queues for security and check in spilling out of terminal three into the road.
Travellers are caught up in further chaos today (Monday, July 11) as London is set to sizzle in a 31C heatwave.
Sixty-one flights have been cancelled at Heathrow Airport terminals three and five after "higher passenger numbers" than the site has capacity for were expected.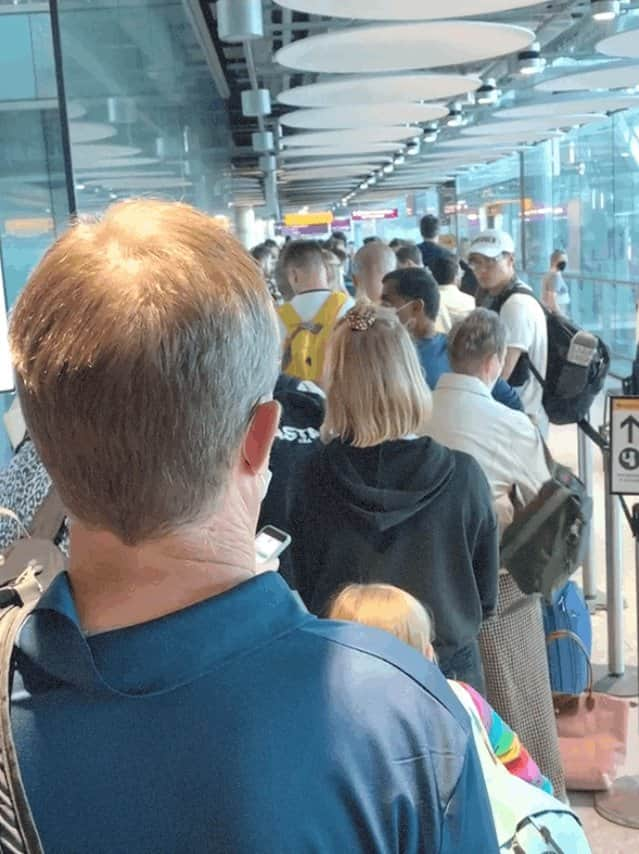 LondonWorld understands that around 1,100 flights are set to leave the airport today.
It comes as the UK aviation industry is battling severe upheaval following the impact of Covid-19 on staffing levels.
Customer Richard Evans, 49, who flew in from Barcelona, after a weekend away with his partner, on Sunday evening, told how the situation at the airport was a "disorganised mess".
Mr Evans, who works in marketing in Richmond, and lives in Bracknell, Surrey, said: "At the airport last night, the flight landed at about 6pm.
"We were flying BA but they changed our return carrier to Iberia, which was fine - just a different plane and crew.
"With what they charge us to go through Heathrow Airport, it was just a disorganised mess."
He said: "We had a remote stand so it wasn't attached to the building.
"The plane started to disembark quickly, and the bus filled up so they put the barrier back up and we had to wait for the next bus. But 45 minutes later we were still waiting.
"They put us back on the plane in the air conditioning - eventually four buses turned up and took us into the terminal."
After arriving at the airport, they joined "the queue for the queue for passport control".
He said: "It was phenomenal. I don't know how long it took because I didn't time it.
"We used the E-gates and if anybody had Covid-19 we all now have Covid-19, because it was like a cattle market.
"There was one lady trying to control 18 E-gates which are temperamental at best, anyway."
And he added: "By the time we got through our luggage was just going around as it had been there for so long because the queue was massive.
"We caught a bus at about 8pm by running through the terminal.
"It took us two hours total when it normally takes half an hour."
A Heathrow spokesperson said: "We are expecting higher passenger numbers in terminals three and five today than the airport currently has capacity to serve, and so to maintain a safe operation we have asked some airlines in terminals three and five to remove a combined total of 61 flights from the schedule.
"We apologise for the impact to travel plans and we are working closely with airlines to get affected passengers rebooked onto other flights.
"While Heathrow is ramping up resources and will have as many security officers this summer as we had pre-pandemic, airspace constraints across Europe and a lack of airline ground handling staff can pose a risk to the smooth running of operations.
"As a result, we will take action where needed to ensure passengers receive the service level they deserve."