Healthy Streets Scorecard: Islington named as London borough with healthiest streets third year in a row
Schemes such as 20mph speed limits and school streets meant the City of London, Islington and Hackney were among those to score highly.
Watch more of our videos on Shots!
and live on Freeview channel 276
Visit Shots! now
An inner London local authority has been named as the borough with the healthiest streets in the capital for the third year in a row.
Islington, which also took home the gong in 2022 and 2021, was praised in the latest Healthy Streets Scorecard in particular for its work extending its school streets and for 100% of its managed roads being limited to 20mph.
While Hackney had the most school streets in absolute terms, Islington recorded the highest number as a proportion of all schools, with such schemes making up 51% of those in the borough.
The scorecard, which is managed by a collection of transport, health, road safety and environment campaign groups including London Cycling Campaign and CPRE London, however did note Islington's pace of rollout of low-traffic neighbourhoods (LTNs) had slowed in the last year.
In the 2022 scorecard, the number of suitable streets covered by an LTN jumped by 8%. This has now dropped to a 3% rise, meaning 47% of the borough's roads are covered.
This lags far behind Hackney, in which 69% of the boroughs roads fall under an LTN, and just behind the 48% recorded for Waltham Forest.
The scorecard also urges Islington to "step-up delivery of more protected cycle lanes" to encourage greater cycling numbers.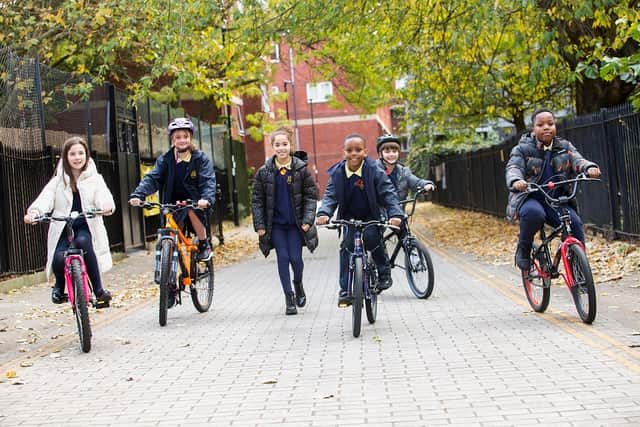 Across all 32 London boroughs, Hillingdon recorded the worst overall result, with a rating of just 1.17 out of 10. Bexley and Havering rounded out the bottom three, with the same boroughs also ranking as those with the highest car ownership per 100 households.
The scores are based on six input indicators (LTNs, 20mph speed limits, controlled parking zones, physically protected cycle tracks, school provision, such as school streets, and bus priority) and four outcome indicators (sustainable modeshare, active travel rate, road collision casualties, and car ownership rates).
In its report on Hillingdon, the Healthy Streets Scorecard said: "Hillingdon may have declared a climate emergency, but they remain hostile to active travel and healthy streets schemes and are ranked near the bottom of most of our lists of indicators. Any action in the borough will be positive but we're not holding our breath."
The City of London, which is not a borough but is also rated, recorded the highest overall score, with 7.9. The scorecard notes its small area and population, though adds it has "rolled out significant bus and cycle priority in recent years and has a progressive transport strategy and strong record of delivery", with key schemes including Bank Junction, Aldgate Square and the upcoming St Paul's gyratory.
Islington followed as the highest-ranking borough, with 7.2 out of 10, with Hackney not far behind, on 6.9.
Cllr Rowena Champion, Islington Council's executive member for environment, air quality, and transport, said: "We're clear that, as a council, our overriding objective is to create a more equal Islington for all. Ensuring that our streets are green, healthy, and welcoming spaces where it's easier to walk, cycle, and wheel is at the heart of this.
"Ranking as the top inner-London borough for healthy streets action is fantastic recognition of the work that we've done to reimagine Islington's streets so that they're better for everyone – including through our LTNs, School Streets, and 20mph roads.
"We know, though, that there's still so much that we can do to create a greener borough, where everyone can enjoy their streets. We have hugely ambitious plans for the future, and look forward to working hand in hand with local people to deliver them."
Chairman of the City of London Corporation planning and transportation committee, Shravan Joshi, said: "We are delighted to see the City of London top the London Boroughs Healthy Streets Scorecard. This shows the effort being put into delivering the ambitious Transport Strategy is benefitting people in many different ways.
"We are committed to making the Square Mile a safer, cleaner and more accessible place for all, to ensure that it remains a great place to live, work, study and visit."
Alice Roberts, Chair of Healthy Streets Scorecard, said: "People who have a physically active lifestyle have a 20 to 35% lower risk of cardiovascular disease, coronary heart disease and stroke compared to those who have a sedentary lifestyle. Regular physical activity is also associated with a reduced risk of diabetes, obesity, osteoporosis and colon and breast cancer.
"It's so important Islington is demonstrating we can change our streets to promote the active lifestyles needed to avoid these devastating diseases."
Simon Munk, head of campaigns at London Cycling Campaign, said: "Some London boroughs, despite declaring a climate emergency, continue to send a message to residents that the car is king, and the only mode switch needed is perhaps from a diesel SUV to an electric one years away. But the evidence and the science says starkly otherwise.
"We need every borough – particularly those lagging behind such as Kensington & Chelsea, Bromley and Hillingdon – to get moving on switching away from cars whenever possible, on actively enabling active and sustainable travel modes. No more excuses – the clock is ticking."