A security alert on Sunday night at the Hammersmith Apollo venue in London caused an estimated 3,000 concert goers to evacuate.
Videos on social media showed people chanting "one solution, revolution" outside the concert venue. There were also reports of people protesting against the Iranian regime, shouting slogans including "woman, life, liberty." These apparently referred to the death of 22-year-old Mahsa Amini, an Iranian woman.
There was also chanting "death to Khamenei", referring to Sayyid Ali Hosseini Khamenei, Iran's religious supreme leader.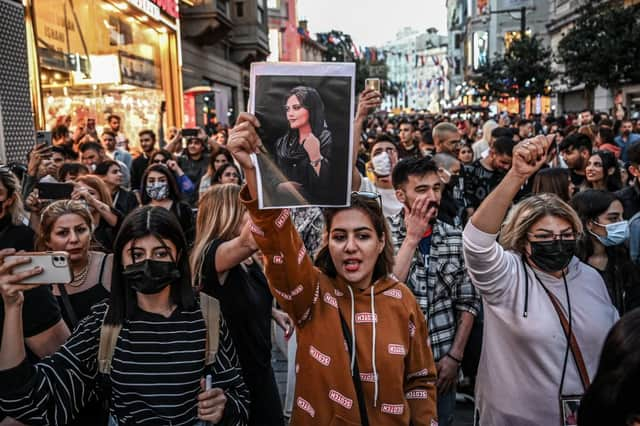 Although there were reports of a bomb threat, police stated there were no suspicious items found or reports of injuries. "Nothing of suspicion had been brought to the attention of staff but at around 8.40pm the venue management took the decision to evacuate as a precaution."
Police were seen outside the building using loudspeakers asking people to go home. The evacuation of the building caused travel chaos, with Transport for London saying that bus services were blocked in the Hammersmith area.
Iran International journalist Fardad Farahzad, tweeted: "People have been asked to evacuate by police at the concert of the Iranian singer, Dariush in London due to serious security threats. I've been told by his manager that the police said there was a credible threat of a potential bomb at the venue."
Iranian pop star Dariush Eghbali has been living in exile since Iran's Islamic Revolution. He was best known for his ballad Don't Tell Me You Love Me. In recent years, Mr Eghbali has been an outspoken commentator on Iran's political system, recording protest songs.
Mr Dariush was described on the Apollo's website as "one of the most well known and loved Iranian singers of all time". He was performing on stage in London for the first time in seven years.
He has spoken out about the death of Ms Amini to his 4.2million followers on Instagram.
The death of Ms Amini in police custody triggered violent protests in Iran, with beatings, arrests and the killing of demonstrators.
Ms Amini was arrested in Iran for not wearing the hijab in breach of government standards - too loosely, and revealing some hair. Police said she had a heart attack at a police station, and fell into a coma. Eyewitness reports, including women who were detained with Amini, said she was severely beaten, and that she died as a result of her injuries.